June 20/10 11:12 am - Leogang World Cup: 4X report and photos

Posted by Editoress on 06/20/10

Cold temperatures and rain did not dampen the competition at the fourth round of the 4 Cross Mountain Bike World Cup presented by Shimano in Leogang, Austria. Jared Graves (Yeti Fox Shox) took his third win of the season to extend his lead in the men's series, while defending 2009 women's champion Anneke Beerten (Suspension Center) finally won her first World Cup of the year.
Photos by Gary Perkin

In the absence of World Cup leader Jana Horakova of the Czech Republic, who is preparing for the BMX World Championships, the lead for the women's series was going to change, but would it be Beerten, local Austrian favourite Anita Molcik or Czech rider Romana Labounkova? Labounkova qualified fastest, followed by Molcik and Beerten, but all three were separated by less than a second.

Molcik crashed out in the slippery conditions in the semi final round, setting up a final with Beerten, Labounkova, Fionn Griffiths (Norco World Team) and South African Joanna Petterson. Beerten got a good start gate and led from start to finish, while Griffiths and Labounkova fought for second. The pair tangled on the last turn, allowing Petterson to squeak by for second, with Labounkova having to settle for third. Molcik won the small final for fifth place.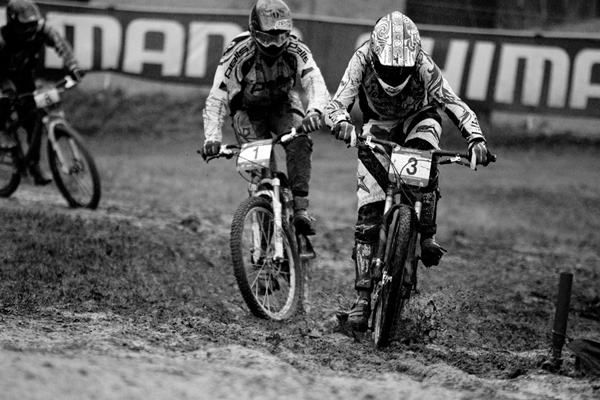 Anneke Beerten of Suspension Center leads Romana Labounkova in the 4X finals

The win put Beerten into the series lead, ten points ahead of the absent Horakova, with Molcik a further ten points back in third.

The men's competition came down to avoiding crashing, as top riders went out every round after slipping and sliding in the muddy conditions, as the track became more and more torn up by successive heats of racing.

Former world champion Michal Prokop (Agang Racing) won the qualifying, two-tenths of a second ahead of Graves, with Swiss rider David Graf at six-tenths back. Dan Atherton (Commencal) and Joost Wichman (RSP 4 Cross) were also less than a second off the best time.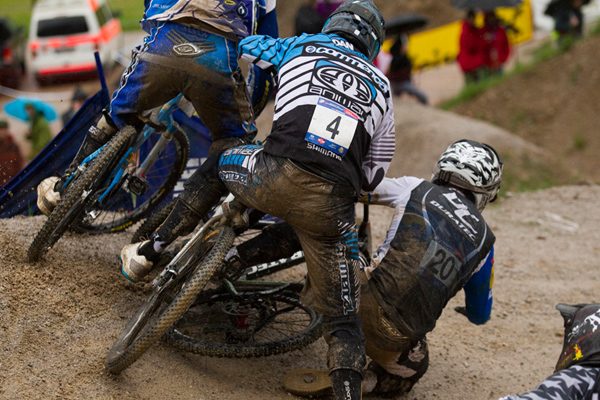 Dan Atherton about to go down in 1/8 heat

In the 1/8 final heats Atherton and Dutch rider Roger Rinderknecht both crashed out of competition, followed by Prokop in the quarter finals. Prokop's crash was possibly the most spectacular of the night, as he flew through the air like a ragdoll after hitting a jump wrong. Fortunately, he was able to walk away from the crash. Less fortunate was Graf in the semi finals, who put a foot wrong, twisting it and dislocating it badly. Competition was delayed while he was airlifted to hospital.

Wichman and his team mate Tomas Slavik won that semi final, while Graves and round two winner Michal Marosi (RSP 4 Cross) advanced through to the final in the other semi. Marosi had won the second round at Maribor in similar wet and muddy conditions, could he do it again?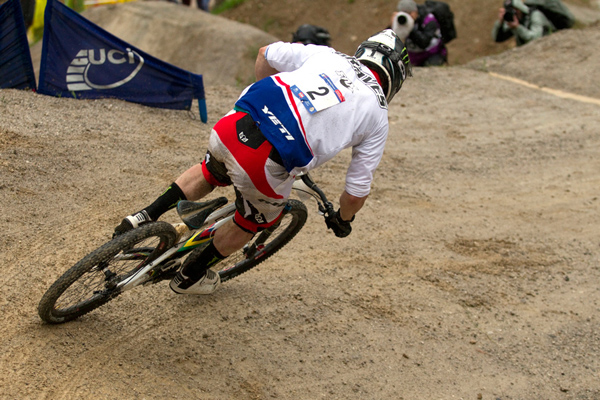 Graves went to the front ... and stayed there

The final was Graves versus three riders from RSP 4 Cross - Wichman, Slavik and Marosi. Graves got out in front immediately with his usual fast gate, and maintained control all the way to the finish line. Wichman was closing a couple times, but made some bad line choices and nearly took out his teammates - an aggressive ride, but not in control. It hurt him in the end, as he finished fourth behind Slavik and Marosi.

"I knew things were gonna get crazy," commented Graves. "Those RSP guys, they gang up on me. It's wild racing in the mud. Always a ton of fun. Anything can happen, so I had a great time today. I think this [type of course] is what we need more of. I loved it from the first time I saw it. Big lines, big gaps; you can really make some time"

Graves third win now puts him 175 points ahead of Slavik, with Wichman 190 points back. These two riders have a slim mathematical chance of catching Graves for the World Cup title, but the odds are that Graves has already wrapped up the 2010 title.