June 21/10 12:32 pm - World Cup Leogang: DH report and photos

Posted by Editoress on 06/21/10

Jonnier and Minaar win in Leogang
Photos by Gary Perkin
The first half of the 2010 season for the Mountain Bike World Cup concluded on Sunday at the new venue of Leogang, Austria with the third round for Downhill. Riders had to deal with cold temperatures, rain and mud, which had chewed the course up significantly, and left big holes and ruts full of water.

The two leading riders in the downhill series extended their leads, as the series hits the halfway mark. Sabrina Jonnier (Maxxis-Rocky Mountain) took her second win of the year, as did Greg Minnaar (Santa Cruz Syndicate).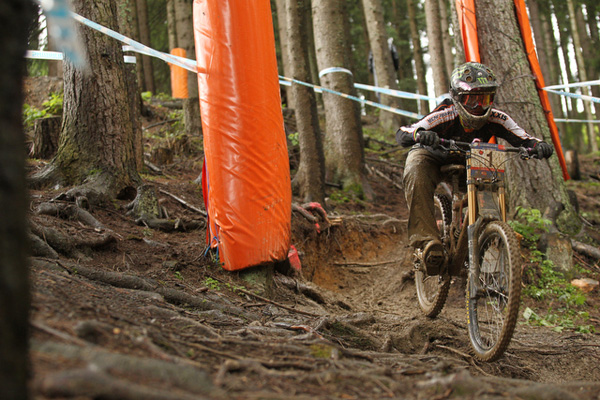 Sabrina Jonnier

Rachel Atherton (Commencal) won the qualifying run fo the women, six-tenths of a second ahead of world champion Emmeline Ragot (Suspension Center). Jonnier finished a distant fourth, seven and a half seconds behind Atherton. However, in the final Jonnier stepped her game up, with a time nearly half a second faster than Atherton's qualifying time.

Atherton was the last rider to race, and the only one who could possibly beat the French rider. At the first time check, the British rider was three seconds up, but the 2008 World Cup champion crashed further down the course and did not finish. Ragot took second and Tracy Moseley (Trek World Team) third. Jonnier now holds a significant 140 point lead over Floriane Pugin (Scott 11), with Atherton third, 190 points behind.

"It is a really hard course, as hard as Maribor, maybe harder," explained Jonnier. "It is just not the conditions I like at all. I like dry, sunny tracks, not this .... wet, muddy and yucky. The hardest part for me was the big drops , you can't go too fast or you end up missing the turn, and too slow you go over the bars. I tried to be fast enough and safe at the same time, just stay on my bike. It was good enough to take the win."
Greg Minaar

The men's race saw Minnaar qualify second fastest, two-tenths of a second behind Sam Blenkinsop (Pierre International), with Aaron Gwin (Yeti Fox Shox) third and round two winner Gee Atherton (Commencal) fifth. In the final, no one could come close to the top qualifying time, showing how much the track had deteriorated overnight. World champion Steve Peat (Santa Cruz Syndicate) set the first time under 4:12, but was bumped from the Hot Seat by Jonnier's team mate Cameron Cole.

Atherton, fifth from last starter, then took the leading time down by a staggering 5.38 seconds, which stood up until Minnaar came in three quarters of a second faster. Blenkinsop couldn't manage to repeat his stellar qualifying performance, and slotted into fourth, behind Gwin. Minnaar, with two wins and a third place, extended his lead over Atherton to 73 points, while Gwin moved into third, 250 points behind Minnaar.

"It was crazy out there," commented Minnaar. "I was just all over the place, dabbing and trying to stay on the bike. It really was tough."