The 11-lap Tunnel Mountain Road Race, 143km, the final event of the Invited Men's Category, was treated to perfect weather conditions. With the start/finish line on Beaver street at Wolf street the course heads out of town along Banff avenue to Tunnel Mountain Road. Up the winding climb with views of Mount Rundle, the course snakes its way back through town through Surprise Corner.
General Men Categories 2/3 and 4 completed 78km and raced early in the morning, rolling off the line at 7 a.m. Mike Sidic (H&R Block) soloed to victory, with MacKenzie Garvin (Cyclemeisters) winning the chase group sprint for second with Gideon Krishtalka (H&R Block) in third. Mark Jesse (Speed Theory) was the first Category 4 man across the line, with Neil Reid (ERTC-Revolution) in second, and Chris Taylor (Rundle Mountain Cycling Club) claiming third.

The Invited Men got underway at 10 a.m. and early attacks produced a break of three riders, including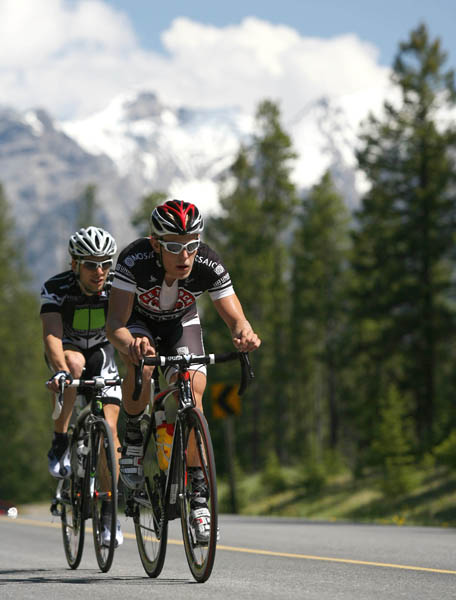 Sebastian Salas (H&R Block) Tyler Trace (Trek Red Truck), and Matthew O'Hagan (Garneau Evolution). The three became two within half a lap, and Trace and Salas soldiered on, their time gap fluctuating between 1:30 and 2:00 lap after lap. After a huge effort, the two were shut down by the chasing peloton with five laps to go.

"We were going hard out there," said Trace. "I was really hurting in the peloton after we got chased down, I kept waiting to get dropped."

Almost immediately after the peloton caught up with Trace and Salas, a Calgary Cycle rider attacked, and was joined by an RMCC team member. Junior rider Craig Logan (Trek Red Truck) bridged up to the two escapees, dropped both within a lap, and built up a solo lead of 40 seconds after another lap. Then Logan's team mate Adam Thuss bridged up to him, and soon the two had a minute on the field.

A lap later, the chasing peloton came alive and Thuss and Logan's lead quickly dropped to 45 and then to 35 seconds with the pack looming behind them. With two laps to go, the two leaders began to fade, and Justin Kerr (H&R Block) and Marcel Aarden (Total Restoration) caught them with peloton ready to pounce. But the group of four off the front was not to be, and by the time the riders came through to start their last lap, what remained of the field, about 28 riders, was back together.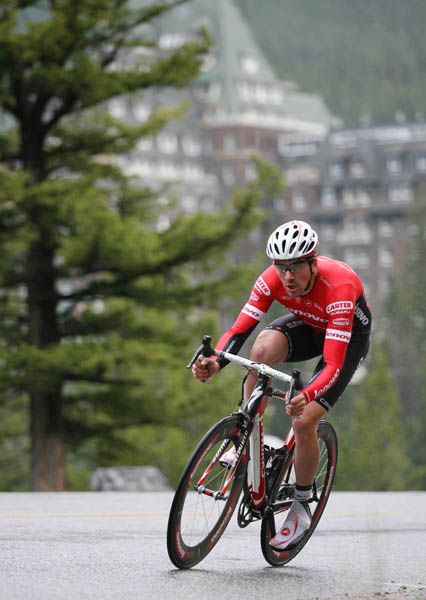 The finish came down to a field sprint with Trace wining by a narrow margin over Cyrus Kangarloo (Total Restoration), with Garrett McLoed (H&R Block) in third.

"I was so tired at that point," Trace commented, "I guess I just really wanted a bit of redemption after [fading during the sprint finish of] the Sprint 1A Road Race."

The GC leaders came through with the pack, keeping their positions, with Ian McKissick (Lenovo) winning the overall, Dave Vuckets (Trek Red Truck) in second, and Paul Tichelaar (ERTC/Revolution) taking the third spot on the final podium. McKissick's second place in the Prologue and ITT win, along with his strong placements in the other stages, earned him the best overall time and the General Classification victory.

"The team was great today - we really had all hands on deck," said Vuckets. "I broke my chain on the last climb and Craig [Logan], who's still a junior, gave me his bike and a push - very professional! Then Tyler [Trace], who had waited with me, helped me get back into the pack. And then Tyler got the stage win!"

The Tunnel Mountain Road Race signals the end of another successful Banff National Park Bicycle Festival.


All photos by Craig Douce and supplied by organizer
Stage 5 (June 20th) : Tunnel Mountain Road Race

1 Tyler Trace (Trek Red Truck Racing p/b Mosaic Homes)
3:39:13
2 Cyrus Kangarloo (Total Restoration Cycling Team)
3 Garrett McLeod (Team H&R Block/Norco)
4 Geoff O'Toole (Garneau Evolution )
5 Spencer Smitheman (Juventus Cycling Club)
6 Jacob Schwingboth (Team H&R Block/Norco)
7 Kris Dahl (CMC/Bow Cycle)
8 Bredley Clifford (Saskatchewan Cycling Association)
9 Paul Tichelaar (ERTC/Revolution)
10 Sebastian Salas (Team H&R Block/Norco)
11 Marcel Aarden (Total Restoration Cycling Team)
12 Chris McGarity (Saskatchewan Cycling Association)
13 Shawn Bunnin (Total Restoration Cycling Team)
14 Cory Forrest (Total Restoration Cycling Team)
15 Dustin Andrews (Team H&R Block/Norco)
16 Jason Thompson (Garneau Evolution )
17 Justin Kerr (Team H&R Block/Norco)
18 Trevor Williams (Speed Theroy)
19 Colter Young (Juventus)
20 Mike Laxdal (Westwood Cycle/Cannondale p/b Vision-Sports)
21 Cuylar Conly (Saskatchewan Cycling Association)
22 Jason Kilmartin (Café Racers)
23 Curtis Deardon (Garneau Evolution )
24 Jeff Werner (Garneau Evolution )
25 Zachary Taylor (Total Restoration Cycling Team)
26 Dave Vukets (Trek Red Truck Racing p/b Mosaic Homes)
28 Ian McKissick (Lenovo Cycling Team)
all s.t.
29 Anthony Steenbergen (Calgary Cycle p/b TOPGEAR)
0:08
30 Scott Manktelow (Rundle Mountain Cycling Club )
2:32
31 Keith Batstone (Rundle Mountain Cycling Club )
3:37
32 Dallas Morris (Calgary Cycle p/b TOPGEAR)
4:13
33 Graham Rudge (ERTC/Revolution)
4:19
34 Nic Jendzjowsky (Pedalhead Road Works)
4:46
35 Keth Jones (Garneau Evolution )
5:10
36 Cody Canning (ERTC/Revolution)
6:58
37 Dan Wood (ERTC/Revolution)
6:58
38 Shawn Ongers (Lenovo Cycling Team)
7:42
39 Ryan Iddings (Lenovo Cycling Team)
s.t.
40 Aaron Sands (Rundle Mountain Cycling Club )
9:17
41 Aaron Schooler (Team H&R Block/Norco)
10:13
42 Darren Anderson (Rundle Mountain Cycling Club )
11:32
43 Matthew O'Hagan (Garneau Evolution )
12:23
44 Frank Woolstencroft (Speed Theroy)
12:37
45 Kyle Anderson (Juventus Cycling Club)
30:47
46 Steven Soldan (Rundle Mountain Cycling Club)
35:47
47 James Winter (Saskatchewan Cycling Association)
48 Zane Westerbeek (CMC/Bow Cycle)
both s.t.
DNF Dan Skinner (Trek Red Truck Racing p/b Mosaic Homes)
DNF Boris Martin (Trek Red Truck Racing p/b Mosaic Homes)
DNF Craig Logan (Trek Red Truck Racing p/b Mosaic Homes)
DNF Adam Thuss (Trek Red Truck Racing p/b Mosaic Homes)
DNF Cameron McKnight (ERTC/Revolution)
DNF Jon Wood (ERTC/Revolution)
DNF Scott Laliberte (Westwood Cycle/Cannondale p/b Vision-Sports)
DNF Sam Loud (Westwood Cycle/Cannondale p/b Vision-Sports)
DNF Ryan Olson (Westwood Cycle/Cannondale p/b Vision-Sports)
DNF Shane Savage (Westwood Cycle/Cannondale p/b Vision-Sports)
DNF Ryan Campbell (bicisport)
DNF Justin Middleton (bicisport)
DNF Manuel Fehlman (Pedalhead Road Works)
DNF Mike Hone (Lenovo Cycling Team)
DNF Wes Richards (Lenovo Cycling Team)
DNF Patrick Stanko (Lenovo Cycling Team)
DNF Dan Macdonald (Total Restoration Cycling Team)
DNF Carson Bannon (Speed Theroy)
DNF Lachlan Holmes (Speed Theroy)
DNF Harley Borle (Speed Theroy)
DNF Jared Green (Speed Theroy)
DNF George Irwin (Juventus)
DNF Mack Carson (Juventus)
DNF Guy Biggar (Saskatchewan Cycling Association)
DNF Craig DeBellefeuille (CMC/Bow Cycle)
DNF Brian Robinson (CMC/Bow Cycle)
DNF Bailey McKnight (CMC/Bow Cycle)
DNF Jesse Collins (Calgary Cycle p/b TOPGEAR)
DNF Dan Peters (Calgary Cycle p/b TOPGEAR)
DNF Stephen Ferris (Calgary Cycle p/b TOPGEAR)
DNF Shawn Taylor (Café Racers)
DNF Simon Craig (Café Racers)
DNF Sean Williams (Café Racers)
DNS Tom Ogryzlo (Pedalhead Road Works)
DNS Nic Andrichuk (CMC/Bow Cycle)
DNS Jeff Bolstad (Calgary Cycle p/b TOPGEAR)
DSQ Peter Toth (Juventus)

Final GC

1 Ian McKissick (Lenovo Cycling Team)
6:49:28
2 Dave Vukets (Trek Red Truck Racing p/b Mosaic Homes)
at 1:17
3 Cyrus Kangarloo (Total Restoration Cycling Team)
1:25
4 Paul Tichelaar (ERTC/Revolution)
1:25
5 Justin Kerr (Team H&R Block/Norco)
1:45
6 Sebastian Salas (Team H&R Block/Norco)
2:14
7 Cory Forrest (Total Restoration Cycling Team)
2:17
8 Garrett McLeod (Team H&R Block/Norco)
2:21
9 Marcel Aarden (Total Restoration Cycling Team)
2:30
10 Kris Dahl (CMC/Bow Cycle)
2:30
11 Tyler Trace (Trek Red Truck Racing p/b Mosaic Homes)
2:36
12 Trevor Williams (Speed Theroy)
2:40
13 Curtis Deardon (Garneau Evolution )
2:55
14 Bredley Clifford (Saskatchewan Cycling Association)
3:13
15 Cuylar Conly (Saskatchewan Cycling Association)
3:37
16 Spencer Smitheman (Juventus Cycling Club)
3:43
17 Zachary Taylor (Total Restoration Cycling Team)
3:48
18 Geoff O'Toole (Garneau Evolution )
3:50
19 Shawn Bunnin (Total Restoration Cycling Team)
4:23
20 Jason Thompson (Garneau Evolution )
4:44
21 Jacob Schwingboth (Team H&R Block/Norco)
5:03
22 Jeff Werner (Garneau Evolution )
5:08
23 Chris McGarity (Saskatchewan Cycling Association)
5:16
24 Scott Manktelow (Rundle Mountain Cycling Club )
5:41
25 Mike Laxdal (Westwood Cycle/Cannondale p/b Vision-Sports)
6:14
26 Dustin Andrews (Team H&R Block/Norco)
6:36
27 Jason Kilmartin (Café Racers)
6:56
28 Graham Rudge (ERTC/Revolution)
7:39
29 Nic Jendzjowsky (Pedalhead Road Works)
8:02
30 Cody Canning (ERTC/Revolution)
9:50
31 Keth Jones (Garneau Evolution )
10:14
32 Keith Batstone (Rundle Mountain Cycling Club )
10:24
33 Colter Young (Juventus)
10:37
34 Anthony Steenbergen (Calgary Cycle p/b TOPGEAR)
10:48
35 Dan Wood (ERTC/Revolution)
10:54
36 Ryan Iddings (Lenovo Cycling Team)
11:03
37 Shawn Ongers (Lenovo Cycling Team)
11:12
38 Aaron Schooler (Team H&R Block/Norco)
15:19
39 Frank Woolstencroft (Speed Theroy)
16:18
40 Dallas Morris (Calgary Cycle p/b TOPGEAR)
16:45
41 Darren Anderson (Rundle Mountain Cycling Club )
17:35
42 Matthew O'Hagan (Garneau Evolution )
17:53
43 Aaron Sands (Rundle Mountain Cycling Club )
22:21
44 Peter Toth (Juventus)
25:32
45 Zane Westerbeek (CMC/Bow Cycle)
39:11
46 Kyle Anderson (Juventus Cycling Club)
40:04
47 Steven Soldan (Rundle Mountain Cycling Club)
41:31
48 James Winter (Saskatchewan Cycling Association)
50:48
Team GC
1 Team H&R Block
20:33:19
2 Total Restoration Cycling Team
at 1:24
3 Garneau Evolution
5:36
4 Saskatchewan Cycling Association
5:39
5 ERTC / Revolution
14:07
6 Lenovo Cycling Team
14:43
7 Rundle Mountain Cycling Club
23:50
8 Juventus Cycling Club
38:25
9 Trek Red Truck Racing p/b Mosaic Homes
10 CMC / Bow Cycle
11 Pedalhead Road Works
12 Speed Theory
13 Calgary Cycle p/b TOPGEAR
14 Café Racers
15 Westwood Cycle/Cannondale p/b Vision-Sports