June 27/10 9:15 am - BC Bike Race: Day Zero report, photos and results

Posted by Editoress on 06/27/10

500 Mountain Bikers Roll into North Vancouver as BC Bike Race Kicks Off Year 4

Photos

North Vancouver's Inter-River Park transformed into a festival of mountain biking overnight as BC Bike Race – 'The Ultimate Singletrack Experience' welcomed nearly 500 mountain bikers to its fourth annual offering. Participants from 21 countries around the globe finalized registration details, fine-tuned their bikes, and shook out their legs in the Tour de France style Prologue that ran throughout the afternoon.

This year's rider pack comprises a broader range of athletes than previous years thanks to the introduction of the new Challenge course. The original Epic version delivers competitors an average of 60km of singletrack each day, while the Challenge promises "half the distance but all the fun." The 2010 field is comprised of weekend warriors through world-class pros, and everyone in between.

This seven-day mountain bike stage race through southwestern British Columbia has attracted an impressive roster of notable racers, as evidenced by the guest panel at today's press conference.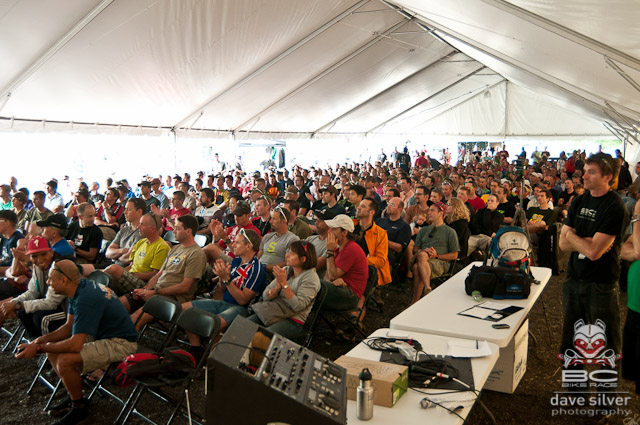 Local and international media gathered under the "big top" tent at Inter-River Park for a chance to probe the minds of the pro-studded panel that included Chris Sheppard (Rocky Mountain Factory Team), who won BCBR 2009 with partner Seamus McGrath and is racing solo this year; the co-ed pairing of Geoff Kabush (Team Maxxis - Rocky Mountain) and Catharine Pendrel (Team Luna Chix), both powerhouse World Cup racers at the top of their game; Kris Sneddon and Barry Wicks (Kona Factory Team), last year's second place team and vying for the win in 2010; Marty Lazarski and Stephan Widmer (Rocky Mountain Factory Team), winners of 2009 TransRockies and positioned to challenge Team Kona in this year's BCBR; Melanie McQuaid (Team Specialized), three-time X-terra World Champion and newcomer to epic stage racing; and Canadian Chris Holm, the world's most experienced mountain unicyclist.

In a first for mountain bike stage races, Holm, the best-known unicyclist in history, will be tackling the BC Bike Race Challenge course on a mountain unicycle. A big motivator for Holm is the variety of new trails to explore on his two-speed single-wheel ride, "If you came out here (to BC) and rode all these trails in one summer, you'd think you had a pretty good run. We get to do that in one week!"

Canadian Chris Sheppard, returning for a third straight year, is favoured to take top podium in the solo category. Costa Rican Manuel Prado, winner of La Ruta and repeat top-ranking BCBR competitor, also has his eye on the solo win. With such strong representation in the solo realm, there's speculation that BC Bike Race might see another first – a stage win going to a lone rider. In fact, could this be the year that a solo racer wins BC Bike Race? And is Sheppard gunning for the top?

"Well, I'm a mountain bike racer and I'm in a mountain bike race. At the end of the day it's competition and I'm going to try my hardest...and to win overall would be great," shared Sheppard. "But what BC Bike Race represents is beyond competition – it's racing and riding with good friends, shredding trails fast and enjoying the best of what BC has to offer."

If the Day Zero Prologue is any indication, the Rocky Mountain Factory racer is here to win. Sheppard posted the fastest time of the day – a blistering 7min 22sec.

The Prologue, a quick 2.1km loop incorporating the Richard Juryn trail, was a time trial format, which determined seeding for the next day's stage. It also offered a glimpse into what the next seven days may have in store.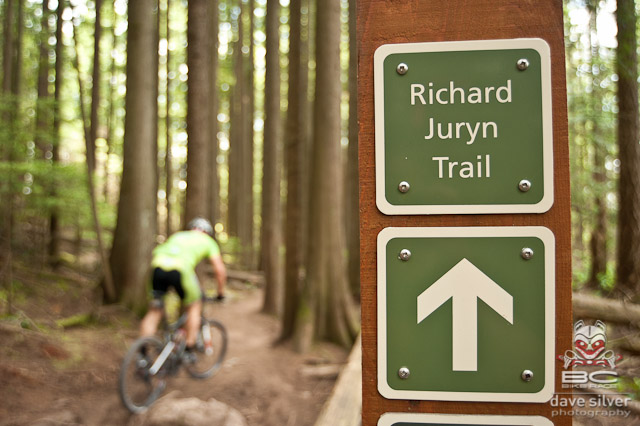 BCBR spectators may be served up some nail-biting excitement in the Epic Team of 2 Men's category. With a 7min 55sec finish, Team Kona's Kris Sneddon and Barry Wicks claimed the win. But only just. Barely a second off were Rocky Mountain Factory Team's Marty Lazarski and Stephan Widmer, in 7min 56sec. Other notables include Team Maxxis – Rocky Mountain' s Geoff Kabush and partner Catharine Pendrel of Team Luna Chix taking honours in the Epic Mixed category with an 8min 55sec mark. And a 9min 35sec posting put Team Specialized's Melanie McQuaid atop the Epic Solo Women's cat. For complete daily race results visit www.bcbikerace.com.

Next up is Stage One in Nanaimo. A morning BC Ferries sailing will carry racers across the Georgia Strait to the unique Departure Bay ferry terminal start line. From there close to 70km of riding awaits the Epic racers, while the Challenge riders will see approximately half the distance.
Courtesy BC Bike Race