January 28/11 13:02 pm - Cyclo-cross World Championships Preview

Posted by Editoress on 01/28/11

The Cyclo-cross World Championships begin tomorrow in Sankt-Wendel (St-Wendel), Germany, tucked in the southwest corner of the country, near the borders with Luxembourg, France and Belgium. St-Wendel has a long history with cyclo-cross, including having hosted the world championships in 2005.
There are some interesting connections to the previous 2005 Worlds:

- German favourite Hanka Kupfernagel will be going for her fifth world title this year, and one of her previous ones was in St-Wendel.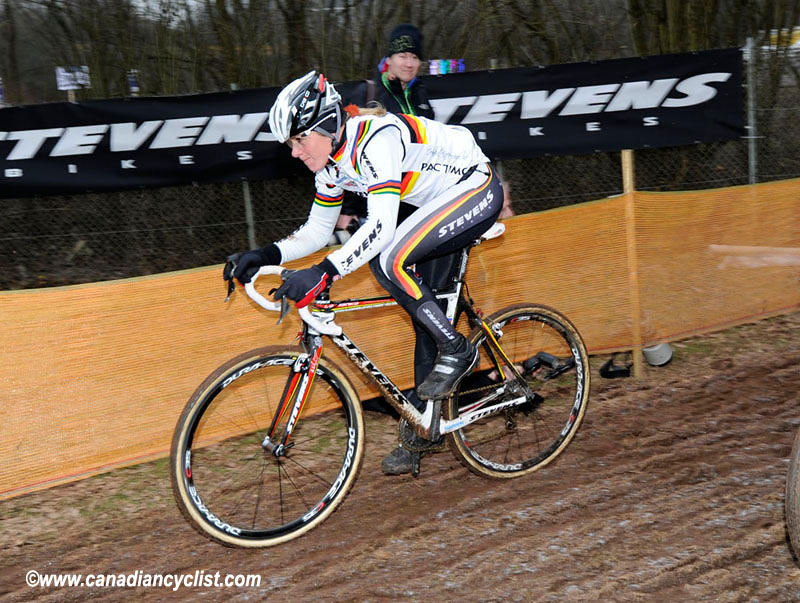 - Belgian superstar Sven Nys won his only world title here in 2005.

- The defending Elite men's champion, Zdenek Stybar (Czech Republic), won his first title here as a Under-23.

- Stybar, at a press conference earlier today, commented that he signed his first pro contract with Fidea after his win in St-Wendel, and now as the Worlds returns to St-Wendel he has signed his next one with Quick Step.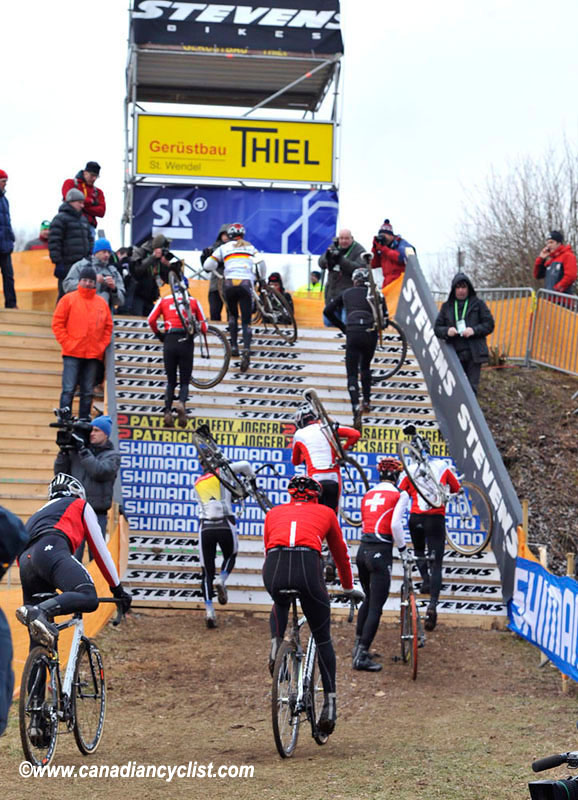 The 2.8 kilometre course, by all accounts, is a difficult one - both technically and physically. The constant climbing and descending will require exceptional fitness, while the changing weather conditions are making the terrain treacherous.

Canada's Derrick St-John commented: "This is an extremely demanding but fair course. Anyone who wins here will be the best, for sure. The climbs are really hard, and the descents take so much concentration. This is a real European course."

Yesterday (Thursday), it was wet and became very muddy, causing deep ruts in the course, particularly on some of the steep descents. Today, it is much colder, and the ruts have all frozen solid, causing riders to bounce all over the track as they run into them. Organizers have scraped down the worst of the ruts to flatten them out but, if the sun comes out tomorrow (as it is expected to), we could again see a greasy film coating the surface.

As one rider commented, "It's both hard and soft out there..."

In the Elite women's race on Sunday, American Katie Compton is the favourite, with five World Cup wins to her credit this season. However, she is going up against two formidable champions - four-time winner Kupfernagel, and three-time winner Marianne Vos of the Netherlands. Canada has one rider in the Elite women's race - Natasha Elliott.

The Elite men's race on Sunday puts Stybar up against a trio of Belgians: Kevin Pauwels (who won the World Cup in Pont-Château, France, 10 days ago), Niels Albert (World Cup overall winner and winner of three World Cups this season), and the perennial Belgian star Sven Nys. Stybar said during his press conference that his knee is much improved, but that he definitely hopes that the ground stays hard. Canada has two riders in this event: Derrick St-John and Craig Richey (there is also an 'honourary Canuck' - Tim Johnson, husband of Lyne Bessette...).

However, the action begins tomorrow with the Junior and Under-23 men. Canada has three riders in the Junior field: national champion Ben Perry, Karl Hoppner and Yohan Patry. There are no Canadian men in the Under-23 race.

Canadian Cyclist will begin our live coverage tomorrow with the Junior Men's race, starting at 5:00 am EDT.