February 21/11 17:37 pm - Vitess Builds a Riding Experience

Posted by Editoress on 02/21/11

In a small storefront, down on Lakeshore Boulevard in West Toronto, Julien Papon at Vitess is quietly introducing a new way to buy a bike - the bespoke bicycle.
Julien Papon is building a unique business at Vitess
Bespoke historically meant custom tailored clothing, where the buyer was measured and fitted, selecting everything from the materials, to the style, to the individual details, such as buttons and lining. The term has come to mean almost anything custom-made to a buyer's specifications, however, no matter what the field, it still denotes a sense of individuality and personal touch.

While many high-end bike shops can customize a bike - changing the saddle or stem length, or offering an array of colour choices by special order - Vitess has taken this to another level.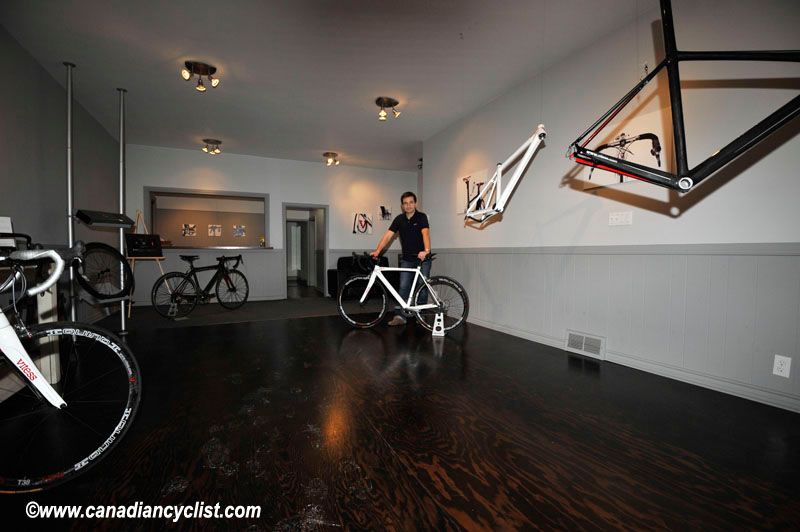 Vitess is not your average bike showroom
Vitess grew out of a business plan Papon developed while taking an Executive MBA at the Kellogg-Schulich School of Business. He decided to apply the Just In Time supply chain management experience he had from the automotive industry to develop a bicycle company that wouldn't rely on pre-built 'stock' models. Every bike would be custom built.

Now, this doesn't sound much different from your regular custom framebuilder and, at the equipment level, there are certainly similarities. Where Vitess differs is in the process towards determine what is your bike.

Unlike framebuilders, where you usually go in with an idea of what you want, or the builder asks you some questions about what sort of ride you like, and then builds to their unique design or style, Vitess starts the journey towards getting your new ride with a process that involves both trying before buying and some thing akin to getting measured for a suit.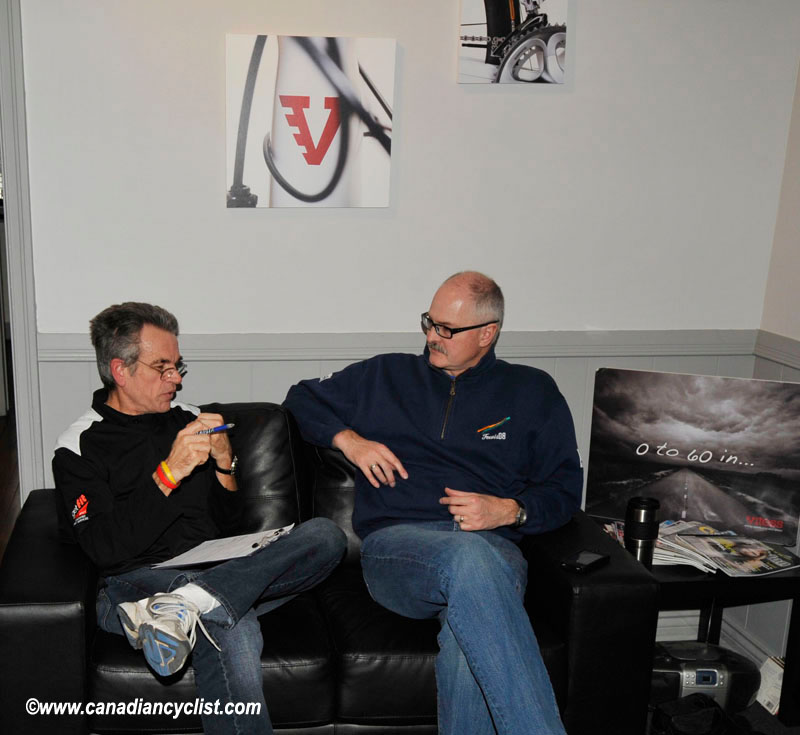 Prior to a fitting, a detailed checklist of past history is taken
After an initial discussion and fitting session on an adjustable bike hooked up to an indoor trainer, Julien sends you home for a day (or preferrably a weekend) on a demo bike that has be roughly fitted to you ('roughly' still being more precise than many bike shops will do after you have bought your bike).

Following this demo period - assuming that you have now made the decision to purchase a Vitess - you return for an extremely detailed session with Julien and a trained bike fitter to dial in precisely what is the optimal bike for you. By 'extremely detailed', I mean just that - the mock session I went through took over two and a half hours, and covered everything from my riding history, to injuries, flexibility, range of motion, current riding style and riding plans. For my session, Scott Judges from Fitt1st (who is under contract with Vitess) did the work up.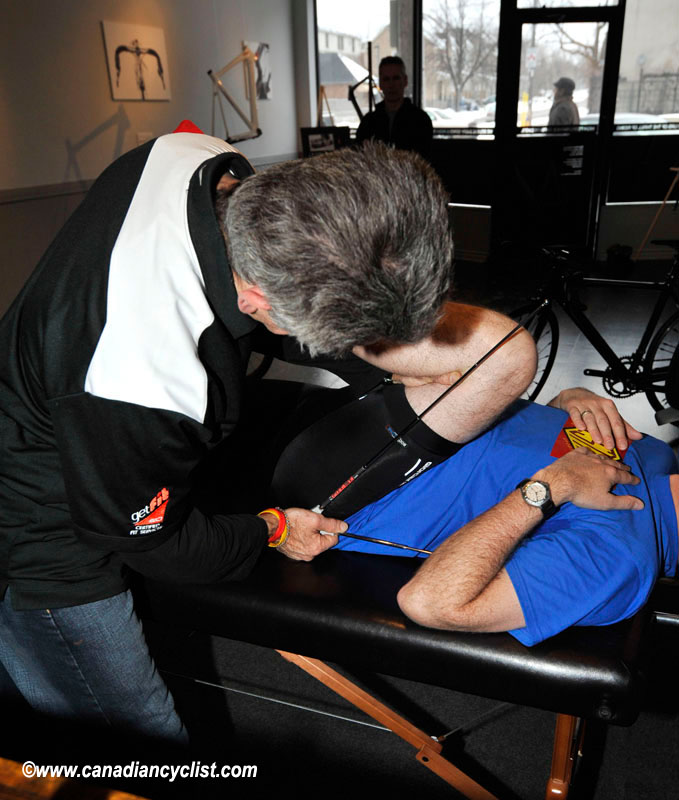 Once you have nailed down the physiological component of the fit, it is time to finally start talking about the bike - specific frame model (all carbon fibre, with various levels of detailing), finish and components (pretty much anything is available, depending upon your wishes - and budget). After this, it is a wait of roughly three to ten weeks for delivery of your new bike, followed by a final fit session of you with your new bike. Follow up sessions are scheduled (no charge) as required.

You will notice that almost nowhere have I talked about the actual bike. The framesets are tube-to-tube carbon construction, by the well-regarded Taiwanese Gigantex factory (who make Cyfac, among other brands). For custom (or near-custom) carbon building, this is pretty much the only way to go, since the cost of moulded design is completely prohibitive without large quantities. Vitess is just starting to import the raw frames for painting in Canada (previously, the painting was done in Taiwan, as part of the process).

Papon is also borrowing ideas from the performance car market, by scheduling the equivalent of the 'track days' that companies like Porsche and BMW provide for their clients - he just held one this past weekend for Vitess riders at the Forest City Velodrome. Vitess will have a hospitality and tech support tent at major races in Ontario for clients, and the company has also participated as a lifestyle partner at events put on by Pfaff Porsche and ski resorts.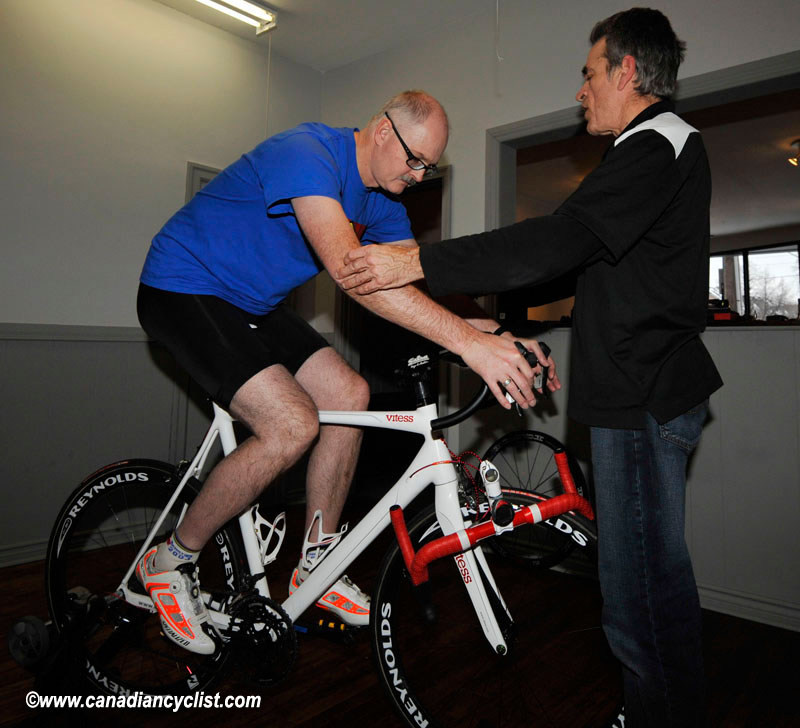 Once measurements are taken it is time for on-bike adjustments
Clearly, this is not your average bike company ... with Vitess bikes starting at approximately $4000 and heading well north of $10,000.

However, I think Julien Papon is onto something important: the idea that what you are buying is a riding experience, not a collection of carbon fibre, aluminum and titanium. This, unfortunately, is all too easily forgotten in the rush to the newest high tech, whizz bang technology.

Most of us who have been riding a while will usually point to our best bikes as being the ones that disappear beneath us, that we 'become one with'. And that is not always a function of the newest (or most expensive) technology, but rather the one best suited to our needs.

Vitess appears to have recognized this basic truth.

www.vitess.com
Notes:

- Vitess will be at the Toronto Bike Show (March 4-6) in Booth #606. Julien Papon says that at the Show they will unveil the Vitess Superbike for the first time in public. "The bike was developed to celebrate the re-integration of our paint processes in our Canadian manufacturing operations. The frameset is significantly different compared to our standard ones: it integrates a Di2 custom cable routing with a unique battery placement, the carbon lay-up was modified and the bottom-bracket was re-engineered to combine the wider bearing placement of an 86.5mm Shimano press-fit standard with an oversize crank axle diameter to maximize stiffness to weight ratio of the overall system."

"The creative design for the frameset will showcase our new Canadian capabilities and will introduce new custom visual packages available to our riders. New super-premium components will be introduced on the bike, and some of them will be made available to our riders through new component packages. The bike presented at the bike show will be the first one of an ultra-limited series of only seven to be produced. Not unlike Italian supercar makers, all seven are reserved for Vitess Riders."

- The Toronto showroom is just the first in what Papon hopes will become a series of showrooms across the country. This spring, a Vitess storefront will open in London, Ontario, and discussions are underway for showrooms in both Ottawa and Montreal.