April 5/11 12:32 pm - Mid Island Velo Association's Crit #1

Posted by Editoress on 04/5/11

Mid Island Velo Association's (MIVA) Boxwood Criterium #1 on Sunday April 1st in Nanaimo BC



The first race in Mid Island Velo Association's 2011 series saw just thirteen riders show up as there were a number of other events on in Victoria and the lower mainland. The first race was for beginners, with most of the experienced riders tagging along in the pre-race clinic to offer advice about tactics and safety.

Once the race got underway, the three entrants stayed together for a couple of laps, with Brodie Hay and then Colleen Wtorek setting the pace and Sylvie Milman from Gabriola just managing to remain in contact. Shortly after teh start of the 3rd lap, the lead duo pulled away from Milman and she then rode alone to finish a respectable third at just a minute down.

In the final sprint, Wtorek proved to be the stronger rider and held off Hay for the win.

As numbers were small, the two experienced categories were combined and the group started at a good pace and stayed together for the first four laps. Then the expert group led by Martin Macharek, opened up a gap and only O2's Simon Ciceri from the intermediate group was able to stay with them. Malcolm Faulkner and Gary Croome of the intermediates were finally lapped with nine laps to go and by the end of the race were dropped again.

Meanwhile, Ciceri was having a hard time staying with the experts but managed to hang on until the finish. The lead group, composed of MIVA's Ray Wagner and Ian Smith, Dave Shishkoff and Martin Macharek from Organic Athlete, and Independent Derek Brain, kept up the pace and the lead alternated among them with no successful breakaways. They were still together entering the final lap and at the line, it was Brain winning comfortably from Smith, with Wagner third.

Thanks to our volunteers for ensuring a safe and well-set-out circuit and to Doug Merrick for officiating and Kit McCaffery for handling registration

The next series criterium is on Sunday. April 19th. Most of the Comox CC riders promise to be there and we should have considerably more riders than this week.
Results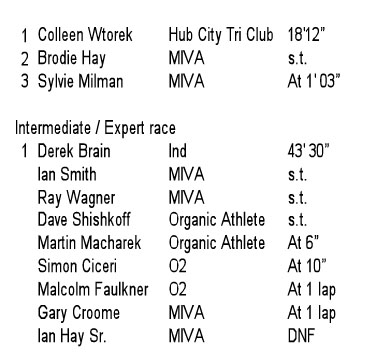 Photos at www.bikeracing.ca.
Courtesy Peter McCaffery