April 23/11 19:05 pm - World Cup Pietermaritzburg: XC Report and Photos

Posted by Editoress on 04/23/11

The Cross-country World Cup is only one race old, and already it is promising to be one of the most competitive series in recent years. At the opening round in Pietermaritzburg, South Africa, both the men's and women's races saw tremendous battles waged, with Nino Schurter (Scott-Swisspower) and Julien Absalon (Orbea) renewing their rivalry in the men's category, and the return of Ren Chengyuan of China upsetting the women's standings. Defending women's champion Catharine Pendrel (Luna) was the top Canadian of the day, in fourth place, with Marie-Helene Premont (Maxxis-Rocky Mountain)in ninth and Emily Batty (Subaru-Trek) finished 16th. In the men's race, Geoff Kabush (Maxxis-Rocky Mountain) was the top Canadian, in 19th place.

Women

The elite women's race saw the return of Chinese star Ren Chengyuan, who had all but disappeared after the Beijing Olympic Games. With few UCI points, she started 47th out of 55 riders, but tore through the field to third place after one lap.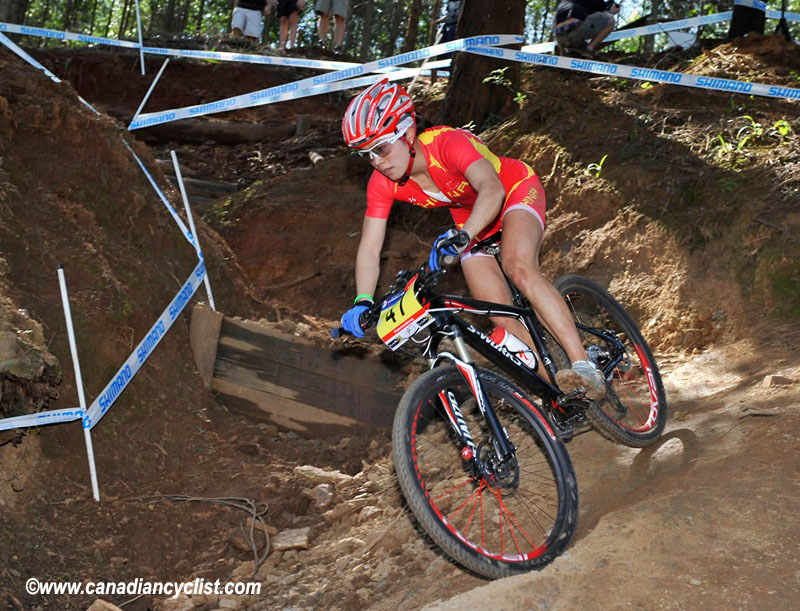 Ren Chengyuan

A lap later she had joined frontrunner Julie Bresset (BH-Suntour-Peisey Vallandry), and by the third lap was out in front alone. In addition to her power, Ren showed an impressive improvement in her bike handling skills, railing technical sections that every other rider was approaching cautiously.

Bresset was clear in second, while Irina Kalentieva (Topeak Ergon) and Catharine Pendrel (Luna) battled for third. Kalentieva dropped Pendrel on the penultimate fourth lap with stronger technical skills to take third.

Ren claimed to be surprised with her victory, commenting "I did not expect to win. I started far back, and the start was very fast. It was hard to pass at the beginning, but then it began to open up and I could move forward."
Catharine Pendrel

Pendrel was pleased with her result, despite losing the number one spot in the standings. "I had a slower start, but I moved up to third and had a strong ride. When Ren passed me, I tried to stay with her but didn't quite have it; she was really strong. It's the first big race of the year, so I'm pleased with my form for this time of year, and there's still lots of races left."

Premont had a strong start, sitting as high as third before falling back to sixth. A lack of time on-bike hurt Premont in the technical sections, and crashes knocked her down to ninth at the finish. "I crashed in the rock garden in each of the last two laps and lost places there. I have not ridden the mountain bike much this year so far, so my technical skills are not so good. But I'm very happy with my form, and I had no breathing problems, so I know that I will get better for Dalby."

Amanda Sin (Team Canada) was 35th, moving up with a last lap surge.

Race Note:

Prior to the start of the race, Trek World Racing made an announcement that had the World Cup family buzzing, with number two-ranked Willow Koerber pulling out of the race and announcing that she was pregnant, having just confirmed the fact the night before.

Team Director Martin Whiteley issued a statement: "Obviously this is a bittersweet development for Willow who on one hand was ready to take on the world in season 2011, yet on the other hand, is now expecting her first child with all the joy and excitement that brings. One thing is clear, we as a team are fully supportive of Willow in this new development and while this was not the plan, life is not predictable and all the team members have been so supportive since she spoke with everyone last night at dinner."

In the Under-23 women's race, Elisabeth Sveum (Merida Smart Safety) took the win with a tremendous last lap that saw her overtake two riders. Paula Gorycka (CCC Polkowice) finished second and Barbara Benko (Focus MIG) third.

Men

The elite men served notice that they are starting the season in top form, averaging over 20 kilometre per hour for their 31.8 kilometre race.

The six lap race saw the top three finishers in the 2010 World Cup standings finish in exactly that order, with Nino Schurter (Scott-Swisspower) beating rival Julien Absalon (Orbea) of France by a meager 16 seconds, with Jaroslav Kulhavy (Specialized) of the Czech Republic in third.

Constant rivals Schurter and Absalon rode away from the rest of the field, with Kulhavy only able to hold on for the first half of the race before the duo dropped him. Absalon had the power on the climbs, but it was in the all important technical sections where Schurter held the advantage.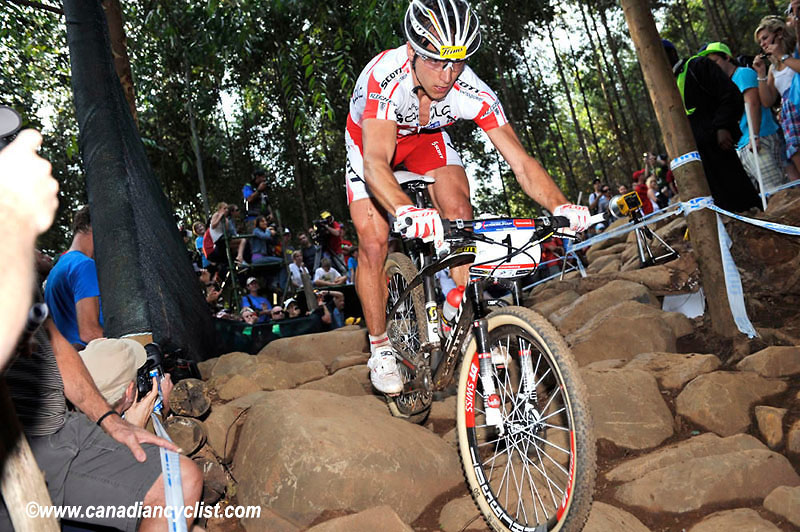 Nino Schurter

In the Treehouse rock garden section, Schurter was noticably smoother, and it was here on lap five of the six lap race that the Swiss rider made his move.

"Again, it was a great fight between Julien and me," commented Schurter. "We are so close, but I was a little faster in the technical section and was able to get a gap, which I could hold to the finish line. I could see that he was coming back a bit on the climbs on the last lap, but it was just enough to hold on. It is always special to win against Julien."

Schurter entered the last lap 20 seconds ahead of Absalon, a gap which shrunk to only a handful of seconds by the top of the climb before he was able to open it again to finish 16 seconds ahead.

"I expected Nino would do well," agreed Absalon, "this track suited him very well, and I was having trouble with the rocky section each time. On lap five I didn't crash, but I hit a tree and lost some time. And after that, we were both going full gas, so there was no chance to catch him."

Kabush was satisfied with his ride. "It was a solid performance. I was able to hit all my lines and didn't make any mistakes in the technical sections. I would have liked to finish higher, but I didn't have a good starting position and had to make my way through a lot of traffic. This is a good base for the next few races, and will get me a better start spot for the next races."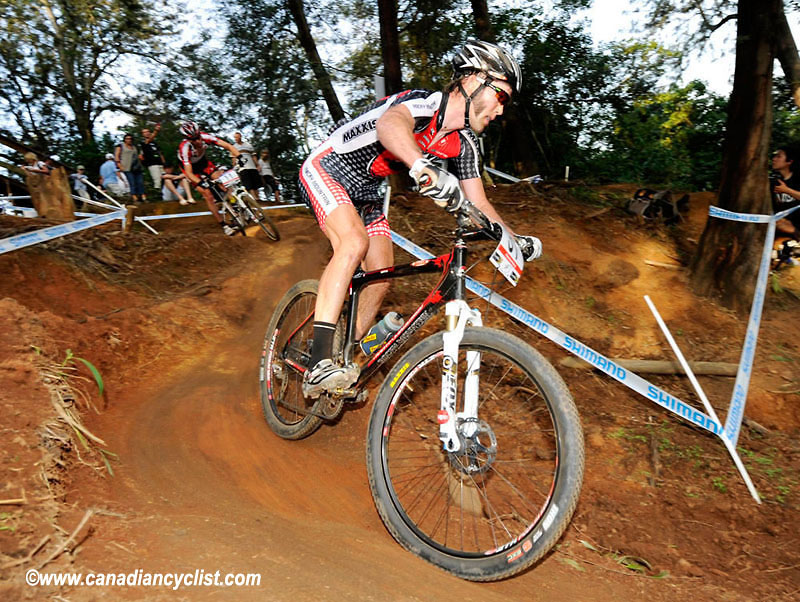 Geoff Kabush

Canadian national team member Derek Zandstra rode as high as 30th, after starting 55th, before finishing 34th. Zandstra crashed hard on lap four in the rock garden after trying to overtake another rider, tumbling down the course and having to scramble back uphill to get back to his bike. According the Team Manager Dan Proulx, he also hit his knee fairly hard, but should recover without any problems.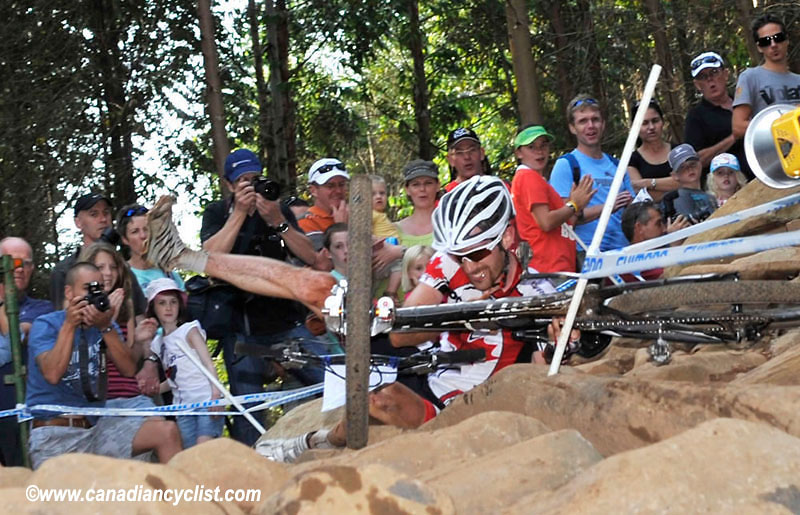 Derek Zandstra went down on the rocks

Other Canadian finishers were Andrew Watson (Team Canada) in 68th, and Adam Morka (Toronto Trek Store) in 70th.

Earlier in the day, the Under-23 men rode in their own separate race, with Gerhard Kerschbaumer (TX Active Bianchi), Alexander Gehbauer (Austria) and Marek Konwa (Milka Trek) riding away from the rest of the field. Kerschbaumer and Gehbauer dropped Konwa at the halfway mark, with Kerschbaumer then attacking at the start of the final lap to take the victory.
Fatal error
: Uncaught Error: Object of class PDO could not be converted to string in /home/canadiancyclistcom/canadiancyclist.com/public/modules/news.php:528 Stack trace: #0 /home/canadiancyclistcom/canadiancyclist.com/public/modules/news.php(517): getrelatedgallery() #1 /home/canadiancyclistcom/canadiancyclist.com/public/dailynews.php(58): getDailyNewsArticle() #2 {main} thrown in
/home/canadiancyclistcom/canadiancyclist.com/public/modules/news.php
on line
528