April 24/11 16:30 pm - World Cup Pietermaritzburg: DH Report, Photos, Steve Smith Interview

Posted by Editoress on 04/24/11

The first round of the 2011 Mountain Bike World Cup concluded in Pietermaritzburg, South Africa on Easter Sunday with the crowd favourite Downhill. While local favourite Greg Minnaar (Santa Cruz Syndicate) was not able to repeat his victory of two seasons ago in the men's race, the thousands of fans were treated to exciting racing, with both the men's and women's titles won by less than three-tenths of a second. Steve Smith (Devinci), Canada's lone Downhill entry at this World Cup, finished a strong sixth, just 0.125 seconds off the podium.

The course had continued to dry out through the weekend, and by the time the elite men and women took to the track the conditions were near perfect. While the course had technical sections, it was primarily 'pedally', favouring riders that could put down power on the flatter, smoother sections through the middle of the run.
Women
Junior woman Manon Carpenter (Madison Saracen) was the first rider off, after technical problems hurt her time in qualifying, and she showed that she could do better by posting a respectable sub-5:12 time. This time would hold up for nearly half the field before the Swiss rider Emilie Siegenthaler (Scott 11) knocked nine seconds off it. However, Siegenthaler didn't even have time to slide into the Hot Seat before Fionn Griffiths (Team GR) obliterated her time with a 4:56.454 .

Griffiths stayed in the Hot Seat as rider after rider came down, none able to come within a second of her time. The closest was Griffiths' own team mate, Emmeline Ragot, but she was still 1. 296 seconds slower. Impressively, Ragot was riding with a broken ankle. Finally, it was the turn of Tracy Moseley (Trek World Racing) - the fastest qualifier, world champion and winner here in 2009. Moseley picked up speed as her run progressed, and posted the fastest time for the lower half of the course, finishing a mere 0.288 seconds ahead of Griffiths to take the victory, and don the leader's jersey.

"This is certainly the toughest track," commented Moseley. "Coming back two years later and it's gotten longer .... Even though it's dry today, there is still so much pedalling. I really tried to give it a lot in the pedalling, but then felt like I suffered in that last section, through the 4-cross course. I felt a bit ropey in some of the technical stuff and the big jumps, I lost some time there, but I was able to make it up on the pedalling I was just hanging on for dear life. A tough, tough race, but such an awesome start to the season. I was pretty nervous coming into this weekend; I spent years trying to get this [world champion's] jersey, and it is so amazing to get to ride in it. I wanted to do my best wearing the jersey. To get to ride in it to the first win of the year is pretty special. It did play on my mind a bit [the rainbow jersey]. It was my dream fulfilled, and so I thought that this year was going to be fun, and no pressure, but I still wanted to do the jersey justice, so I was pretty damned nervous this weekend, and that's probably why I went so hard ... I didn't want to disgrace it."

Moseley also said that riding the eight day Cape Epic paid off for fitness.
Men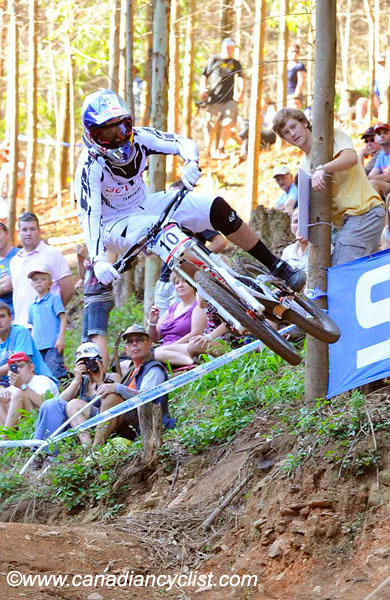 In the 82 rider men's field, it was 4-Cross World Cup winner Jared Graves (Yeti Fox Shox), who set the first fast time of 4:17.183 . Graves stayed in the Hot Seat through 15 riders before the New Zealand champion, Cameron Cole (Lapierre International) was able to edge him out. Cole had a much shorter time in the lead, as Steve Peat (Santa Cruz Syndicate) knocked nearly two seconds off the top time only three riders later. Peat was uncharacteristically seeded low, since he has been fighting the effects of a flu which has sapped his power all week.

Peat withstood the challenges of a number of top names, as the start list counted down: Sam Blenkinsop (Lapierre International), Marc Beaumont (Team GT), Justin Leov (Trek World Racing), Steve Smith (Devinci), Adrew Neethling (Giant) and world champion Sam Hill (Monster Energy/Specialized/Mad Catz).

Peat's time in the Hot Seat lasted until American Aaron Gwin (Trek World Racing) knocked a staggering seven seconds off the best time. Defending World Cup champion Gee Atherton (Commencal) could only manage a time within two seconds of Gwin, which was good enough for third, and Minnaar, with the entire crowd cheering him down the course, came oh-so-close, but was 0.241 seconds in arrears. When the fastest qualifier, Mick Hannah (Team GT) crashed hard after bolts broke in his handlebar stem, Gwin knew that he had his first World Cup victory. (right: Steve Smith)

With his win, Gwin became the first American man to win a World Cup since 1999 (Shaun Palmer at Big Bear). Gwin revealed that he has been training with the legendary John Tomac, and it appears to have paid off. Troy Brosnan (Monster Energy/Specialized/Mad Catz) of Australia won the Junior men's title.

"Honestly, coming into this weekend, I didn't think I could do it," explained Gwin. "The track was just clicking, and I felt really good all weekend, and it just came down to the pedalling. I thought that if I could just go hard at the top and the bottom I was probably fit enough to hold onto it in the middle, and it worked out. i was surprised at the gap when I came down. It was a pretty loose run, but it was everything I had. It was on th edge, I hit a tree at the top, but I just tried to keep myself calm and hold it together, but there were some sketchy moments I'm stoked, I'm just speechless."

Despite finishing just off the five-deep podium, Smith was pleased with his result. "This isn't a course that really suits me, I prefer more technical course, and this was pretty wide open. But I've been working on my power and it has paid off, so I know that i can get on the podium in the races to come."

Note: Post-race video interview with Steve Smith.



Fatal error
: Uncaught Error: Object of class PDO could not be converted to string in /home/canadiancyclistcom/canadiancyclist.com/public/modules/news.php:528 Stack trace: #0 /home/canadiancyclistcom/canadiancyclist.com/public/modules/news.php(517): getrelatedgallery() #1 /home/canadiancyclistcom/canadiancyclist.com/public/dailynews.php(58): getDailyNewsArticle() #2 {main} thrown in
/home/canadiancyclistcom/canadiancyclist.com/public/modules/news.php
on line
528