April 25/11 12:34 pm - Hell of the North 2011: Report, results and photos

Posted by Editoress on 04/25/11

It was an incredible day to be a bike racer! The 3rd annual Hell of the North sponsored by Rapha was a great success! The Cedar beach grill at Musselman's lake is perfect for this event and when you have weather like we did today added to one of the toughest courses around you get one of the best cycling events in Ontario!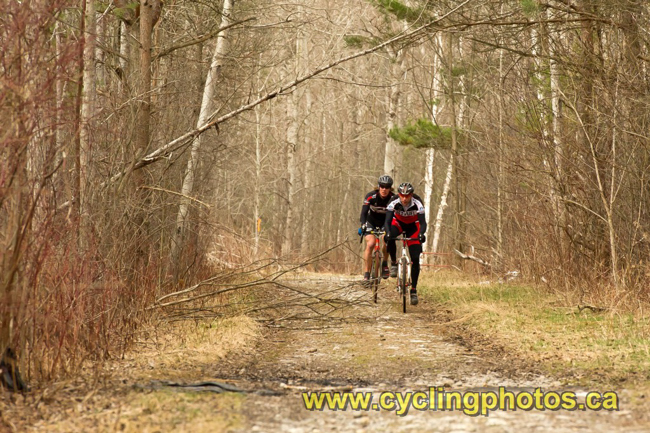 Osmond Bakker (Jet Fuel/LaBicicletta) with Nathan Chown exiting "The Trench" - Jon Safka

The day started of with a solo rider making a early move off the front. With no one coming to join him, Jamie Smith (Jet Fuel/LaBicicletta) extended his lead over the group of 80 riders by two minutes at the 25km mark. That's when the first bog section hit hard and from that point on it was a completely different race. If mud and swamp isn't you thing you quickly got passed by the hard men of Ontario. Osmond Bakker (Jet Fuel/LaBicicletta) was the first man out of the Boag Rd section with Nathan Chown (Handle bars) in hot pursuit a few seconds back. The two paired up on the asphalt and quickly got a gap on the next few out of the mud, this included last years champ Erik Box (Davinci) and 2010 runner up Derek Hardinge (Ninetofivepro). The chase group grew to 11 riders but they couldn't get any chemistry and the 2 leaders stayed away the entire day. With a few kms to go Osmond Bakker put the hurt on while in an off road section on Hillsdale Rd and that was enough to get a gap on Chown. Bakker soloed in 30 seconds ahead to become the 2011 Hell of the North Champion! Nathan Chown held on for second and Erik Box took the last spot on the podium 2 mins back out sprinting Derek Hardinge for 3rd!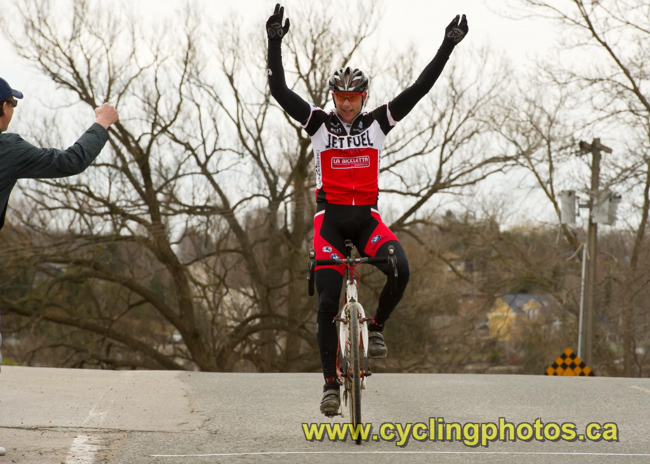 Osmond Bakker (Jet Fuel/LaBicicletta) wins

Thank you to all our wonderful volunteers, thank you to our sponsors, LaBicicletta and Rapha for the amazing prizes and hand outs and thank you to everyone who made it out today, you make our event better and better every year!


Results
1 Osmond Bakker (Jet Fuel/LaBicicletta), 2:41:00
2 Nathan Chown, (Handlebars), 2:41:30
3 Erik Box, (Davinci), 2:43:00
4, Derek Hardinge (Ninetofivepro)
5 Kevin Black, (Darkhorse Flyers)
6 Tim Carleton (Rideallday.ca/RealDealRacing)
7 Sean Kelly (Jet Fuel/LaBicicletta)
8 Warren Tillbrook (Handlebars)
9 Colin Engle, 2:43:30
10 Ryan Atkins
11 Peter Morse (Jet Fuel/LaBicicletta), 2:45:00
12 Brandon Tullock, 2:46:00
13 Mattias Schmidt (Darkhorse Flyers)
14 David Dermont
15 Andrew Stewart

Courtesy Ed Veal, www.realdealracing.ca

Fatal error
: Uncaught Error: Object of class PDO could not be converted to string in /home/canadiancyclistcom/canadiancyclist.com/public/modules/news.php:528 Stack trace: #0 /home/canadiancyclistcom/canadiancyclist.com/public/modules/news.php(517): getrelatedgallery() #1 /home/canadiancyclistcom/canadiancyclist.com/public/dailynews.php(58): getDailyNewsArticle() #2 {main} thrown in
/home/canadiancyclistcom/canadiancyclist.com/public/modules/news.php
on line
528