April 29/11 11:35 am - Rare 30th Anniversary Eddy Merckx Bike at La Bicicletta Toronto

Posted by Editoress on 04/29/11

La Bicicletta Toronto and Kempter Marketing are extremely proud to introduce the 2011 Eddy Merckx 30th Anniversary "Eddy's Bike", two of only 200 produced for the world. These bikes will be on show at La Bicicletta on May 4th from 4:00 to 6:00 pm. Eddy Merckx won an unparalleled 525 races in his legendary career including all the spring classics, Tour De France, Giro, Vuelta and World Championships.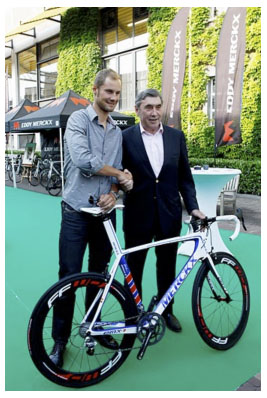 Merckx recently celebrated his 65th birthday and this extra special bike was created to mark the occasion. Each major race win (over 65 dates and locations) is handpainted onto the custom lightweight carbon wheels. His Giro, Vuelta, Tour De France and World Championships are also hand painted onto the top tube along with Eddy's signature. Each bike is numbered and comes with a limited edition Eddy's Art book, a 795 Euro ($1100 Cdn) book that depicts his greatest accomplishments as a racer.

This bike is finished with 62 Ton HM carbon fibre and boasts the highest stiffness to weight ratio currently in the world. This is a rare chance to glimpse history in the making. Retail is set at over $22000. Eddy Merckx staff will be on site to answer questions. Belgian beer, waffles, Domestique Espresso and, of course, Belgian chocolates will be on site for all to enjoy.