May 8/11 18:55 pm - Pan Am Championships: Women's Road Race report

Posted by Editoress on 05/8/11

Canadian cyclist Clara Hughes of Glen Sutton, Quebec, is having a brilliant start as she continues her return to cycling, winning her second gold medal in three days, on Sunday, at the 2011 UCI Pan-American Championships in Medellin, Colombia.

In the mass-start road race, Hughes completed the 96 kilometre course in 2:23:52, with an impressive 1:18 lead over silver medallist Evelyn Garcia Marroquín of El Savador and 6:53 over the chase group, with American Theresa Cliff-Ryan winning the sprint for the bronze medal.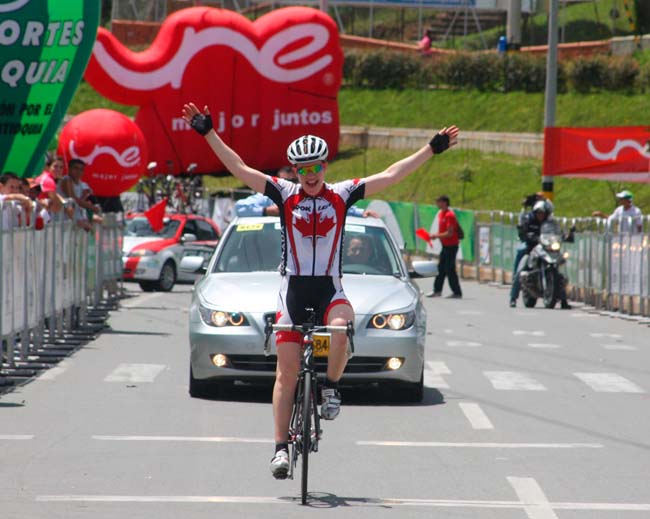 Clara Hughes winning the women's road race
Canada's Joëlle Numainville of Montréal took fourth place, with the same time as Cliff-Ryan. Denise Ramsden of Yellowknife, Northwest Territories, placed sixth, followed by Heather Logan-Sprenger of Madoc, Ontario, in eighth and Leah Kirchmann of Winnipeg in tenth position, all with the same time deficit to Hughes.

Hughes' gold medal performances in the road race and the time trials will guarantee her participation in both events (as the Continental Champion) at the 2011 UCI Road World Championships in Copenhagen, Denmark, in September.

"It was an epic day ... We had a plan as a team to win the road race today and I am so proud of this victory for Canada," said Hughes, who won her third straight race since returning to road racing.

"It was hot, hilly and gruelling, and I was cramping up really badly halfway through the race. I ate and drank as much as I could to make the cramps go away and kept thinking 'you can't lose this race for the team!'. It gave me a lot of strength and motivation knowing my teammates were working hard behind. It was a team victory and I'm satisfied but exhausted. I've never cramped up in a race and had to go through that kind of pain," added Hughes.

Vincent Jourdain, Head coach of the Canadian Road Cycling Team, is elated by the Canadian team's performance. "The girls followed the game plan to perfection today. The strategy was to put [on] pressure immediately and isolate the Americans. Clara quickly broke away from the peloton with a girl from El Savador, and gave an incredible effort throughout the race in front," said Jourdain. "We reached our objective here, securing two additional spot for the World Championships."