May 9/11 12:48 pm - Norco Range - Follow Up Review

Posted by Editoress on 05/9/11

We first reviewed the Range last year - in a short introduction from the Norco 2011 Press Launch, and then as part of our review of Shimano's 5th Generation XTR group, where the Range was generously provided by Norco to use as a test platform. Subsequently, we provided our XTR-equipped Range to reviewer Chad Grochawina, who put it through an extended test over the winter and spring. Here is Chad's comments on the Norco Range:

New to the Norco line up for 2011 is the Range. At 160mm for front and rear travel, this bike slots into the "All Mountain" category. And for those that think a 6" dual suspension bike is heavy and inefficient, I urge you to take out the Range for a test ride.
Range SE
To the unassuming eye the Range looks like many other 'true' four-bar suspension platforms; and why I mention 'true' is because of the Horst-Link. The four-bar suspension has been around for a while simply because it works ... really, really well. It is always active - whether you're pedaling up a hill or ripping down one, the suspension moves you forward without a hint of brake-jack.

So what differentiates the Range from other similar looking designs? The Norco engineers have improved on the four-bar design and dubbed it A.R.T. - Advanced Ride Technology. As expected, the bike pedaled great. While seated, there was virtually no suspension bob; the bike wanted to move forward with every pedal stroke no matter what chainring I was using (the test bike was equipped with a triple chainring setup).
One of the key engineering features of A.R.T is the built-in 'anti-squat' function. With the special placement of suspension pivots, and using chain growth to its advantage (slight lengthening of the chain as the suspension compresses), the subsequent chain torque from pedaling counteracts the rider's rearward shifting weight bias.

What does this mean in the real world? Power to the pedals keeps the suspension running higher in it's travel, counteracting suspension induced bob, and propelling you forward instead of up and down. With the suspension running higher in it's travel, the Range feels like it has more then 160mm of suspension travel.

Norco spec'd a Fox RP23 with Boost Valve rear shock, making the bike feel like it had bottomless travel. The Boost Valve shock is known for its linear suspension feel without harsh bottom-outs. In fact, it feels like a coil shock without the added weight. At speed, the rearward axle path, coupled with a relatively low bottom bracket (13.2"), saw the bike move forward swiftly and predictably, holding it's line while smashing through rocks, roots, and ruts.

One thing to note regarding the bottom bracket height: if you like riding fast and flowy singletrack (who doesn't?) the Range is incredibly stable. But if you're the kind of rider that spends lots of time picking your way up and over rocks and logs (a southern Ontario specialty), you'll find yourself smashing your pedals and chainrings a bit more then some other bikes in a similar class. This isn't a bad compromise, just something that will take some getting used to, and will be probably be a non-issue with a bash guard.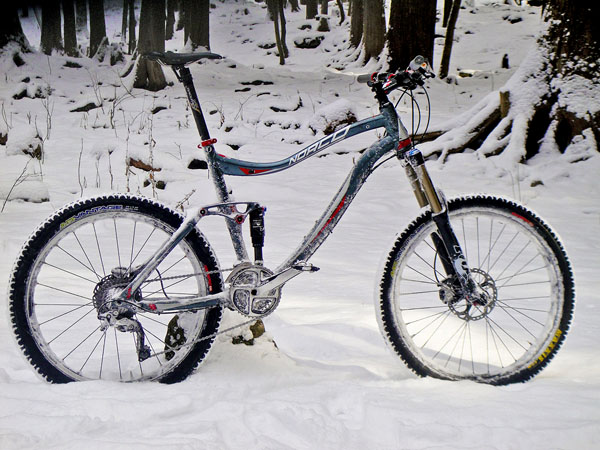 Other key features to note: Norco has used a one piece suspension rocker to connect the frame halves together. This, combined with a Syntace 142x12mm rear wheel through-axle, means that rear-end flex is virtually eliminated. And similar to every other 'all mountain' bike, the Range front end is stiff and flex free due to the tapered head tube. And If you wish to use a chain guide the Range is equipped with a ISCG tabs.

My XL size test bike, equipped with a complete 2011 M980 XTR kit (including wheels) and a Fox 36 Talas RLC fork, weighed a respectable 29lbs (13.2 kgs). In my opinion, a bike like this in the sub-30lb range is pretty great, but you'll have to spend a bunch of money to achieve this. The Range is usually kitted out with either SRAM (X5 on the Range 3, up to XO in the Range SE) or Deore XT level components. For our test bike, the folks at Shimano were kind enough to provide the XTR group while Norco sent us a frame and fork so our test bike wasn't really 'off the shelf'.

However, when shopping at your local dealer, you'll find the Range 3 starting at $2550 and the higher end models heading all the way up to $8100 (Range SE). Off the shelf, I feel the entry level Range 3 is great value, as it has a Rock Shox Lyric fork with adjustable travel (adjustable fork travel adds to the versatility of a bike in this category and is a must have in my opinion), a Rock Shox Monarch rear shock, and a SRAM X5 component spec. If you're looking for a no-compromise set up you should consider either the Range 1 ($5250 with Shimano XT and Fox suspension) or the Range SE (SRAM XO with Fox suspension).

Overall I was really impressed with the Range. Norco certainly managed to dial in the handling and suspension feel of this bike. When I compare it to similar style bikes I've used in the past (Turner Spot, Santa Cruz Nomad to name a couple) it's just as good. If you're considering a 6" trail bike in the near future the Range must be on your list.
Chad