May 19/11 19:33 pm - Chrono Gatineau: Report and Full Results

Posted by Editoress on 05/19/11

Hughes Wins Chrono Gatineau Time Trial in Spite of Crash

By Sarah Moore

After a quick recovery from a fall at the midway point of the individual time trial, Clara Hughes powered through the rest of the course, beating Ukraine's Hanna Solovey by ten seconds. Amber Neben, Jeannie Longo-Ciprelli and Julie Beveridge rounded out the top five.

"You've really got to win this because you can't lose because of a crash," Hughes told herself after her back tire slipped out on her while going around the roundabout.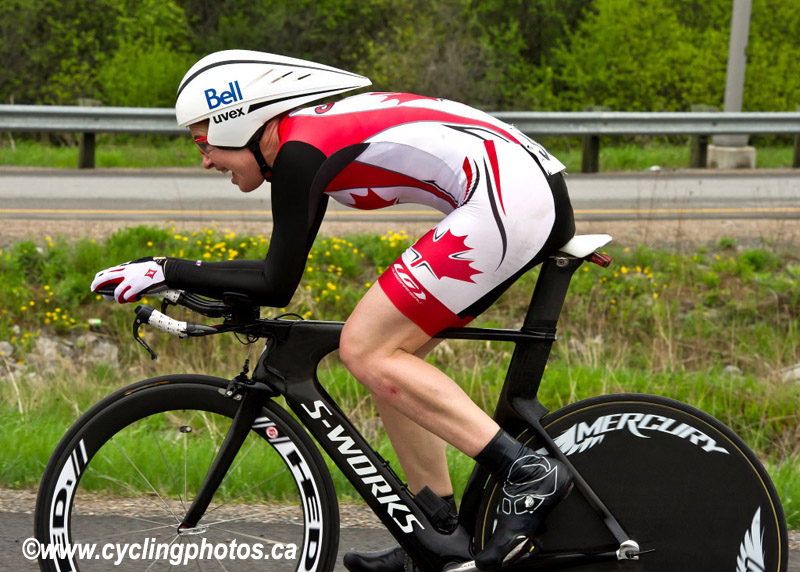 Clara Hughes
The rain stopped about half an hour before the first women took off for the [first of] two 8.67km laps through the Gatineau park and water on the road made the course slippery. Hughes says that's not the reason she fell however.

"I just took the corner way too fast. I thought the roundabout was wider. And I came into it and I thought 'I'm going down.' I knew I was crashing before I did so I put my foot out and tried to throw my bike and go on my feet but it didn't quite work out. But that's why I got up so fast. If I had to fall I probably fell in a good way. It was a lesson for all the spectators watching – how to fall off your bike and get back on," Hughes said after the race.

Hughes' mechanic jumped out of the car when she fell and, as soon as she had her foot back on the pedal, he pushed her off.

"You've got to get going, don't even think about it," Hughes thought to herself as she set off for the second lap, chasing Longo-Ciprelli, who started one minute before her.

No one knew that the young Ukrainian rider, Solovey, would be a threat. She was one of the youngest riders in the race, although it seems that age doesn't play a part in women's road racing, with riders in the top five ranging from nineteen (Solovey) to fifty-three (Longo) years old. It was Solovey's first time racing in Canada.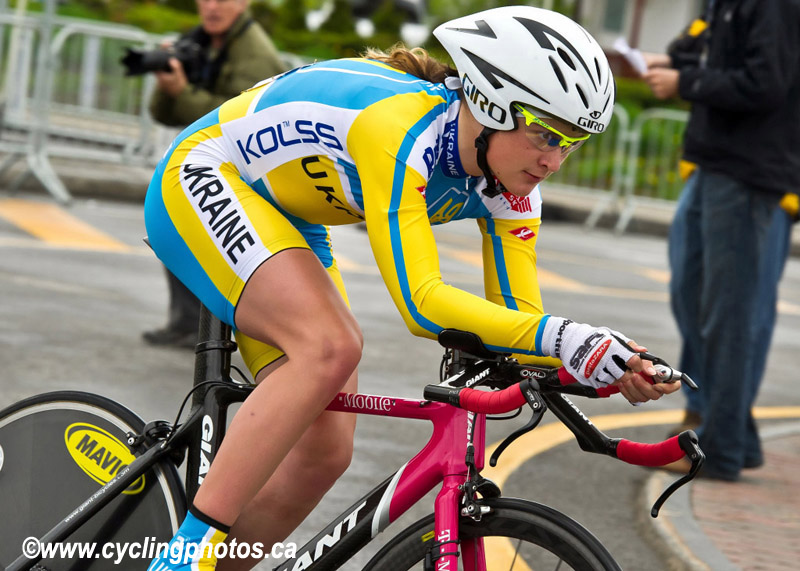 Hanna Solovey
"I'm not happy because it's second. But it's ok. I tried. I'm young – I'm only nineteen. There were World Champions and very great sportsmen here," she said.

One of those great riders was Hughes, who was the rider to beat after her strong performance at the Pan American Championships.

"I knew I was going to have to go really fast to beat Clara – especially being in her home," Neben said on her way to the podium, before rushing off to the airport to catch a flight to LA.

Neben is racing in the Tour of California time trial tomorrow. Hughes however opted not to do the California race.

"This was a race that was key on my plan leading into the World Championships and my comeback to the sport. I got some invites to the time trial in California tomorrow after I won a few races earlier and I told them that I have a commitment to a race in Canada. I want to support a race at home, especially because the organizer went out of his way after last year to make this time trial a UCI time trial," Hughes said.


Hughes felt a bit sore after the fall but was happy with her race, her first technical time trial of the year.


"I love time trials like this. And I wanted to win on Canadian soil," Hughes said.

On Saturday Hughes will have another chance at Canadian gold as she is competing in the Grand-Prix Cycliste Gatineau Hydro-Quebec, a 103.4 km road race.


Race Note:
Clara Hughes not only raced for Canada today, she also raced for Daron Richardson, a young girl from Ottawa whose life ended tragically last year. Today, Hughes raced with a purple bracelet with the letters D.I.F.D. – Do It For Daron – which is the campaign to raise awareness and break down the stigma related to mental illness in young people.
"I wanted to win today in memory of Daron and in support of her family and dedicate this victory to her. I was really inspired me to keep going and put the crash behind me."
Full results
| | | |
| --- | --- | --- |
| 17.35 km | Time | Diff |
| 1 Clara Hughes (Can) Team Canada | 23:49.17 | 0 |
| 2 Hanna Solovey (Ukr) Team Ukraine | 23:59.91 | 10.74 |
| 3 Amber Neben (USA) HTC-Highroad | 24:02.85 | 13.68 |
| 4 Jeannie Longo-Ciprelli (Fra) Team France | 24:39.02 | 49.85 |
| 5 Julie Beveridge (Can) Vienne Futuroscope | 25:00.98 | 11.81 |
| 6 Sue Schlatter (Can) Stevens Pro Team | 25:04.78 | 15.61 |
| 7 Denise Ramsden (Can) Juvederm-Specialized | 25:14.17 | 25.00 |
| 8 Heather Logan-Sprenger (Can) Colavita/Forno d'Asolo | 25:19.88 | 30.71 |
| 9 Lesya Kalitovska (Ukr) Team Ukraine | 25:24.66 | 35.49 |
| 10 Edwige Pitel (Fra) Vienne-Futuroscope | 25:28.09 | 38.92 |
| 11 Megan Guarnier (USA) TIBCO/ to the Top | 25:30.01 | 40.84 |
| 12 Svitlana Galyuk (Ukr) Team Ukraine | 25:30.64 | 41.47 |
| 13 Anna Harkowska (Pol) Kallisto / Wheels of Bloor | 25:33.78 | 44.61 |
| 14 Rushlee Buchanan (NZl) Colavita/Forno d'Asolo | 25:34.76 | 45.59 |
| 15 Caroline Ryan (Irl) Team Ireland | 25:38.26 | 1:49.09 |
| 16 Véronique Labonte (Can) Juvederm-Specialized | 25:42.20 | 1:53.03 |
| 17 Erinne Willock (Can) TIBCO/ to the Top | 25:42.51 | 1:53.34 |
| 18 Cynthia Wilson (Can) Reform-Body / Power | 25:51.30 | 2:02.13 |
| 19 Leah Kirchman (Can) Manitoba | 26:02.12 | 2:12.95 |
| 20 Annick Dufour (Can) Stevens Pro Team | 26:10.26 | 2:21.09 |
| 21 Audrey Cordon (Fra) Vienne-Futuroscope | 26:20.85 | 2:31.68 |
| 22 Stephanie Skoreyko (Can) Kallisto / Wheels of Bloor | 26:23.18 | 2:34.01 |
| 23 Véronique Fortin (Can) Équipe Québec | 26:24.48 | 2:35.31 |
| 24 Olivia Dillon (Irl) Team Ireland | 26:25.30 | 2:36.13 |
| 25 Moriah MacGregor (Can) Juvederm-Specialized | 26:34.24 | 2:45.07 |
| 26 Jennifer Stephenson (Can) RE:FORM/CyclePower Women's Cycling Team | 26:46.95 | 2:57.78 |
| 27 Tricia Spooner (Can) Stevens Pro Team | 26:51.13 | 3:01.96 |
| 28 Annie Ewart (Can) Team Canada | 26:51.62 | 3:02.45 |
| 29 Marti Shea (USA) Destination Cycling | 26:52.78 | 3:03.61 |
| 30 Sue Palmer-Komar (Can) P-K Express / HNZ Strategic.com | 27:00.84 | 3:11.67 |
| 31 Audrey Sarrazin (Can) Équipe Québec | 27:13.31 | 3:24.14 |
| 32 Adriane Provost (Can) Équipe Québec | 27:34.66 | 3:45.49 |
| 33 Julia Garnet (Can) Team Canada | 27:49.22 | 4:00.05 |
| 34 Allison Lampi (Can) RE:FORM/CyclePower Women's Cycling Team | 27:56.56 | 4:07.39 |
| 35 Suzie Brown (Can) P-K Express / HNZ Strategic.com | 28:17.28 | 4:28.11 |
Fatal error
: Uncaught Error: Object of class PDO could not be converted to string in /home/canadiancyclistcom/canadiancyclist.com/public/modules/news.php:528 Stack trace: #0 /home/canadiancyclistcom/canadiancyclist.com/public/modules/news.php(517): getrelatedgallery() #1 /home/canadiancyclistcom/canadiancyclist.com/public/dailynews.php(58): getDailyNewsArticle() #2 {main} thrown in
/home/canadiancyclistcom/canadiancyclist.com/public/modules/news.php
on line
528