May 20/11 17:59 pm - Dalby Cross Country Eliminator : Women

Posted by Editoress on 05/20/11

Results from today's Cross Country Eliminator in Yorkshire, Dalby Forest (GBR)
Our coverage brought to you with the support of Velirium
The new Eliminator series in the Mountain Bike World Cup had a highly successful debut at the Dalby World Cup on Friday evening. Twenty six women and 42 men took part in the qualifying time trial, with all of the women and the top 32 men moving on to the Heats competition. Nathalie Schneitter (Colnago Arreghini Sudtirol) took the women's victory and Paul van der Ploeg (Felt Oetztal X - Bionic) the men's.

After later afternoon rainshowers threatened to impact the event, the skies cleared up and the roads dried out just before the start. Held in the north Yorkshire town of Pickering, the course took riders on a winding up-and-down course, through a church cemetery and down a set of stairs. The key was a strong start in the top two positions, since passing was difficult. Thousands of spectators came out to watch, lining the finishing uphill straightaway.

British rider Annie Last qualified first for the women, Sweden's Alexandra Engen. Tracy Moseley (Trek World Racing), the reigning downhill world champion qualified fourth, and 4-Cross World Cup leader Anneke Beerten (Milka Trek) ninth.

In the four rider heats, Moseley, her British team mate Annie Last and Katerina Nash (Luna) looked to be the strongest, but Schneitter was more consistent. Moseley rode to set up her team mate Last in the semi-final ride, but knocked herself out of the final in the process. Last and Schneitter were joined by Katrin Leumann (Ghost Factory) and Engen made up the other members of the final. Schneitter went to the front on the first short climb, and easily held off Last for the victory, with Leumann taking third.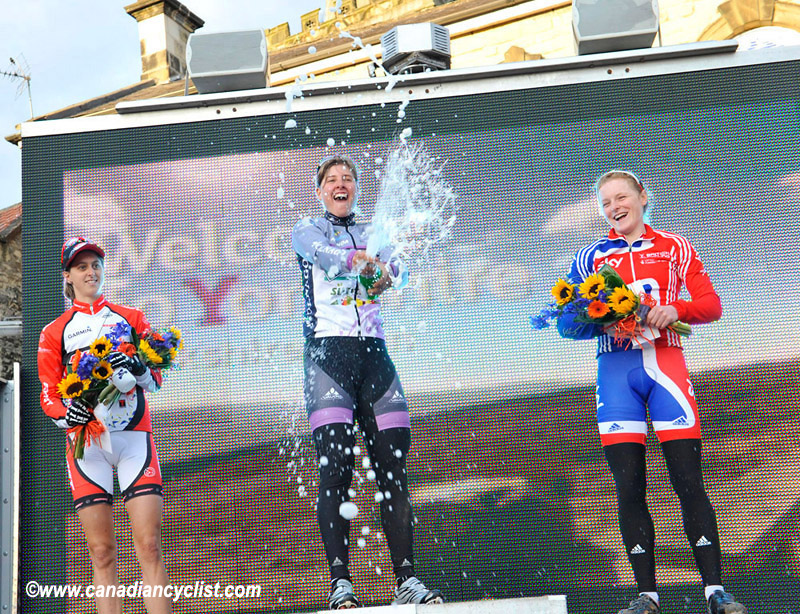 Qualifying
1 Annie Last (GBr) British National Team
1:39.873
2 Alexandra Engen (Swe)
1:41.123
3 Aleksandra Dawidowicz (Pol) CCC Polkowice
1:41.127
4 Tracy Moseley (GBr) Trek World Racing
1:41.210
5 Katherine O'Shea (Aus)
1:43.207
6 Pavla Havlikova (Cze)
1:43.377
7 Lisa Mitterbauer (Aut) Bikepark.ch Scott
1:43.880
8 Chloe Forsman (USA)
1:44.880
9 Anneke Beerten (Ned) Milka Trek Mtb Racing Team
1:45.630
10 Lee Craigie (GBr)
1:46.127
11 Katerina Nash (Cze) Luna Pro Team
1:46.200
12 Anna Szafraniec (Pol) CCC Polkowice
1:47.620
13 Katrin Leumann (Sui) Ghost Factory Racing Team
1:47.873
14 Karen Hanlen (NZl)
1:48.203
15 Nicoletta De Jager (Ned)
1:49.203
16 Hana Jezkova (Cze) GT Czech Team
1:49.210
17 Lucie Vesela (Cze) GT Czech Team
1:49.627
18 Nathalie Schneitter (Sui) Colnago Arreghini Sudtirol
1:50.123
19 Eva Lechner (Ita) Colnago Arreghini Sudtirol
1:50.373
20 Krista Park (USA)
1:50.373
21 Magdalena Sadlecka (Pol)
1:50.623
22 Maxine Filby (GBr) CCC Polkowice
1:50.877
23 Amy Dombroski (USA)
1:50.877
24 Janka Stevkova (Svk)
1:51.127
25 Vendula Kuntova (Cze) GT Czech Team
1:56.213
DNF Lesley Ingram (GBr)
DNS Ingrid Bosscha (Ned)
Big Final
1 Nathalie Schneitter (Sui) Colnago Arreghini Sudtirol
2 Annie Last (GBr) British National Team
3 Katrin Leumann (Sui) Ghost Factory Racing Team
4 Alexandra Engen (Swe)
Small Final
5 Katerina Nash (Cze) Luna Pro Team
6 Pavla Havlikova (Cze)
7 Tracy Moseley (GBr) Trek World Racing
8 Chloe Forsman (USA)
1/4 Final
9 Katherine O'Shea (Aus)
10 Lisa Mitterbauer (Aut) Bikepark.ch Scott
11 Anneke Beerten (Ned) Milka Trek Mtb Racing Team
12 Eva Lechner (Ita) Colnago Arreghini Sudtirol
13 Aleksandra Dawidowicz (Pol) CCC Polkowice
14 Lee Craigie (GBr)
15 Anna Szafraniec (Pol) CCC Polkowice
16 Lucie Vesela (Cze) GT Czech Team
1/8 Final
17 Karen Hanlen (NZl)
18 Nicoletta De Jager (Ned)
19 Hana Jezkova (Cze) GT Czech Team
20 Krista Park (USA)
21 Magdalena Sadlecka (Pol)
22 Maxine Filby (GBr) CCC Polkowice
23 Amy Dombroski (USA)
24 Janka Stevkova (Svk)
25 Vendula Kuntova (Cze) GT Czech Team
Fatal error
: Uncaught Error: Object of class PDO could not be converted to string in /home/canadiancyclistcom/canadiancyclist.com/public/modules/news.php:544 Stack trace: #0 /home/canadiancyclistcom/canadiancyclist.com/public/modules/news.php(533): getrelatedgallery() #1 /home/canadiancyclistcom/canadiancyclist.com/public/dailynews.php(58): getDailyNewsArticle() #2 {main} thrown in
/home/canadiancyclistcom/canadiancyclist.com/public/modules/news.php
on line
544