May 20/11 19:52 pm - Grand Prix Cycliste Gatineau Preview and Team Presentation

Posted by Editoress on 05/20/11

14 Teams and 80 riders will compete on Saturday
By Sarah Moore
Fourteen teams with competitors from ten different countries will be competing in the only UCI-sanctioned women's road race in Canada, the 103.4 km Grand Prix Cycliste Gatineau tomorrow. The riders will complete eleven laps of a 9.4 km course , with racing starting at 11 am (EDT).

The teams:

P-K Express / HNZ Strategic.com
West of Quebec Wheelers
ATRIUM R2CC
Kallisto / Wheels of Bloor
REFORM BODY - Power Cycle
Steven's Pro Team
Team Juvederm-Specialized
TEAM- Dabury AUDI
Vienne Futuroscope – France
Colavita Forno D'Asolo
Equipe du Quebec
Ukraine National Team
Team Canada
TIBCO

The mayor of Gatineau, Marc Bureau, started off the team presentation by inviting the reigning World Champion Giorgia Bronzini, last year's Grand Prix Cycliste Gatineau road race winner Joelle Numainville, cycling and speedskating Olympic medalist Clara Hughes, three-time Olympic medalist Caroline Brunet and French cycling legend Jeannie Longo-Ciprelli to sign the Ville de Gatineau's guestbook.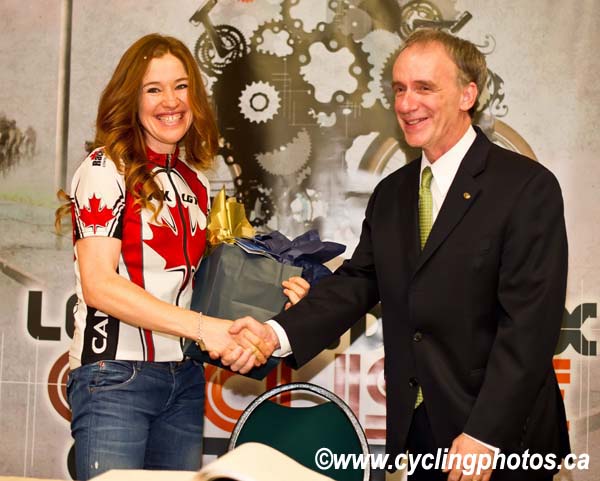 The mayor of Gatineau, Marc Bureau and Clara Hughes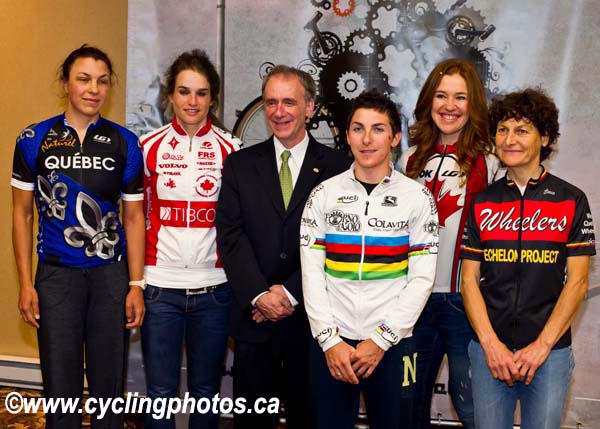 l to r: Caroline Brunet, Joelle Numainville, Mayor Bureau, Giorgia Bronzini, Clara Hughes, Jeannie Longo-Ciprelli
Longo-Ciprelli wore the colours of the West of Quebec Wheelers at team presentation today but it is still unsure whether she will be able to compete with them in the Grand Prix Cycliste Gatineau road race tomorrow.

"The situation is that, for a UCI Level 1.1, you're not supposed to have composite teams. You're allowed to have national teams, trade teams, regional teams and club teams," said John Large, one of the race organizers and a member of the Wheelers.

Canadian riders, Kelly Knowles and Marlene Marchilidon are sure to be competing tomorrow with Guam National Team member Lenore Pipes and Irish National Team members Caroline Ryan and Olivia Dillon.

"They're all members of the club and their licenses are adjusted to show they are members of a Canadian club, while Jeannie's license is a French license and there are no affiliations on French licenses other than French clubs. She's the only one in that situation," said Large.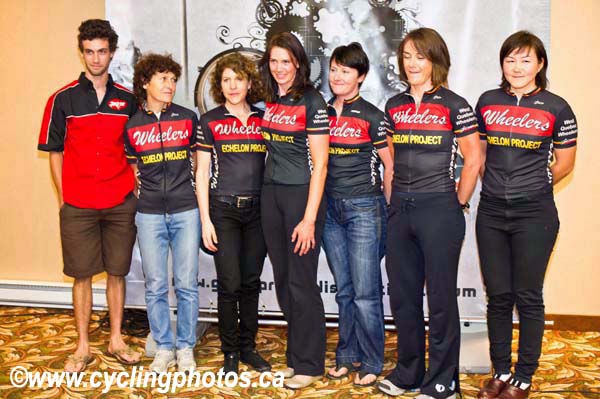 Jeannie Longo-Ciprelli and the West of Quebec Wheelers team
He was discouraged with the bureaucracy of the UCI, saying that it was already hard enough to find enough women to compete in the race.

"It's a shame to think that she could be on the side of the road tomorrow watching. It just doesn't make sense. And this is where the UCI rules don't really apply, and shouldn't be applied in the same way in Canada as they are in Europe where there are lots of clubs and lots of riders. As it is we've had to search the globe to get 75 to 80 riders, as opposed to the men's circuit where there's hundreds and hundreds. There shouldn't be barriers to having any (of the) women participate," he said.

If the right paperwork is in before the start of the race tomorrow Longo-Ciprelli will be able to race wearing the Wheelers colours. Large said that we won't know until we see the presence, or absence, of the French rider on the line tomorrow.*
UPDATE: Longo has been allowed to race
Fatal error
: Uncaught Error: Object of class PDO could not be converted to string in /home/canadiancyclistcom/canadiancyclist.com/public/modules/news.php:544 Stack trace: #0 /home/canadiancyclistcom/canadiancyclist.com/public/modules/news.php(533): getrelatedgallery() #1 /home/canadiancyclistcom/canadiancyclist.com/public/dailynews.php(58): getDailyNewsArticle() #2 {main} thrown in
/home/canadiancyclistcom/canadiancyclist.com/public/modules/news.php
on line
544