May 29/11 18:25 pm - World Cup Offenburg report

Posted by Editoress on 05/29/11

Good Results for Canadians in Offenburg, Germany
Our coverage brought to you with the support of Velirium
Canadians had a strong day at the third round of the cross-country World Cup in Offenburg, Germany, with Catharine Pendrel (Luna) and Marie-Hélène Premont (Maxxis-Rocky Mountain) finishing on the podium in second and fourth respectively for the women's race, while Derek Zandstra (Team Canada) had a career high 26th place in the men's race, moving him into 25th in the overall standings. Emily Batty (Subaru-Trek) also had a strong race, finishing 15th.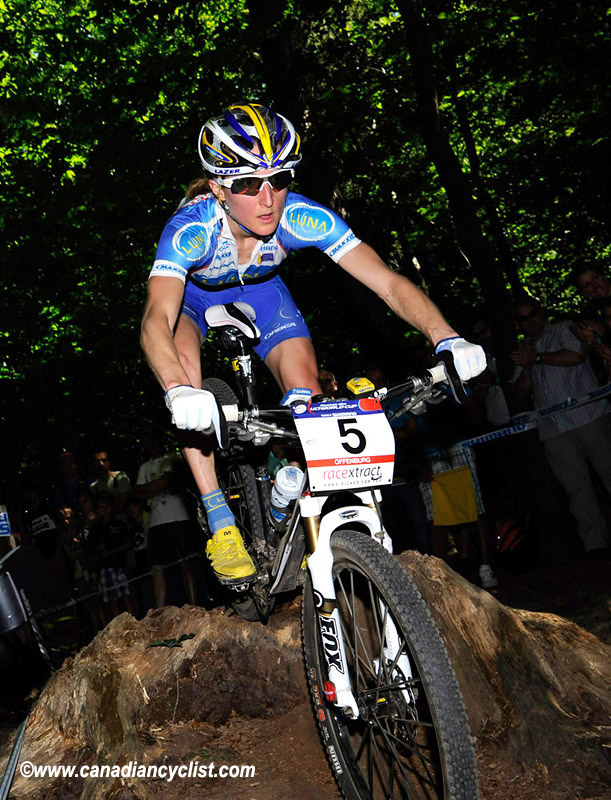 Women
The women's race saw Julie Bresset (BH Suntour Peisey Vallandry) take her second consecutive victory against an elite field that was missing only one rider from the top-50. Bresset didn't have quite so easy a time of it, as defending champion Pendrel attacked multiple times before Bresset was finally able to make the winning move.

The women's race was one lap shorter than last year and, combined with the very dry and hard track, it made for a race that was full on from the starting gun, with no time to rest. Round one winner Ren Chengyuan (Specialized) was the only top rider missing; out after a back injury from a crash in training.

Out of the start loop and into the first of five laps, Nathalie Schneitter (Colnago Arreghini Sudtirol) led the field, and a split quickly developed, with 12 riders at the front - Schneitter and her team mate Eva Lechner, Bresset, Pendrel and her team mate Georgia Gould, Premont, Lene Byberg (Specialized), world champion Maja Wloszczowska (CCC Polkwice), Blaza Klemencic (Felt Oetztal X-Bionic), Esther Suss, Irina Kalentieva (Topeak Ergon) and local favourite Sabine Spitz (Central Haibike).

However, the pace proved to be too much for some, and the group began thinning out. Bresset and Pendrel started to pull away on lap two, with Schneitter and Gould the only ones able to hang on initially. Schneitter dropped off on the third lap, while Gould was looking very comfortable with the other two until her chain jammed on the fourth lap, and she lost more than a minute getting it unstuck, eventually finishing 20th.

"I was riding in that group of third through sixth and I dropped my chain," explained Gould. "I tried to shift it back on because it was right before a downhill, and I ended up kinking it and I had to stop. I was all panicked and I couldn't get it unkinked. I lost minutes - it was so crushing. A spectator was really nice and helped tell me how to undo it, which was a big help because I was so frazzled."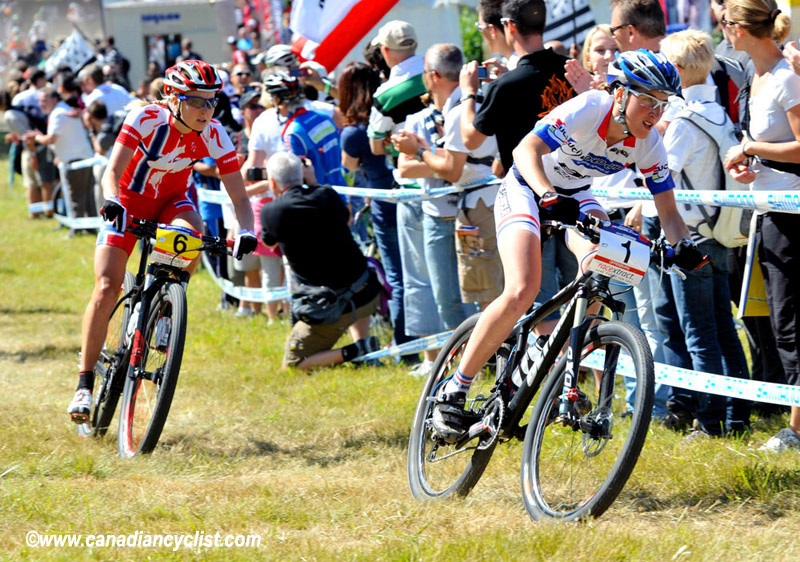 Julie Bresset and Lene Byberg
Pendrel tried a couple of attacks on Bresset, but couldn't get a gap, so she played a waiting game. Unfortunately for her, when Bresset launched her own attack just before the start of the final lap, the Canadian couldn't respond, and the young French rider went into the final lap with a 25 second lead, which she stretched to 41 seconds by the finish.

"Julie and I just got away," explained Pendrel. "I think we were going hard at the same time. I tried to attack her twice, but she was always able to close to me and shut me out. She got the good line into the descent. I was hoping to get away there, but she put some time into me there after she got me going into it and then she was gone. It would have been nice to win again this year - I felt good, but I was having trouble getting away because Julie had so much zip. I feel that I still can improve, so I'll be that much stronger in Mont Ste Anne."

Remarkably, Bresset is still actually eligible to race in the Under 23 category (she is 22 in June), and professes complete surprise at her strength this season. "My race was great. I don't understand what's happening to me - my second victory in two weeks! I took advantage on the downhill and then I went full gas. On the last lap, I continued on my pace to keep and grow the gap."

Behind the two leaders, the chase thinned down to three - Lechner, Premont and Byberg. Byberg was the first to get dropped, and then Lechner gapped Premont on the final climb before the drop into the finish, to claim third ahead of Premont.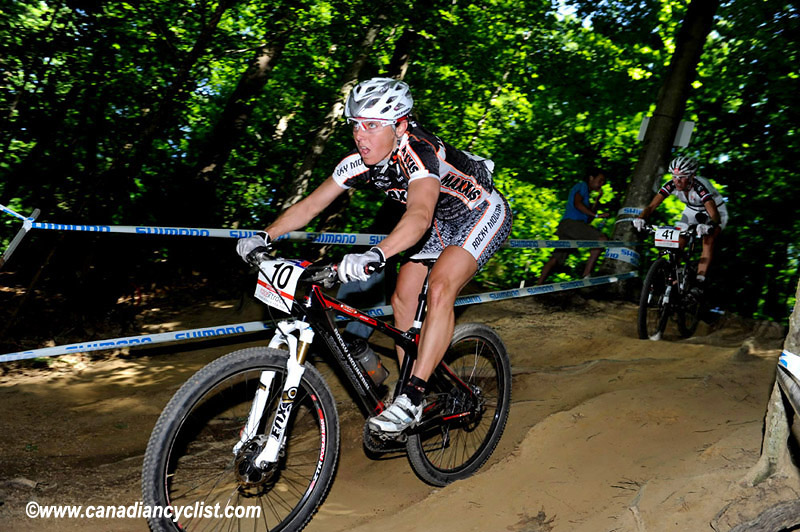 Marie-Helene Premont
"This is a very good result for me," stated Premont. "My goal is to win [the next round, at her home course] in Mont Ste Anne, Quebec, so I am still building for that. I was with the leaders until Catharine and [Bresset] attacked, and after that I was fighting for third place until the very end. This is very good for my confidence."

Bresset now has an impressive 700 points, to Pendrel's 470 in second place, with Byberg tied at 390 with the absent Ren. Premont has moved into ninth overall, and Batty to 14th.

In the Under 23 race, Pauline Ferrand Prevot (Lapierre International) pulled away from her rivals to take her second consecutive World Cup win. The young French rider, who comes from road racing, is clearly stronger than the rest of the field, finishing 1:26 ahead of second place Barbara Benko (Focus MIG) after recording the fastest splits every lap. Benko holds onto the lead in the standings, since Ferrand Prevot did not do the first round, but her lead is down to a slim ten points. Canada had only Mikaela Kofman (Team Canada) in the Under 23 race, with Laura Bietola (Team Canada) missing the race due to illness. Kofman finished 22nd, and is 19th in the overall standings.


Men

Julien Absalon (Orbea) came into Offenburg undefeated in four years, and he left in the same fashion, after a dominating performance that also put him into the World Cup leader's jersey. Jaroslav Kulhavy (Specialized), the World Cup leader coming into the race finished second, while Maxime Marotte (BH Suntour Peisey Vallandry) took third. As mentioned above, Derek Zandstra was the top Canadian finisher in 26th.

Absalon came into Offenburg with two second places for the season in the World Cup, but he had stated earlier that he was building for this race, which he calls "the best World Cup course in the world".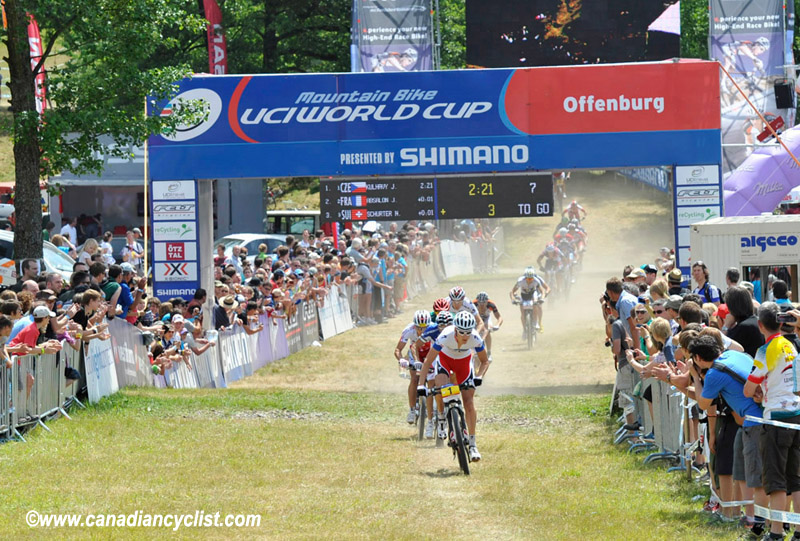 Jaroslav Kulhavy leading at the end of the start loop
A group of twelve riders formed at the front of the race on the first lap of seven, and rode away from the rest of the field. Along with Absalon, Kulhavy and Marotte, Burry Stander (Specialized), Christoph Sauser (Specialized), world champion Jose Hermida (Multivan Merida), Nino Schurter (Scott-Swisspower), Marco Fontana (Cannondale), Thomas Litscher (Felt Oetztal X-Bionic), Nicolas Coloma (Wildwolf-Trek), Rudi van Houts and Ivan Alvarez Gutierrez (Giant Italia).

By lap three Coloma, Alvarez Gutierrez and van Houts were gone, and then Hermida flatted and Sauser crashed, suffering a broken wheel followed by a flat, putting both of them out of the running on lap four.

Absalon launched his attack on the same lap, exploding the group. Kulhavy took off in solo pursuit, but couldn't close the gap, followed by Marotte just in front of Stander. They would finish in that order, with Coloma jumping back into the final podium spot after posting the fastest split for the sixth lap.

"I tried first to attack on the first lap," explained Absalon, "but I saw six guys on my wheel, so I said, 'ok, I need to wait a little'. I sat in for two laps on wheels and I saw Kulhavy was very strong. I knew I needed to attack in the beginning of a long climb, like I have done each year, and so I did the same."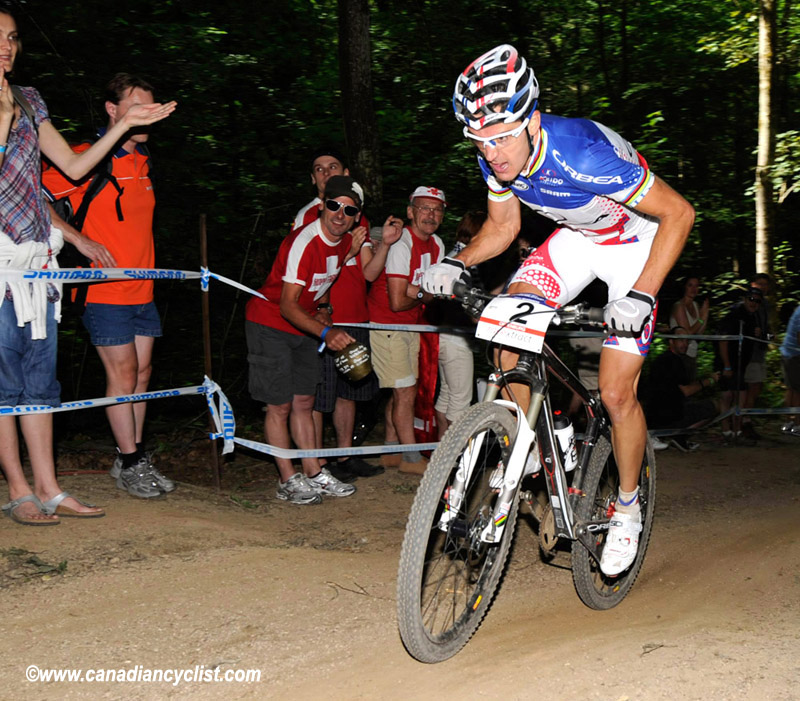 Julien Absalon
"In the third and fourth lap, I was waiting on the downhill and I attacked just at the first feed zone and I did the long climb at the front. After I took 15 sec on Kulhavy, I felt good. I made no mistakes. To win a World Cup you need to do a perfect race because the gaps are small. I planned the beginning of my season to peak for this race because I like it so much and it is only two hours from my home."

Kulhavy was not surprised at Absalon's strong showing, commenting "Julien was way strong today and I did what I could to race for the finish. I knew Julien would be strong here and in fact, he was."

Absalon's win moved him 40 points ahead of Kulhavy for the lead in the World Cup, but he has stated that he will not attend the two North American race (Mont Ste Anne), so he will lose the lead in the next round.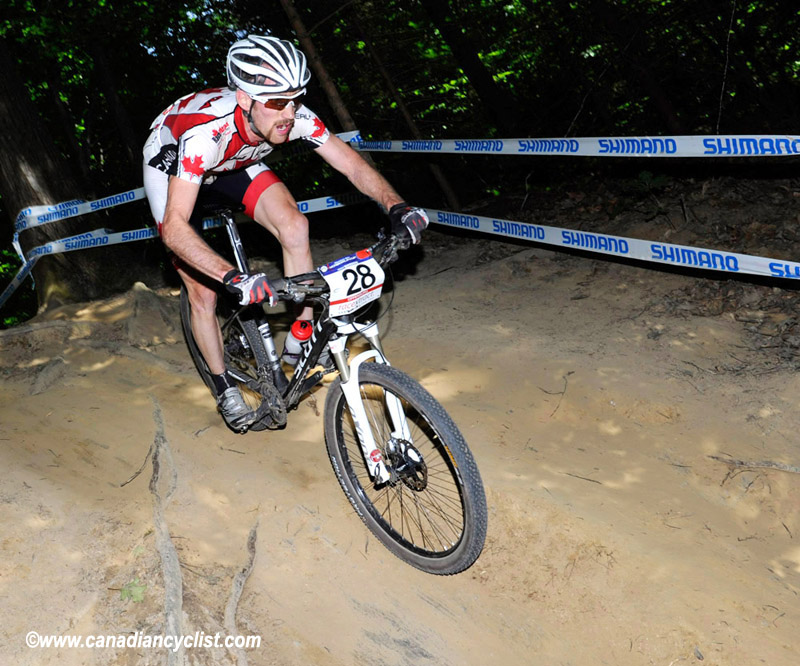 Derek Zandstra was the top N. American
Zandstra, after a slow start loop began to move up steadily by the second lap, from the low 50s, to the 40s and then the 30s by lap four. In the next two laps he battled in a small group for the top-25, just losing out of it by three seconds. [We have a video interview with Derek, which will be posted shortly]

Max Plaxton (Team Canada) withdrew after the start loop - he had been sick during the week and had breathing problems. Geoff Kabush (Maxxis-Rocky Mountain), after a strong start loop and opening lap in the top-25 gradually faded, eventually finishing 73rd. Andrew Watson (Team Canada) was the second Canadian finisher, in 68th place.
Fatal error
: Uncaught Error: Object of class PDO could not be converted to string in /home/canadiancyclistcom/canadiancyclist.com/public/modules/news.php:544 Stack trace: #0 /home/canadiancyclistcom/canadiancyclist.com/public/modules/news.php(533): getrelatedgallery() #1 /home/canadiancyclistcom/canadiancyclist.com/public/dailynews.php(58): getDailyNewsArticle() #2 {main} thrown in
/home/canadiancyclistcom/canadiancyclist.com/public/modules/news.php
on line
544