June 7/11 19:08 pm - Cycling BC Lends Support to World Cup Downhill Riders

Posted by Editoress on 06/7/11

"I've been puzzling about this for a while," says Head Coach and High Performance Director of Cycling BC, Richard Wooles. "We have finally brought our downhill programme to a point where we can say that we are putting together some comprehensive testing, camps and race support that is moving closer to that offered the other disciplines. I realized, however, that once the athletes in DH turn elite, they are basically on their own."

This situation poses many problems if athletes wish to compete in World Cup events. Many of the riders are under 25 and cannot, therefore, hire a car in many countries - certainly not a vehicle large enough to take bikes. Athletes scramble to take trains, busses, taxis and shuttles to the location and then have the challenge of reaching the race site itself - often several miles away from their accommodation.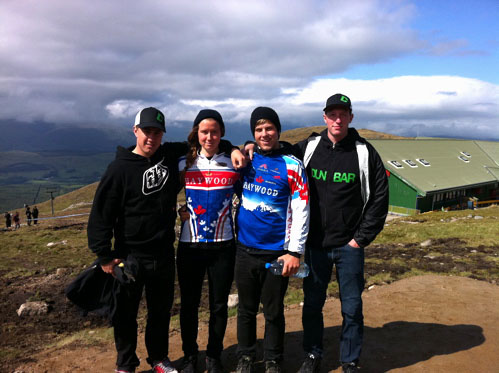 Drew Mitchell, Miranda Miller, Remi Gauvin, Dean Tennant
"Prior to a race," says Wooles, "I was shocked to discover that our athletes would be trying to warm up (often in extreme conditions) on their racing bike, holding onto a wall - while, in a sheltered spot nearby, rows of spin bikes would be lined up with supported athletes being attended to by their trainers while mechanics made sure their bikes were in first class racing shape! Our riders even had to worry about how they would get their jacket back if they left it at the top of the mountain. This when they should be totally focussing on their race plan."

Wooles decided to try an experimental run at support. BC elite riders Dean Tennant, Drew Mitchell, Remi Gauvin , Micayla Gatto and Miranda Miller were already booked for Fort William and Leogang [World Cups] and were still trying to complete transportation booking while competing in Quebec and at the US Open. Cory LeClerc of C4 Rider Training was able to free up his schedule on very short notice and Wooles sent him to accompany the riders as a coach/mechanic/driver/jack of all trades. He brought along a trainer and road bike as well as his expertise and age - old enough to hire a van!

The support from Cycling BC surprised and delighted the group. Thanks poured in via email - "totally stoked", "makes such a difference", "can't thank Cycling BC enough", etc. The riders knew Cory well and all have a high regard for his multifaceted skill set.

LeClerc is also familiar with many of the international riders and their support network on the World circuit. He sees his role as a "high-speed babysitter!" In addition to the driving, course walking with discussion and line choice; race support at the top with trainer and mental prep; mechanical overseeing and help tuning; shopping, meal prep, keeping things on task and in the right positive vein in house; he also is working to help the team become more self-sufficient for future races.

He is helping show them the in-and-outs of on-site protocol, how to build relationships and get great service at the support tents (thank-you beer helps!). He is especially keen on changing negative terminology and mindsets.

"I love to challenge people and tickle their brains to introduce new ideas that give rise to better habits."

Fort William World Cup DH #2, Scotland

The crew arrived in Glasgow via various circuitous routes on May 31st and were delighted to be the recipients of two vehicles - a small run around and a transit van - THANKS Cycling BC! They managed to negotiate roundabouts on the 'wrong' side of the road and make it through the glorious winding roads of the highlands to their comfortable lodgings overlooking the loch. The next couple of days were spent building the bikes, and walking the course - uphill and down. Fort William is notorious for being long and hard and offers a definite advantage to those familiar with it's tricky changes in 'texture'.

Course Walk, Practice and Qualifiers at Fort William

Miranda reported: First day of practice went well. Course is really long and rough, a little confusing at the top, as it is very similar looking but the lines are fairly simple. The entrance to the woods is really messy but they were cleaning it up when we were walking the track after practice today; the bottom section is just mostly jumps and fast but really fun. We have practice 8:30-11:30 tomorrow then I qualify at 2:12. Walked the track with Stevie (Smith - #1 Canadian), Sabrina (Jonnier - multi World Cup & World Champ winner from France) and Remi, which was helpful. There are 40 women which is pretty cool.(A much higher # than usual). Everything is running smoothly with our group.

At the end of Qualifying on Saturday, Gatto (with a well-positioned 7th) and Miller (in 18th) had both qualified for the final. In a field of nearly 200, with only the top 80 qualifying, Tennant (99th), Gauvin (124th) and Mitchell (134th) were disappointed, but philosophical in knowing how much they have already gained from the experience.

In the race itself, Miller posted 13th fastest through the first split, but just after the road gap, had a bobble which resulted in taking a handlebar bruise. She needed time to recover before heading down, but finished the course. Gatto, though not satisfied with her run, posted a good solid 8th through the first split and a final position of 13th - a strong start to her season.

"This," said Wooles, "is exactly why we need more support for our riders. We have talent here, and we need to help them move to the next level. With crowds of 15,000 at Fort William and thousands more watching around the world, this is an important sport on the international scene and I want to try to step up to the plate for our riders to ensure the realization of their potential."