June 12/11 19:06 pm - World Cup Leogang: DH final report

Posted by Editoress on 06/12/11

Gwinn and Pugin take wins in Leogang, Austria
Our coverage brought to you with the support of Velirium
The weather definitely played a factor in the third round of the Downhill World Cup, in Leogang, Austria, as sticky mud slowed times down from qualifying a day earlier. However, the fastest riders proved that it didn't matter in the end, as both the top-seeded man and woman were victorious. Floriane Pugin (Scott 11) took the first World Cup win of her career in the women's race, while Aaron Gwin (Trek World Racing) regained the lead in the men's series after taking his second win in three events.
Women
With her win, the young French rider Pugin stopped World Cup leader Tracy Moseley's (Trek World Racing) winning streak at two, as the British rider could only manage third. Rachel Atherton (Commencal) took second behid Pugin. Moseley still leads the World Cup standings with 660 points, followed by Pugin at 570 and Atherton - who missed the first round - at 410.

After raining most of the night, conditions finally began to clear the morning of the Downhill Final, with breezy conditions drying out the open sections of the course. However, in the woods, among the rough, rooty sections, it was still slippery, with numerous riders sliding off course and into the protective padding.

Canadian national champion Micayla Gatto was the first to record a sub-five minute time, with a strong 4:50.707, but that was bound to be beat, since it was 25 seconds slower than Pugin's qualifying time. Gatto lasted for six riders, before Myriam Nicole (Riding Addiction-Commencal) knocked another 11.5 seconds off the lead.

Nicole's strong time stood up to challenges by Fionn Griffiths (Team GR), Sabrina Jonnier (Maxxis-Rocky Mountain) and Emmeline Ragot (Team GR), who was disqualified after crashing and rejoining the race at a different spot on the course. American champion Jill Kintner was on track for a very fast run, with the fastest first split of the day and top time through the speed trap, before crashing.

However, the final three riders all beat Nicole's time, with each bumping the previous rider out of the Hot Seat. Moseley, on a course that doesn't play to her strengths, was still seven full seconds faster than Myriam Nicole. Rachel Atherton, on the course where she injured her shoulder last year, shaved a tenth of a second off of Moseley's time, and then Pugin shattered the leading time by 2.583 seconds to capture her first World Cup victory. However, it is worth noting that Pugin's winning time was still five seconds slower than her qualifying mark.
Floriane Pugin
"It is hard to take in," a breathless Pugin said after her run. "I'm so happy. It was so hard in the pedaling section because it [the ground] was getting so sticky and it was hard to carry speed through there, but I gave it my all. To win a World Cup was my main goal for this year, and now it is done!"

Moseley wasn't too disappointed to miss the three-peat: "I'm definitely happy with third. I was struggling in practice this morning, and nervous at the top before the final that I was going to throw it [the lead] away. I'm just happy to be so close to Rachel [Atherton], who is more suited to this course, and to Floriane, who has been riding awesome here all week."
Men
Aaron Gwin retook the men's World Cup lead from rival Greg Minnaar (Santa Cruz Syndicate) with a dominating performance. Gwin, who lost the lead after crashing in round two, qualified fastest, and finished over two seconds ahead of Gee Atherton (Commencal) in the final, with Minnaar nearly six seconds back in third place. Gwin, with 628 points, remains only 46 points in front of Minnaar, with two rounds remaining.

The ground continued to dry out after the women finished and the men began their runs, which was a mixed blessing, since it made dry condition tires important for the pedaling sections, but the sticky mud and slippery roots in the wooded sections led to numerous crashes. As an indication: Gwin's winning time was still three seconds slower than his qualifying time.

The lead time slowly went down as the first riders came through the finish, but it wasn't until Romain Paulhan, the French national champion, came through that it dropped below four minutes. Paulhan held the lead for nearly a quarter of the field before local Austrian favourite Markus Pekoll (MS Evil) bumped him out of the Hot Seat by half a second.

Pekoll had the longest time in the lead, holding on until the first of the top-twenty qualifiers began their runs. Brook MacDonald, the young New Zealand team mate of Pekoll who finished third a week earlier in round two, proved that was no fluke by knocking 4.2 seconds off the top time, good enough for tenth place at the end of the day.

Steve Peat (Santa Cruz Syndicate), racing with a suspected broken hand, slotted in behind MacDonald. World champion Sam Hill (Monster Energy-Specialized-Mad Catz), six riders after MacDonald, had a very strong start, faded slightly at the bottom, but was still good enough to give him the lead, and an eventual fifth place. Cedric Gracia (CG Racing) and Danny Hart (Giant) both came within two-tenths of a second of Hill, but also faded at the bottom.

Hill, while happy to make the podium, admited that Gwin is a step above everyone at the present. "Gwin is riding pretty amazing at the moment, so we're all going to have to work a little bit harder to stop him."

It was Minnaar, riding eighth from last in a surprisingly high qualifying spot for him, who finally made the next big cut to the top time, the first to go below 3:50. The next five riders all failed to better his time, with Fabien Barel (Mondraker) crashing in the slippery roots, and only Steve Smith (Devinci) able to squeeze between Minnaar and Hill.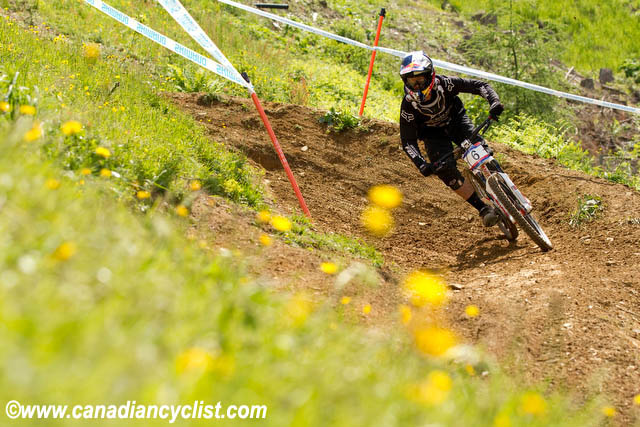 Steve Smith
"I didn't know what to think after [qualifying]," admitted Minnaar, "because I had a good run and still got thrashed by a lot of guys. I was pretty tense at the start of the final, and i made some mistakes at the top; I wasn't making my lines and was losing time ... that top section killed me, killed my run. Technically, I'm riding with the top guys, but Gee's [Atherton] going a bit better, and Gwinny's out-pedaling us all."

Smith, finishing on the podium for the second time in his career, and bettering his career-best fifth of last year, also struggled in the upper part of the course. "It was a pretty sketchy course, and in those top corners I was riding like an amateur, I didn't even know what my lines were. I definitely lost some time at the top, but at least I was able to make it up a bit at the bottom. I'm pretty stoked, because this is my second podium, and my best result."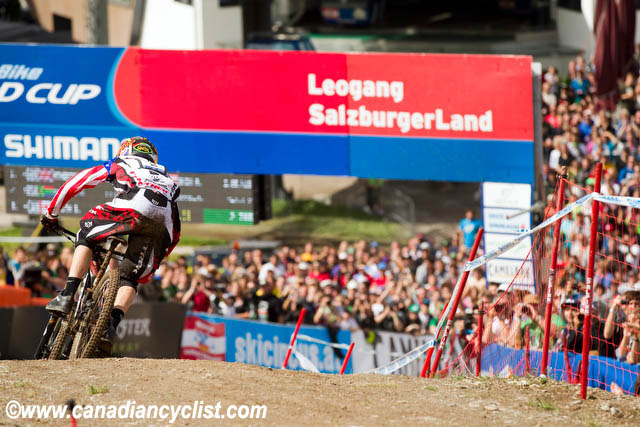 Aaron Gwinn
However, the final two riders, the top two qualifiers, showed that they were a notch above everyone else on this day. Atherton came through the first split three seconds up on Minnaar and finished 3.608 seconds ahead of the South African.

"It was a good result," agreed Atherton, "close to the win, but no cigar. Looking back, I probably should have put drys [tires] on, but that was just a bad decision on my part."

Atherton's time wouldn't prove to be enough for the win, unfortunately for the Brit, as Gwin, possibly still smarting from losing a week earlier after crashing while well in the lead, blew through every section of the course well ahead of his competition to score his second win in three races and recover the lead in the standings.

"It feels great to get that monkey off my back after last week's crash," commented Gwin. "I knew I had it in me, I just had to put it together. My run went good until it almost fell apart at the bottom ... I blew my feet out of the pedals and rode the last minute of the track without being clipped in, but managed to hold it together. The bike was working awesome, everything just sort of clicked. I'm just happy it all came together."
Fatal error
: Uncaught Error: Object of class PDO could not be converted to string in /home/canadiancyclistcom/canadiancyclist.com/public/modules/news.php:528 Stack trace: #0 /home/canadiancyclistcom/canadiancyclist.com/public/modules/news.php(517): getrelatedgallery() #1 /home/canadiancyclistcom/canadiancyclist.com/public/dailynews.php(58): getDailyNewsArticle() #2 {main} thrown in
/home/canadiancyclistcom/canadiancyclist.com/public/modules/news.php
on line
528