June 16/11 22:13 pm - Tour de Beauce Stage 3 report and photos

Posted by Editoress on 06/16/11

Almost every rider had pointed to Francisco Mancebo (RealCyclist.com) as the rider most likely to win the gruelling Mont Megantic stage, and the Spaniard did not disappoint, taking both the stage win and the Yellow Jersey. Mancebo also took the Points and Climber Jerseys, while Ben King (Team Type 1) moved into the Best Young Rider Jersey. Unheralded Sebastian Salas (H&R Block) was the top Canadian finisher with a remarkable third place, while Frank Parisien (SpiderTech p/b C10) remains the top Canadian on GC, slipping to ninth from third.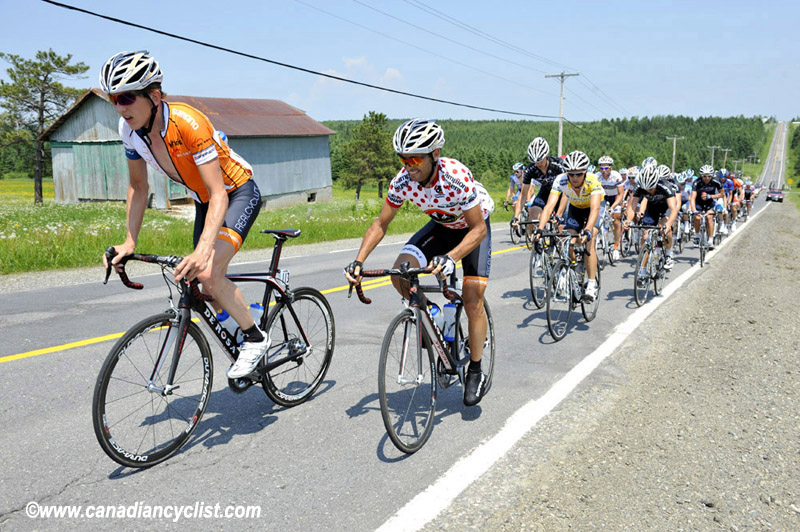 Francisco Mancebo
While everyone was expecting Mancebo to dominate on the final five kilometre climb, SpiderTech had a plan to mitigate the damage and, hopefully, keep Svein Tuft close enough in the standings to keep him in contention for the time trial.

The team decided to keep the pressure on Mancebo by placing riders in the break and then have Tuft jump across to get a 'headstart' on the climb.

"The guys executed it perfectly," commented Tuft. "If you don't take a dig, a guy like Mancebo is just going to walk away with it. We are not here for that, we are here to give it everything we have. Unfortunately, it took a big effort to get across [to the break], and then we lost Bruno [Langlois] to a flat at the bottom of the climb."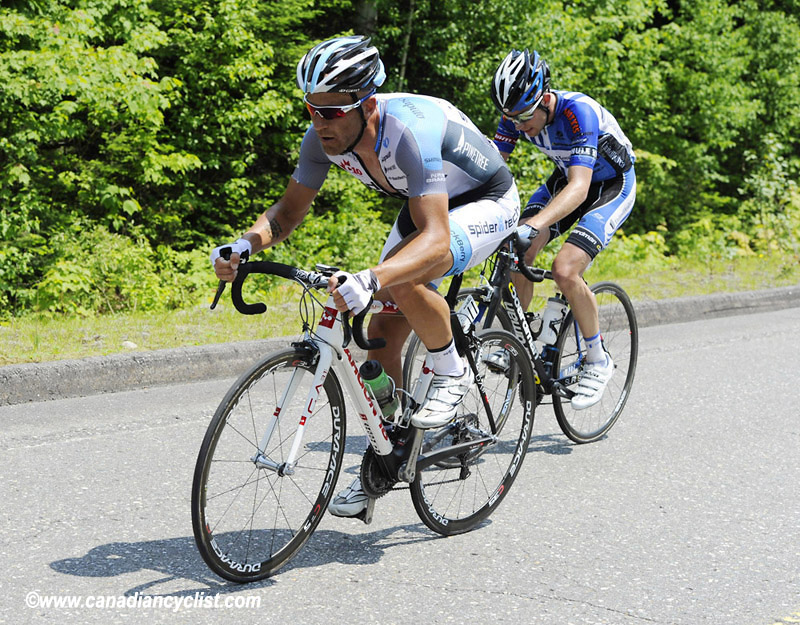 Tuft and Meier climb Megantic
The attacks had started early in the stage, with a group containing danger riders Parisien and Morgan Schmitt getting clear. Others in the group were: Jim Stemper (Kenda/ 5-hour Energy); David Boily and Langlois (Spidertech p/b C10); William Dugan (Team Type 1 sanofi-aventis); Davide Frattini and Andrew Pinfold (UnitedHealthcare Pro Cycling Team); Nic Hamilton (Team Canada); Johnnie Walker, Bernard Sulzberger and Aaron Kemps (V Australia); Michael Northey (Pure Black Racing); Yutaka Ohmura (Fuji-Cyclingtime.com); Matthias Friedmann and Kin San Wu (Champion System); Sergey Grechyn (Amore & Vita); Richard Handley (Raleigh); Tommy Nankervis (RealCyclist.com); Nick Friesen (H&R Block); and Shaun Mccarthy (Garneau-Club Chaussures).

Race leader Scott Lyttle's Pure Black squad were not willing to let this go, and brought it back by the 30 kilometre mark. However, an immediately counterattack took 11 clear, including Andrew Randell (SpiderTech), Langlois again, and Christian Meier (UnitedHealthcare). Seven more riders bridged up and the gap grew to over a minute, but both Pure Black and RealCyclist.com were chasing, and they were gradually pulling it back, as riders dropped off the pace at the front, eventually leaving Meier out on his own for nearly 20 kilometres, before he conceded the inevitable and sat up.

This set the stage for yet another attack, with 11 riders going clear shortly before the first KoM of the day. Schmitt and Langlois were again in the group, and SpiderTech began feeding riders to the front once more, with Randell and David Boily jumping across, as well as Meier. Others in the group included Nic Hamilton, Arnaud Papillon (Garneau Club Chaussures) and Danny Summerhill (Chipotle).

RealCyclist.com had taken charge at this point, working as if they already had the Yellow Jersey, and kept the gap to around a minute. As the race entered the final 15 kilometres Tuft made his move, surging across to the leaders.

On the climb, Tuft and Papillon went to the front, dropping the rest of the break. However, it was in vain, as the climbers quickly shed the rest of the field and began to reel in the break. The ten riders who made up the core of this elite group were Mancebo, Bernardo Colex (Amore & Vita), Salas, Lyttle, Pat McCarty (SpiderTech p/b C10), King, Phil Gaimon (Kenda/5-hour Energy), Charly Wegelius (UnitedHealthcare), Alex Howes and Rob Squire (Chipotle) and Daniel Fleeman (Raleigh).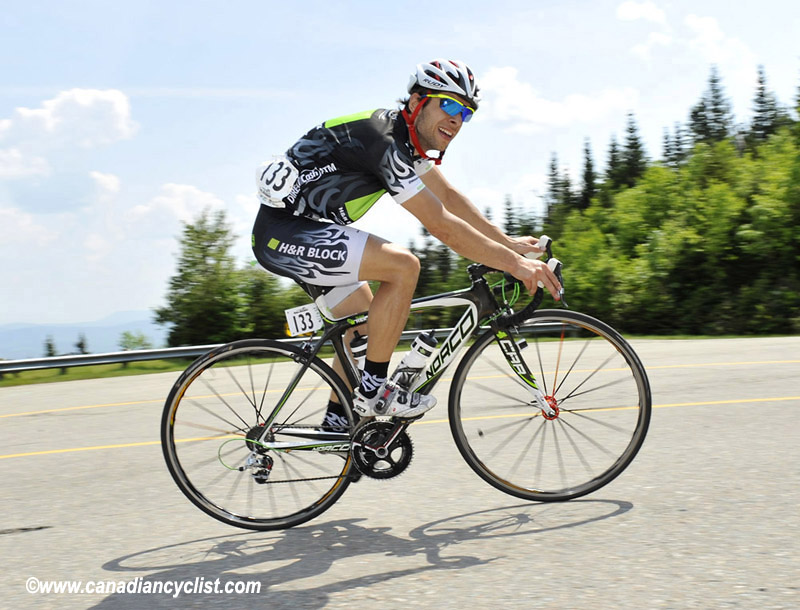 Sebastian Salas (H&R Block)
Salas jumped with a little less than three kilometres to go, and with 1500 metres left still held a ten second gap over the core group led by Mancebo, and containing McCarty, Colex, Lyttle, Howes and King. When Mancebo upped the pace again on the last steep section, only Colex could stay with him, and the pair passed Salas in the last 750 metres. Mancebo carved out a one second win over Colex, with Salas 19 seconds back and McCarty at 27 seconds.

Race Notes

- Salas may be unfamiliar to many readers, but he is well known in the BC Lower Mainland for his climbing exploits, which include (in addition to cycling wins) the world record for the Grouse Grind hike. Only in his third year of racing, this ride is sure to get the 24 year old noticed.

- Mancebo goes into tomorrow's time trial with a 22 second lead over Colex and 31 seconds ahead of McCarty. Tuft is back in 12th, 1:45 in arrears. While making up a gap like this over a pure climber is not inconceivable - Mancebo lost 1:27 to Ben Day on this course last year - Tuft says Mancebo is a different rider this year, and is time trialing well.

- We have posted video interviews with Tuft, McCarty and RealCyclist.com director Gord Fraser.
Fatal error
: Uncaught Error: Object of class PDO could not be converted to string in /home/canadiancyclistcom/canadiancyclist.com/public/modules/news.php:528 Stack trace: #0 /home/canadiancyclistcom/canadiancyclist.com/public/modules/news.php(517): getrelatedgallery() #1 /home/canadiancyclistcom/canadiancyclist.com/public/dailynews.php(58): getDailyNewsArticle() #2 {main} thrown in
/home/canadiancyclistcom/canadiancyclist.com/public/modules/news.php
on line
528