June 17/11 17:54 pm - Tour de Beauce: Stage 4 report

Posted by Editoress on 06/17/11

Svein Tuft has given SpiderTech their first UCI victory of the season with his win in the stage four time trial at the Tour de Beauce today. Tuft was one of the favourites going into the 20 kilometre time trial, and he did not disappoint, finishing 6.5 seconds ahead of Michael Freiburg of V Australia. Scott Zwizanski (UnitedHealthcare) took third, ten seconds behind Tuft. Overall race leader Francisco Mancebo (RealCyclist.com) did not come under any difficulty, finishing fifth, 29 seconds behind Tuft, but ahead of his main rivals. he now leads Bernardo Colex (Amore & Vita) by 24 seconds, with Ben King (Team Type 1) moving into third at 1:11. Tuft jumps from 12th to sixth with his victory, but is 1:16 down on Mancebo.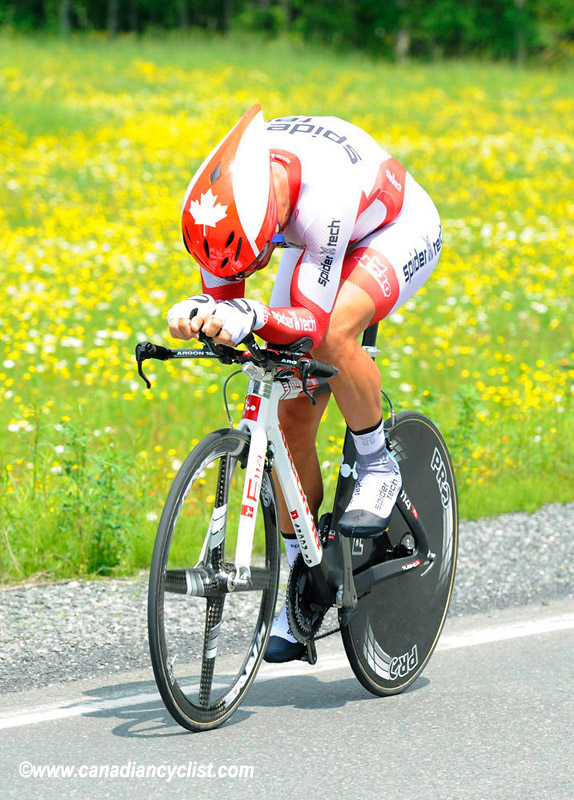 The out-and-back route is deceptively hard, with a slight downward slant on the way out, a descent into the turn around and then an immediate climb back out. After that, it is almost all false flat climbing back to the finish. The air was hot and humid, which did not help.

Zwizanski, a former Beauce champion, started approximately a quarter of the way through the field, and set the standard at 25:36. His time would hold up through 12 riders before Freiburg, the reigning Omnium Track world champion, knocked three seconds off. Freiburg then spent most of the event in the lead, until Tuft finally came through, 12th from last, to knock a further 6.5 seconds off the top time. The riders that followed Tuft were mostly climbers, and none could come close to the 2008 Beauce champion.

Despite his win, Tuft wasn't entirely satisfied, having hoped to reduce his deficit to Mancebo further.

"I'm very happy to win, but I still feel like I didn't have the best time trial I could," Tuft said. "I was hoping to take more time out of Mancebo as we go into the final two stages. But, the race isn't over yet. We know from past years that it is tough to defend your lead in these last two days, so we will be giving it everything we have."

Race Notes

- The Tour de Beauce moves to Quebec City tomorrow for the very tough circuit race through the Old Town. We can expect to see lots of attacks on Mancebo, who is lacking a strong squad to support him.

- Ben King (Team Type 1) managed to hold onto the Best Young Rider jersey by one second, losing 14 seconds to rival Alex Howes (Chipotle) in the time trial. We can expect to see a further battle between these two for the Red Jersey.

- Mancebo continues to hold the other jerseys: Points and Climber.
Fatal error
: Uncaught Error: Object of class PDO could not be converted to string in /home/canadiancyclistcom/canadiancyclist.com/public/modules/news.php:528 Stack trace: #0 /home/canadiancyclistcom/canadiancyclist.com/public/modules/news.php(517): getrelatedgallery() #1 /home/canadiancyclistcom/canadiancyclist.com/public/dailynews.php(58): getDailyNewsArticle() #2 {main} thrown in
/home/canadiancyclistcom/canadiancyclist.com/public/modules/news.php
on line
528