June 26/11 15:39 pm - Road Nationals Men's and Women's Criterium full results, report and photyos

Posted by Editoress on 06/26/11

Report, results and photos from the Immunity-FX Canadian Road Championships Criteriums held today in Georgetown ON
The Immunity-FX Canadian Road National Cycling Championships concluded on Sunday with the Criterium events. David Veilleux (Europcar) took a closely contested men's title, while Leah Kirchmann (Team Manitoba) dominated the women's event. The Criterium championship was contested as a Points race this year, with sprints every five laps [5-3-2-1], and double points for the final sprint.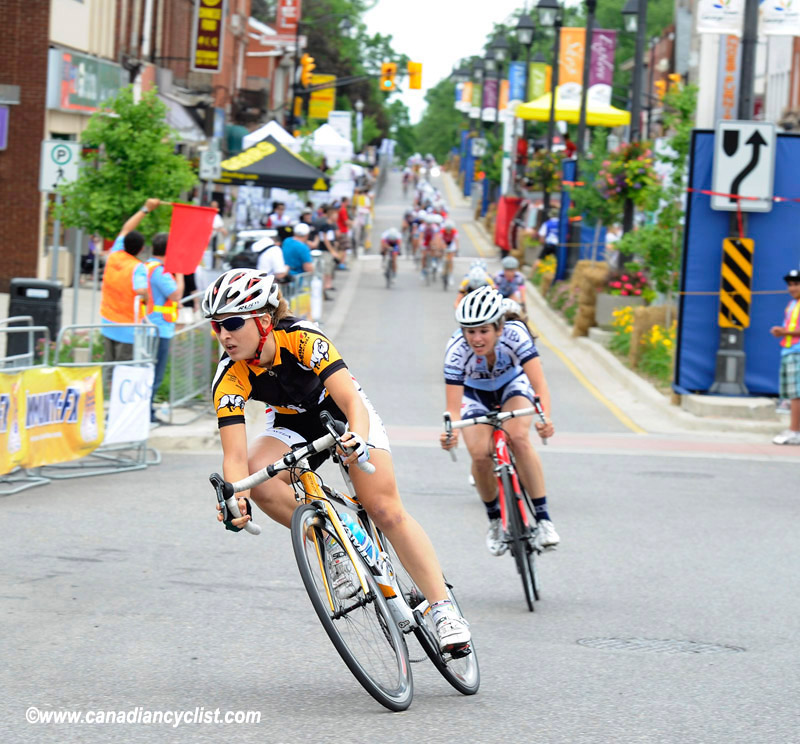 Leah Kirchmann and Joelle Numainville

Kirchmann was easily the strongest in the 30 lap women's race, racking up points in almost every intermediate sprint to finish with 23 points ahead of Joelle Numainville (TIBCO/To the Top) at 15 points and Rhae Shaw (Independent) with 11 points.

"I just decided that it was best to contest as many sprints as I could," explained Kirchmann. "Joelle [Numainville] is a strong sprinter, but this race favours consistency through the race."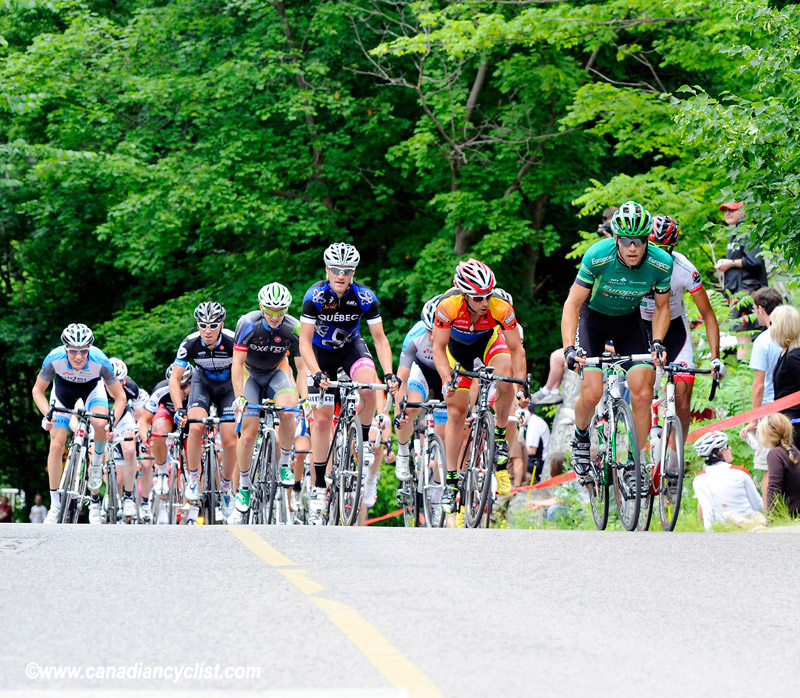 David Veilleux and Derrick St. John (right)


The men's 45 lap race was much tighter. Derrick St-John (Ride with Rendall) took an early lead and managed to keep it for much of the race, but Veilleux was always staying within reach by points. The final double point sprint proved to be crucial, with St-John tiring and unable to match Veilleux's speed. Veilleux took second in the final sprint, and it was enough to move him one point ahead of St-John for the title, with 22 points. Ben Chaddock (Team Exergy), by winning the final sprint, jumped into third, at 20 points.

"I knew that I was close to Derrick [St-John], but I wasn't sure how close I was," explained Veilleux. "Even though this is not the usual type of race that I do in Europe, I wanted to finish these championships with a strong performance."

Race Notes

- The 1.1 kilometre circuit was very tight and narrow, and there were a number of crashes, particularly in the large men's field. Keven Lacombe (SpiderTech) went down in the first corner about halfway into the men's race, and hit his face on the pavement, suffering facial injuries. He was taken to hospital, and has lost at least one tooth, with either a fractured or dislocated jaw.

- Our site went down temporarily after the finish of the men's road race, overwhelmed by traffic - over 500 hits per second in the final 30 minutes! We though we had ramped up enough bandwidth, but apparently the RAM memory on the server was overwhelmed by the demand...
Elite Women

1 Leah Kirchmann (Team Manitoba)
23 pts
2 Joelle Numainville (Team TIBCO/To The Top)
15
3 Rhae Shaw (Independent)
11
4 Lex Albrecht (Juvéderm-Specialized)
11
5 Joanie Caron (Juvederm-Specialized)
8
6 Tara Whitten (Team TIBCO/To The Top)
3
7 Katy Curtis (Cyclemeisters CC)
3
8 Karlee Gendron (Team Manitoba)
2
9 Leah Guloien (Missing Link Coaching Systems/Specialized)
1

Men

1 David Veilleux (Team Europcar)
22 pts
2 Derrick St. John (Ride With Rendall)
21
3 Benjamin Chaddock (Team Exergy)
20
4 Zachery Garland (Team H&R Block)
12
5 Zachary Bell (Team Spidertech powered by C10)
8
6 Will Routley (Team Spidertech powered by C10)
7
7 Pierrick Naud * (Rocky Mountain Desjardins Valeurs Mobilière)
4
8 Bradley Clifford * (Team H&R Block)
3
9 Antoine Duschesne * (Equipe Du Quebec)
3
10 Arnaud Papillon * (Equipe Du Quebec)
2
11 Dustin Macburnie (Team H&R Block)
2
12 Gavriel Epstein (Chipotle Development Team)
2
13 Chris Gruber (Kallisto/Wheels Of Bloor)
1
14 Aaron Schooler (Team H&R Block)
1
15 Simon Lambert-Lemay * (Team Spidertech powered by C10)
1
16 Ed Veal (Jet Fuel Coffee/La Bicicletta)
1
Details

Men's Full results
Women's Full results
Fatal error
: Uncaught Error: Object of class PDO could not be converted to string in /home/canadiancyclistcom/canadiancyclist.com/public/modules/news.php:528 Stack trace: #0 /home/canadiancyclistcom/canadiancyclist.com/public/modules/news.php(517): getrelatedgallery() #1 /home/canadiancyclistcom/canadiancyclist.com/public/dailynews.php(58): getDailyNewsArticle() #2 {main} thrown in
/home/canadiancyclistcom/canadiancyclist.com/public/modules/news.php
on line
528