July 3/11 12:45 pm - Canadians Take 4 of 6 Podium Spots in Junior XC at MSA

Posted by Editor on 07/3/11

Canadians dominated the Junior cross-country events at the Mont Ste Anne World Cup on Sunday morning, finishing 1-2-3 in the women's race and third in the men's.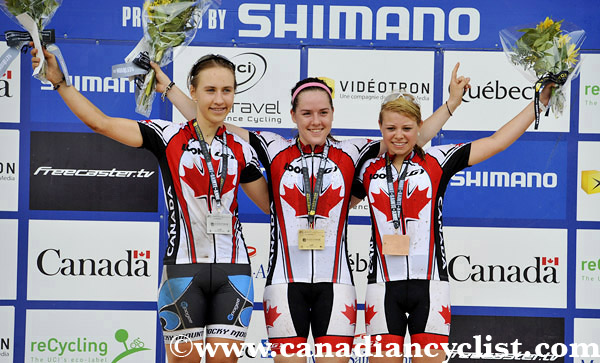 Andreane Lanthier-Nadeau, Lauren Rosser, Frederique Trudel
Lauren Rosser (Team Canada) is the Junior Downhill world champion, but she decided to focus on the cross-country for this weekend, and it paid off with a victory. Rosser was clearly the strongest rider in the race, breaking away on the first lap and extending her lead in the subsequent two laps to finish nearly three minutes ahead of team mate Andreane Lanthier-Nadeau, who is celebrating her 18th birthday today. Rosser had no difficulty with the Beatrice descent, clearing it faster then many of the elite men did yesterday. Frederique Trudel, a third member of Team Canada, caught Alicia Rose Pastore (Team USA) on the second lap to take the bronze medal.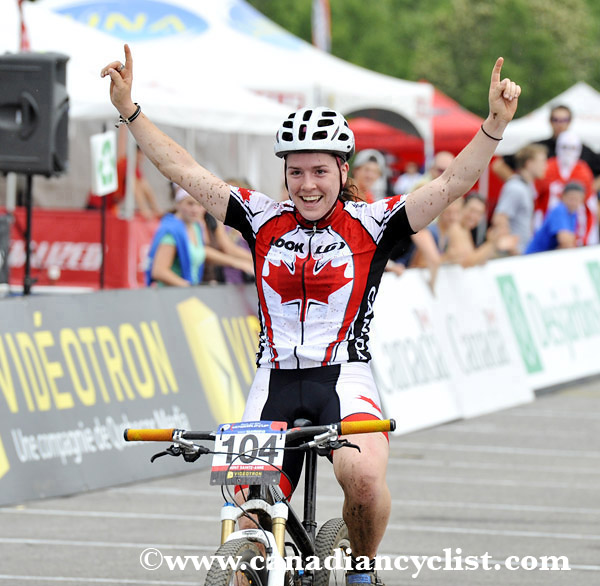 Lauren Rosser led a Canadian sweep of the Junior Women's XC
"My focus is cross-country; downhill is more for fun," explained Rosser. "I'm very happy to win here today, but I still need to work on my fitness for the Worlds." Rosser finished sixth at the Worlds in the cross-country last year, in addition to her downhill title, and hopes to contest both again this year.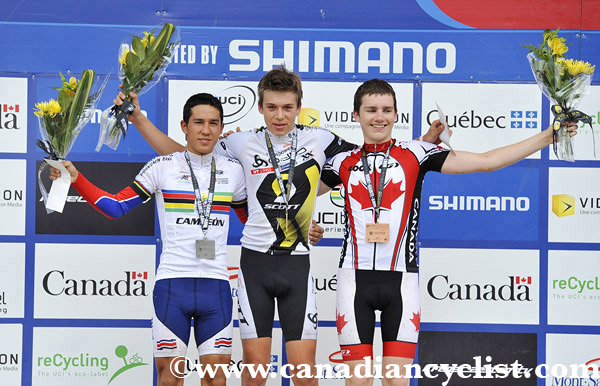 Andrey Fonseca, Andri Frischknecht, Alexandre Vialle
The men's four lap race was a battle between Andri Frischknecht (Scott-Swisspower), son of the legendary Thomas, and Costa Rica's Andrey Fonseca (Costa Rica National). The two rode together until Frischknecht attacked on the final lap to carve out a 16 second win over Fonseca. Canada's Alexandre Vialle (Team Canada) chased Keegan Swenson (Team USA) for the first half of the race before moving into third, which he held to the finish line.

Junior Results