July 6/11 13:39 pm - BC Bike Race: Day 2

Posted by Editoress on 07/6/11

New Campbell River Stage Introduces a Twist (July 4th)

In almost Tour de France fashion, BC Bike Race has introduced a new stage and consequently a new community each year. In this 5th anniversary edition of the event, Stage Two shone the spotlight on the ocean-side city of Campbell River. The hometown of Stage Two course designer, Martin Ready, Campbell River is the third-largest city on Vancouver Island and fast becoming known for its exceptional mountain biking areas. BC Bike Race racers were about to find out why, as both the Epic and Challenge courses offered close to 33km of uninterrupted Campbell River singletrack.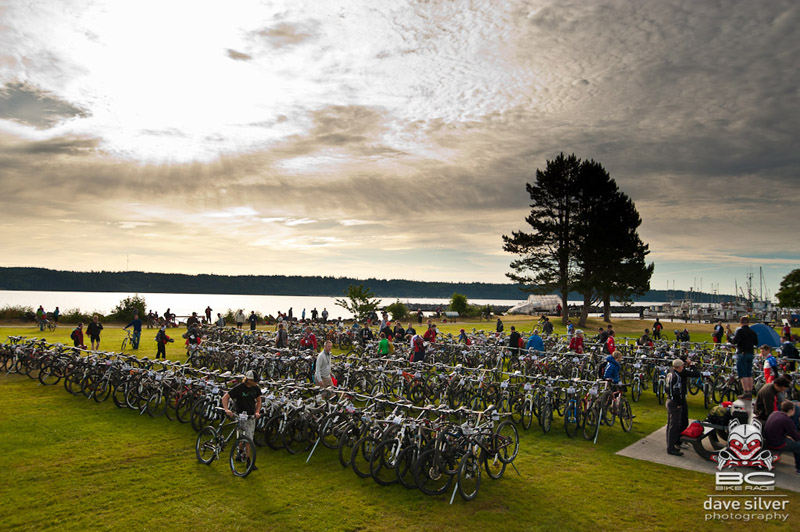 For the vast majority of today's riders, including current race leader Chris Sheppard (Rocky Mountain Bikes), the Campbell River area trails were unexplored territory – would this level the playing field for the top racers? A little more than two hours after Campbell River Mayor Charlie Cornfield signaled the Stage Two start, we found out as a small pack of Epic frontrunners blistered across the finish line.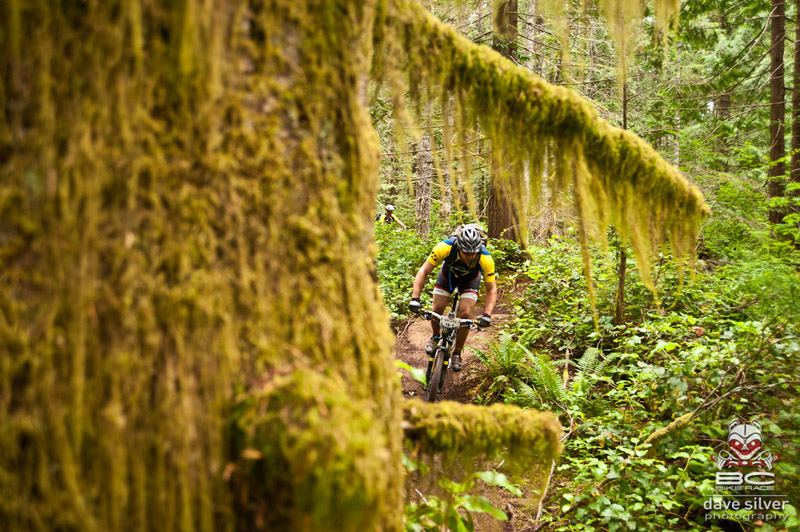 In a sprint finish, Jason Sager (Jamis) eked ahead of Chris Sheppard to take the stage win in 2:13:24, while Sheppard retained his GC leader status, and the 'golden fleece' for another day. Team Kona's Barry Wicks and Kris Sneddon, rounding out the leaders pack, took the Team of 2 stage win in 2:13:26 and also retain GC leader status. Both categories saw a little shuffling in the top places within the stage, but the times remain tight and there is still a lot of singetrack to be covered over the next five days.

Currently the solo GC shows Sheppard with four minutes over Thomas Dietsch (Team BULLS), and seven minutes over Sager and Neal Kindree (Republic Bike Shop/SRAM). There is a huge battle developing in the Team of 2 GC behind leaders Sneddon/Wicks who have fifteen minutes over the next teams. Marty Lazarski and Ricky Federau (Davinci/Jamis), Greg Day and Colin Kerr (Rocky Mountain Bicycles), and Mitchell Hoke and Brady Kappius (Clif Bar) are all separated by a less than 30 second spread and fighting hard for position.

The majority of the other Epic GC category leaders remain the same after two days of racing. In the Challenge GC, Grant Fox leads the men, Tanya Berg leads the women, and Denver Poole and Derek Reynolds lead the mixed category.

And adding another twist to the day was the introduction of the Rocky Mountain Bikes "Love the Ride" timed singletrack sections. Two separate segments of singletrack were marked and timed separately within the course to create a 'race within the race.' In these sections all racers, regardless of Challenge or Epic, are pitted against each other to find the fastest male and female times.

Andreas Hestler (Rocky Mountain Bikes) and Katrina Strand (Troy Lee Designs/Oakley/Maxxis) each won both of the inaugural "Love the Ride" sections in Stage Two. They were awarded leader's jerseys and will have the chance to defend their titles on the next "Love the Ride" stage, scheduled for Day 6 in Squamish.

The timed "hotspots" are a new feature in BC Bike Race and introduce an element that allows, as Mark Weir (WTB/Cannondale/Shimano) put it, "more heroes" to emerge within the race. Weir feels that this might be the evolution of stage racing, reflecting a move from "pinning it" style racers to bigger bikes ridden by more relaxed racers looking to have more fun.

While the "Love the Ride" sections are a young category for BCBR this year, the vision is to give more racers a shot at the podium. "Some climb well, some descend well, some are built for speed and some for distance," said BCBR's Andreas Hestler, "The Rocky Mountain Bikes 'Love the Ride' section creates the opportunity for a variety of racers to shine each day."

The sections also allows racers of all abilities to test their riding skills against the pros in the pack. The first offering seemed to be a hit with racers: Chris_McGregor on Twitter, "Epic moment @ #the bcbikerace – I rode wheel 2 wheel Katrina Strand for the 2nd times section + was only a few seconds off her winning time"

Thanks to the new "Love the Ride" section, an array of amazing trails, and a warm and welcoming community Campbell River Stage Two made its mark on BC Bike Race with style.

Next Up: A very picturesque sailing from Vancouver Island to the Sunshine Coast with BC Ferries. Once the ferry docks in Powell River, racers will walk off the ferry and down to the beachfront Base Camp and Start/Finish line area.

Epic Results
Challenge Results
Fatal error
: Uncaught Error: Object of class PDO could not be converted to string in /home/canadiancyclistcom/canadiancyclist.com/public/modules/news.php:528 Stack trace: #0 /home/canadiancyclistcom/canadiancyclist.com/public/modules/news.php(517): getrelatedgallery() #1 /home/canadiancyclistcom/canadiancyclist.com/public/dailynews.php(58): getDailyNewsArticle() #2 {main} thrown in
/home/canadiancyclistcom/canadiancyclist.com/public/modules/news.php
on line
528