July 8/11 16:25 pm - Windham World Cup – in the race pits

Posted by Editoress on 07/8/11

Windham World Cup – in the race pits

Text and photos by Mike Badyk

One of the pleasures of a World Cup is to wander through the pit area seeing what is on display. The racers are also one of the first beneficiaries of new technology which implies that you can see products before they are available to the general public. You also get to see some brands that aren't all that common in Canada.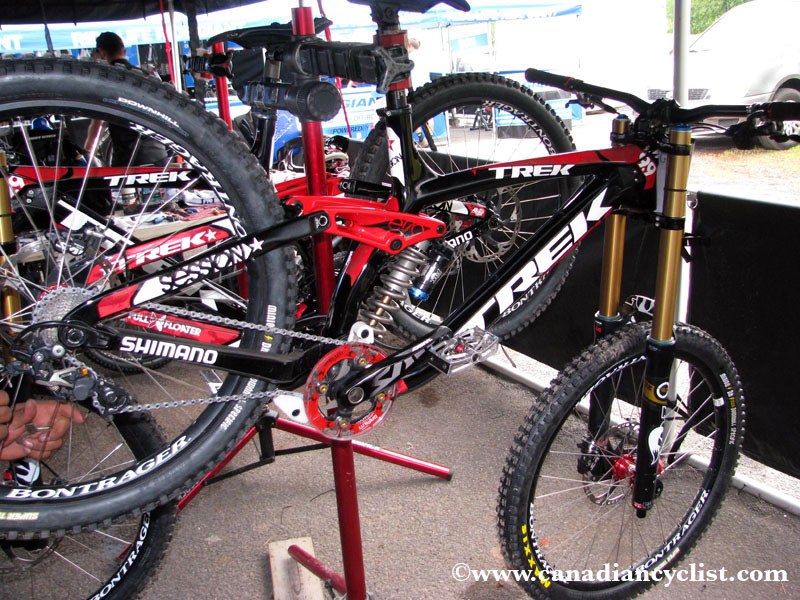 Gwin's carbon Session
One of the highlight bikes was on display in the Trek Booth. This was World Cup DH Series leader (and winner of last week's round at MSA) Aaron Gwin's Session 88. This was supposed to be a secret bike to be officially unveiled on July 15th but the secret snuck out last week. This is the all new, all carbon DH bike. Every frame component is carbon, including the swing arm. The popular rumour is that this frame is over 2 pounds lighter than the regular Session 88, although officials at Trek will not confirm or even address any rumours about it. The additional benefit is that the carbon makes for an incredibly stiff bike that responds instantly to rider input.

The lesson is very clear to me. If you want to compete at the elite level you can't succeed with a 40 pound bike. Take a look at the set up on Gwin's machine. XTR here and there, Trek hubs, and a Saint Crank. It is a very elegant and minimalist bike, but more than fast enough to win a World Cup Downhill, as evidenced by Gwin's Mont Ste-Ann win last week on the bike's maiden run.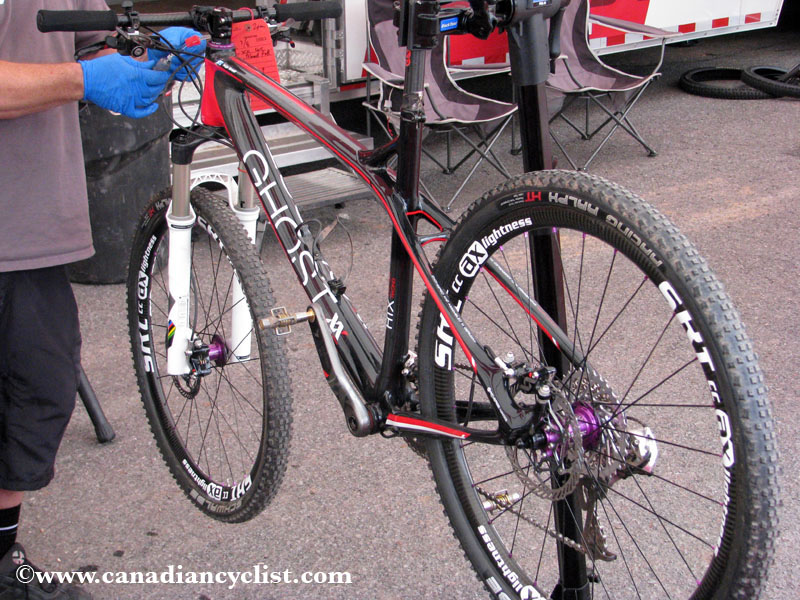 Ghost
Seen in the SRAM booth was a bike from German manufacturer Ghost. A very pretty carbon hard tail was getting a brake adjustment. Sabine Spitz and riders on the Central Haibike Pro Team use Ghost bicycles. They have a full line of machines that you will be hard pressed to find here in North America. Based on this one that is too bad. It's a great looking piece of carbon craftsmanship. Take a look at the area around the seat tube/top tube for example.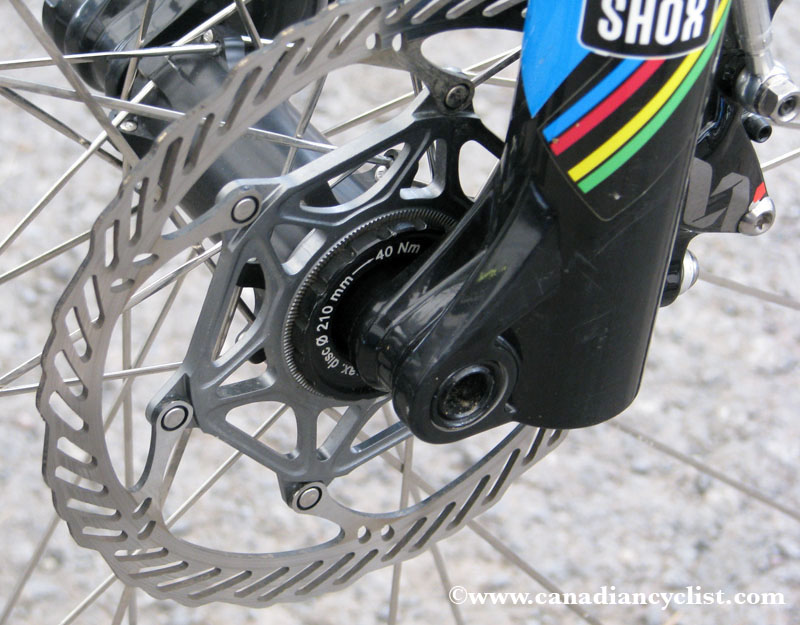 Avid XX brake
Also at SRAM were some snippets of 2012 product. You actually had to look pretty hard to tell because often the differences were subtle. The 2011 Avid XX brakes are black and so are the new 2012. However, the 2012 XX World Cup brakes are a lot smaller in overall dimensions and obviously weight. They also have a brand new rotor. I've just recently got a set for a more thorough review. I've only had two rides on them and so far I'm impressed. Look for that review on www.canadiancyclist soon.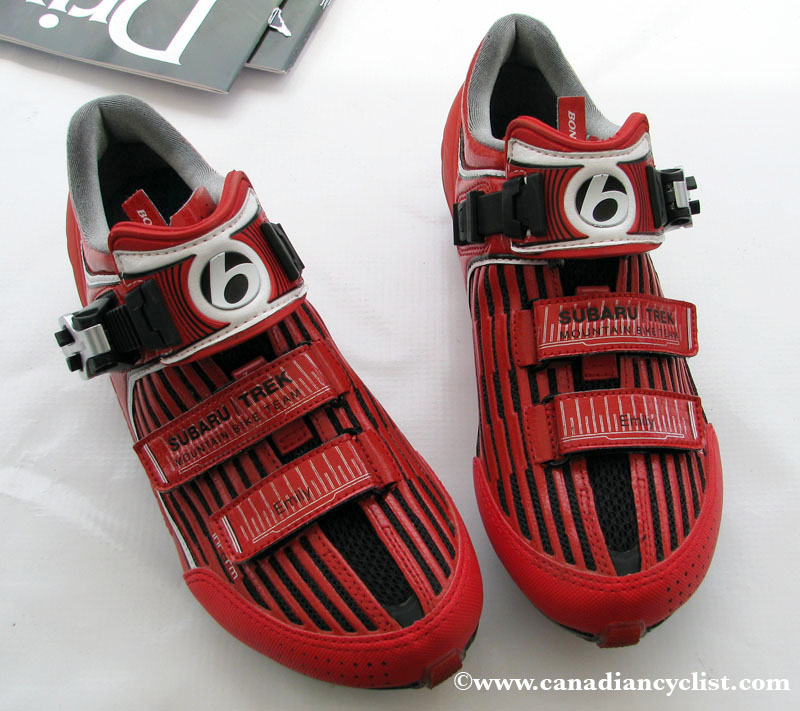 Bontrager XLight MTB Team Edition shoe
In the Subaru-Trek tent there were a whole bunch of new things to view. Some you won't be able to ever get, others will be obtainable soon. In the "unobtainium" department are some team issue shoes officially known as "Bontrager XLight MTB Team Edition". You can get pretty close to this shoe but the colour and branding is for the team alone. One interesting aspect is that this shoe comes in a standard and low volume upper. Most of the racers on the pro team are using the lower volume shoe for a snugger fit. There is also a customizable insole for personal fine tuning. In the "you have no hope of getting one" department is the podium shoe, which is made only for the team. They use a road shoe upper mated to a street sole to give the appropriate glam look.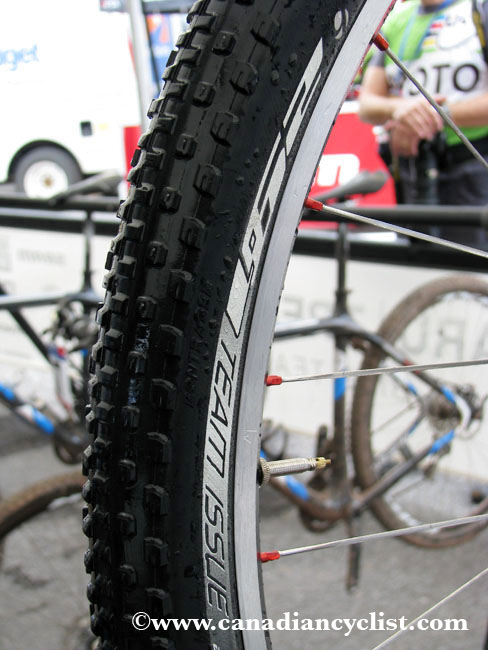 The Subaru-Trek Team was proud to show off some new Bontrager tires. One of the really race ready tires that was on some of the pro bikes was the Bontrager 29.1 Team Issue. It's available in both 2.0 and 2.2 sizes. The claimed weight of the 2.0 is a svelte 430 grams. This was the tire on Emily Batty's 29er hard tail. It was one of the reasons that her bike weighs all of 18.25 pounds.

The other Bontrager tire is designed for trail use. It is the 29.4 Team Issue which is a 2.30 width. It weighs in at 780 grams but it is clearly ready for some serious trail riding.

That's just a small glimpse of some of the components here at Windham. Even though you might be able to come to a World Cup race you will be seeing some of these products before too long. Carbon is everywhere so you'd better get used to it. One trend that has continued for virtually as long as there has been bicycle racing is the quest for low weight and high strength. That has just about everyone here working toward that quest regardless of whether they are XC or DH.