July 9/11 11:46 am - Windham World Cup: Women's XC UPDATES

Posted by Editoress on 07/9/11

5 Laps today after a short run up lap from the parking lot. 57 starters including a large contingent of Canadians
The Women's race is now starting under sunny skies and a bit hot. There is a good stiff breeze out of the west, a tailwind as they head out and a head/crosswind on the descent. The area had heavy rain overnight, so there will be some wet muddy spots in the woods
Lap 1
At the end of the short uphill sprint, Eva Lechner (Colnago Farbe Sudtirol) leading Julie Bresset (BH - Suntour - Peisey Vallandry), Nathalie Schneitter (Colnago Farbe Sudtirol)
Premont 13th, Batty 16th, Pendrel 17th
11:55 am
Bresset and Pendrel now leading with a gap of ~ 6 seconds on a chase group of 9 as they climb and pass through the feedzone
12 PM
The leaders are now descending with Pendrel leading Bresset
>
Lap 2
Heading out - Catharine Pendrel (Luna Pro Team) and J ulie Bresset p;(BH - Suntour - Peisey Vallandry) leading Elisabeth Osl ( Ghost Factory Racing Team) and Marie-Helene Premont (Team Maxxis - Rocky Mountain) at 40 sec Georgia Gould ( Luna Pro Team) a at 41 sec. Annika Langvad (Team Easton Rockets), Blaza Klemencic (Felt Oetztal X - Bionic Team), Maja Wloszczowska ( CCC Polkowice), Irina Kalentieva (Topeak Ergon Racing Team) at 45 sec
Emily Batty (Subaru - Trek) 25th at 1:43
U23 Women
Pauline Ferrand Prevot (Lapierre International leading) and starting to catch the back of the Elite women
12:16 pm
The chase group are closing the gap to the leaders Pendrel and Bressette as they climb
12:20 pm
On the descent the gap to the chasers has gone up again - to nearly 1 min
12:22 pm
Bresset has dropped Pendrel on theh last bit of the run down to the line to start Lap 3
Premont and Osl now chasing and a gap to Annika Langvad (Team Easton Rockets)
Lap 3
Bresset and Pendrel hit the line and head out for lap 3. Pendrel is very dirty so it looks like she has gone down
Chasers: Osl, Premont, at 1:04. Langvad at 1:05, Blaza Klemencic (Felt Oetztal X - Bionic Team) and Georgia Gould ( Luna Pro Team) at 1:09
Batty 22nd at 2:57
U23 women
Ferrand Prevot leading. Top Canadian is Mikayla Kofman in 8th
12:29 pm
Pendrel leading Bresset on the long climb. The chase group of 9 still at ~1 min with Premont and Osl switching turns at the front
12:34 pm
Premont has started to open a bit of a gap and move into a solid 3rd spot
12:36 pm
Through the 2nd feedzone the chasers have brought the gap back to 41 sec. Premont at the front pulling. Premont is a great descender and should be able to make up some time on the other side of the Mtn
12:38 pm
Pendrel at the front on the descent
12:40 pm
Premont alone now in the chase with Langvad in 4th
Lap 4
Pendrel leading Bresset. Premont at 39 sec. Langvad at 48 sec, Osl and Maja Wloszczowska at 59 sec
Batty 20th at 3:37
12:47 pm
Premont is closing the gap on the 2 leaders on the climb
12:49 pm
Up the climb and Pendrel is attacking
U23 Women
Ferrand Prevot leading with Stirnemann 2nd and Elisabeth Sveum in 3rd but closing on 2nd. They are on their last lap. Kofman now 5th
12:53 pm
Premont is being chased by Langvad and the chase group of 6 are being led by Osl
12:58 pm
Leaders on the descent with Pendrel leading Bresset and getting a bit of a gap in some sections, but Bresset is not letting anything big open up. They will soon start the final lap
Premont and Langvad are together now
Lap 5 (Final Lap)
Pendrel leading Bresset across the line. Langvad and Premont at 50 sec. Nash 5th at 1:15, Gould 6th at 1:21, Kalentieva 7th at 1:22, Osl 8th at s.t., Wloszczowska 9th at 1:24
Batty 20th
1:08 pm
Pendrel is trying to get away, but Bresset is stuck to her wheel on the climb.
U 23 final
1 Pauline Ferrand Prevot (Fra) Lapierre International
2 Elisabeth Sveum (Nor) Team Merida Smart Safety
3 Kathrin Stirnemann (Sui) Central Haibike Pro Team
1:12 pm
Pendrel and Bresset still glued together. Langvad in 3rd at 50 second and Premont 4th at 10 more sec.
1:16 pm
Premont has now been caught by Gould for 4th and Kalentieva is also moving up
1:17 pm
Down the descent and Breset has a gap on Pendrel of ~ 8 sec
Pendrel had a minor mechanical on the last lap on the descent.... The spare tube she was carrying fell out of her pocket? and tangled in her rear wheel
Finish
Unofficial
1 Julie Bresset (Fra) BH - Suntour - Peisey Vallandry, 1:35:36
2 Catharine Pendrel (Can) Luna Pro Team, at 0:39
3 Annika Langvad (Den) Team Easton Rockets
4 Marie-Helene Premont (Can) Team Maxxis - Rocky Mountain
5 Georgia Gould (USA) Luna Pro Team
Course Profile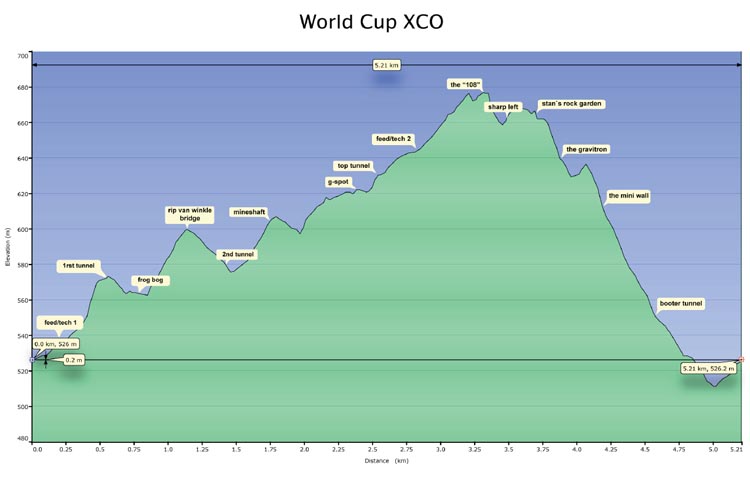 Map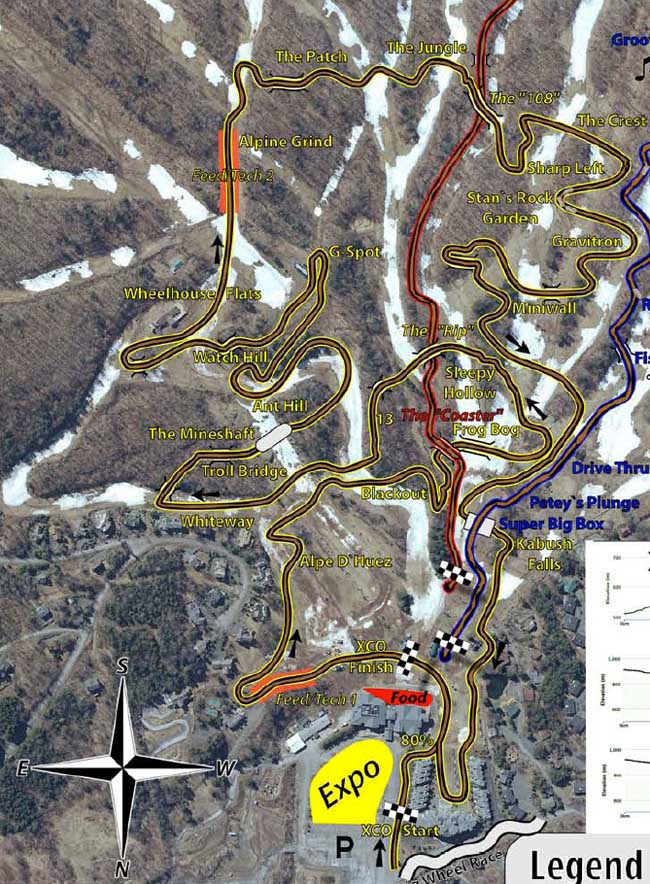 650" height="884" />