Australian Nankervis returns to race that jump-started career with win at Tour de Delta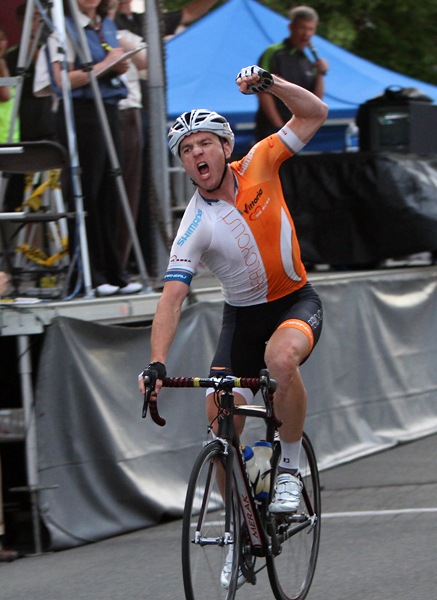 The first time Australian Tommy Nankervis came to BC Superweek back in 2005 it jumpstart his professional road cycling career. He came back this year to win.

Nankervis surprised the pack by taking off halfway down the back stretch, and held off an impressive field through the final two corners to win the 2011 Tour de Delta Brenco Criterium on Saturday night, completing 60 laps of the 0.9 kilometer circuit through the streets of the Ladner fishing village in one hour, 14 minutes and 20.40 seconds.

"I just went for it halfway down the back straight and made it into the second-last corner third wheel and knew if I came through the last corner in front I wouldn't have anyone pass me," said Nankervis, riding for the RealCyclist.com Pro Team run by three-time Canadian Olympian Gord Fraser, whose 200-plus victories includes Tour de Delta.

"There's lots of strong riders here, I thought I'd be overwhelmed but I got lucky. I went for it really early, I've been doing some really hard training and it paid off."

Nankervis finished ahead of hard-charging North Vancouver native Andrew Pinfold of United Healthcare Pro Cycling, who has won several stages of the Tour de Delta but had to settle for a sprint win to claim $400 prime with four laps left to go.

"I've won the crowd prime here before when it was like $2,500 and I thought maybe that was the lap, so I picked that lap as the one I was going to go for," said Pinfold, who on another $300 prime. "I had some legs at the end, but Tommy was a bit too strong."

Michael Smith Larsen, a Danish rider competing alone for the smaller California-based SoCal Cycling Team, finished third, just ahead of Team Exergy's Columbian Olympian Carlos Alzate, who was also fourth in Friday's MK Delta Lands Criterium and will wear the Tour de Delta leader's jersey into the White Spot Road Race on Sunday morning.

Larsen, who has won the Danish title and finished third at the European Championships on the track in the Madison race, called it his biggest podium of the year. It was a nice bonus considering he only came north because he had to leave the USA briefly.

"I'm trying to renew my Visa so I have to leave country and someone told me how great the races are up here so I thought if I have to leave the country I might as well do some good racing up here," Larsen said. "So it's a win-win situation."

That sounds a lot like Nankervis six years ago, but without the Visa issues.

A former under-19 Australian national champion on the track, Nankervis kept racing track through university before coming to BC Superweek for his first road race 2005, and turned a strong performance into his first contract with an American-based Pro Team. He also spent two years competing in Europe before joining Fraser, his coach for the last four years, on the Realcyclist.com team, this season and finally returning to Delta.

"Yeah, just to win," Nankervis, 28, said of the tip he received from Fraser. "It's a pretty important race for me, The first race I ever did outside of Australia and with Gord coaching me four years as well, so there are a lot of great connections."

For a while it didn't look like it would be enough to hold off a powerful Team Exergy squad with seven riders, including Alzate, who won four primes worth $700, Andres Diaz, who was second to Ryan Anderson (Team Spidertech) on Friday, and local rider Ben Chaddock, who used a strong showing at last year's Tour de Delta to earn a contract with the Boise, Idaho-based team and won the $1,000 crowd prime on Saturday. But it was all the primes - $3,300 in total – that made it hard for Exergy to stay in control.

"The Exergy guys did a great job to try and control it, but Delta just kept throwing money at us and we keep hitting out for it and trying and that will disrupt every lead out," said Pinfold, who has raced all 11 years, with a smile. "Always great crowds, and a testament they came through with $1,000 primes and $300 and $400 primes, so thanks."


Winnipeg's Gendron survives crash to make it two straight women's wins as BC Superweek continues

Karlee Gendron was also thankful after following up Friday night's win with a repeat on Saturday evening, getting into a four-rider break 10 laps into the 40-lap race, lapping the field halfway through, and surviving a hard fall that left her bloodied and bruised.
Women

1 Karlee Gendron (Trek Red Truck Racing p/b Mosaic Homes)
0:58:31
2 Jasmin Glaesser (Local Ride Racing/Dr. Vie Superfoods+)
3 Patricia Bailey (Keller Rohrback)
both s.t.
4 Jessica Hannah (Local Ride Racing/Dr. Vie Superfoods+)
0:58:35
5 Laura Brown (Local Ride Racing/Dr. Vie Superfoods+)
+1 Lap
6 Shailie Sanbrooks (Russ Hays Bike Shop)
7 Julia Garnet (Trek Red Truck Racing p/b Mosaic Homes)
8 Noe Cooper (Trek Red Truck Racing p/b Mosaic Homes)
9 Stephanie Roorda (Local Ride Racing/Dr. Vie Superfoods+)
10 Amy Dearden (Russ Hays Bike Shop)
11 Shannon Baerg (Russ Hays Bike Shop)
12 Catherine Varland (independent)
13 Shani Laxson (Trek Red Truck Racing p/b Mosaic Homes)
14 Rachel Canning (Local Ride Racing/Dr. Vie Superfoods+)
15 Dana Walton (Cadence/Alliance Environmental)
16 Kristine Brynjolfson (Trek Red Truck Racing p/b Mosaic Homes)
17 Nik Vogler (Westwood Cycle/Cannondale p/b Vision Sports)
18 Erin Redl (Glotman Simpson Cycling)
19 Tamasin Reno (Glotman Simpson Cycling)
all s.t.
DNF Meghan Grant (Glotman Simpson Cycling)
DNF Diane Campbell (CVC Racing)
DNF Jennifer McMahon (Glotman Simpson Cycling)

Pro/1/2/Men

1 Tommy Nankervis (RealCyclist.com Pro Cycling Team)
1:14:29
2 Andrew Pinfold (United Health Care)
3 Michael Smit Larsen (Socalcycling team)
4 Carlos Alzate (Team Exergy)
5 Jacob Schwingboth (Isorex)
6 Tyler Trace (Trek Red Truck Racing p/b Mosaic Homes)
7 Jesse Reams (Garneau Evolution)
8 Cid Martinez-Arroyo (Team Coastal)
9 Marsh Cooper (Kelly Benefit Strategies-OptumHealth)
10 Andres Diaz (Team Exergy)
11 Cody Canning (Trek Red Truck Racing p/b Mosaic Homes)
12 Ryan Anderson (Spider Tech)
13 Adam Thuss (Trek Red Truck Racing p/b Mosaic Homes)
14 Daniel Halloway (Kelly Benefit Strategies-OptumHealth)
15 Christian Meier (United Health Care)
16 Scott Laliberte (Westwood Cycle/Cannondale p/b Vision Sports)
17 Marvin Guzman (Westwood Cannondale p/b Vision Sports)
18 Adam Carr (Form Fitness)
19 Cameron MacKinnon (Independent)
20 Chris Gruber (Kallisto/Wheels of Bloor)
21 Nic Hamilton (Jelly Belly p/b Kenda)
22 Sean Mazic (Jelly Belly p/b Kenda)
23 Jeff Werner (Garneau Evolution)
24 David Stephens (Garneau Evolution)
25 Ian Crane (Hagens Berman Domestic Elite)
26 Guy Biggar (Garneau Evolution)
27 John Perkins (Glotman Simpson Cycling)
28 Spencer Smitheman (Hagens Berman Cycling)
29 Sebastian Salas (Team H&R BLOCK)
30 Bradley Clilfford (Team H&R BLOCK)
31 Maurice Worsford (RideOkanagan.com p/b Norco)
32 Nick Friesen (Team H&R BLOCK)
33 Colter Young (RideOkanagan.com p/b Norco)
34 Erik Mulder (Independent)
35 James Larmer (Westwood Cycle/Cannondale p/b Vision Sports)
36 Alistair Howard (Garneau Evolution)
37 Curtis Deardon (Garneau Evolution)
38 Morgan Schmitt (United Health Care)
39 Tim Abercrombie (Garneau Evolution)
40 Reid Mumford (Kelly Benefit Strategies-OptumHealth)
41 Ben Chaddock (Team Exergy)
42 Kevin Mullervy (Team Exergy)
all s.t.
43 Quinn Keogh (Team Exergy)
1:14:38
44 Mike Sidic (Cycling BC)
45 Aaron Schooler (Team H&R BLOCK)
46 Dustin Andrews (Team H&R BLOCK)
all s.t.
47 Dan Skinner (Trek Red Truck Racing p/b Mosaic Homes)
1:14:39
48 Bailey McKnight (Trek Red Truck Racing p/b Mosaic Homes)
49 Mike Rothengatter (Garneau Evolution)
50 Chris Worsford (RideOkanagan.com p/b Norco)
51 Garrett Mcleod (Team H&R BLOCK)
52 Stephen Ferris (Calgary Cycle/TOP GEAR)
53 Zack Garland (Team H&R BLOCK)
54 Rory McAdams (Trek Red Truck Racing p/b Mosaic Homes)
55 Jason Thompson (Garneau Evolution)
56 Kyle Buckosky (Garneau Evolution)
57 Conor Mullervy (Team Exergy)
58 Mike Elliston (Glotman Simpson Cycling)
59 Julian Kyer (Kelly Benefit Strategies-OptumHealth)
60 Dustin Macburnie (Team H&R BLOCK)
61 Ted Martin (Garneau Evolution)
62 David Gerth (Garneau Evolution)
63 Eric Wohlberg (Form Fitness)
64 Craig Logan (Trek Red Truck Racing p/b Mosaic Homes)
65 David Vukets (Trek Red Truck Racing p/b Mosaic Homes)
all s.t.
66 Steve Fisher (Hagens Berman Cycling)
1:14:44
67 Christopher Wingfield (Hagens Berman LLP)
68 Bryson Bowers (Trek Red Truck Racing p/b Mosaic Homes)
both s.t.
69 Jakub Wasiela (Independent)
1:14:56
70 Scott Inman (Independent)
1:15:15
71 Kevin Noiles (Independent)
1:15:19
72 Julian Base (Westwood Cannondale p/b vision sports)
1:15:31
DNF Brad Huff (Jelly Belly p/b Kenda)
DNF Kristofer Dahl (Team H&R BLOCK)
DNF Matthew OHagan (Team H&R BLOCK)
DNF Carlos Capella (RideOkanagan.com p/b Norco)
DNF Bart Ludbrook (Glotman Simpson Cycling)
DNF David Gillam (Glotman Simpson Cycling)
DNF Raphael Lalumiere (Russ Hays Bike Shop)
DNF Lachlan Holmes (Team H&R BLOCK)
DNF Mark Mcconnell (Synergy Racing)
DNF Mackenzie Garvin (Cyclemiesters Bow Cycle)
DNF Craig Jones (Independent)
DNF Remi Mcmanus (Team Exergy)
DNF Russell Stead (Daryl Evans Racing)
DNF Paul Berry (Spoke Bike and Ski)
DNF Mark Perrot (Glotman Simpson Cycling)
DNS Jason Kilmartin (RideOkanagan.com p/b Norco)
DNS Owen Harrison (Team H&R BLOCK)