July 12/11 13:27 pm - Inaugural UBC Grand Prix Welcomes North America's Best Pro Cycling Teams

Posted by Editoress on 07/12/11

Inaugural UBC Grand Prix Media Night/Launch
As part of BC Superweeek, the first annual Original 16 UBC Grand Prix presented by Mahony and Sons Public House brings the top cyclists from all over the world to Vancouver Tuesday, July 12. More than 100 top pro and amateur athletes from more than 20 teams will take on a fast-paced 1.3-km closed-street circuit, reaching speeds up to 70 km per hour during 40 to 65 intense laps.

"A criterium race brings together speed and strength, making it a real challenge for the athletes and an existing event for the spectators. Action happens fast, riders have to push their limits and one second can change the final ranking," says Mark Ernsting, Race Director.

The UBC Grand Prix will make a big difference in BC Superweek, adding a prestigious event and, along with the return of the Giro di Burnaby criterium on Thursday, bridging the gap between the two long-standing weekend series in Delta and White Rock, making it easier for top pro teams from all over North America – with top riders from all over the world – to commit to coming north for 10 days.

And that makes a huge difference in Canadian cycling by giving local riders the chance to test themselves against the best, and leave a lasting impression on the managers from these teams.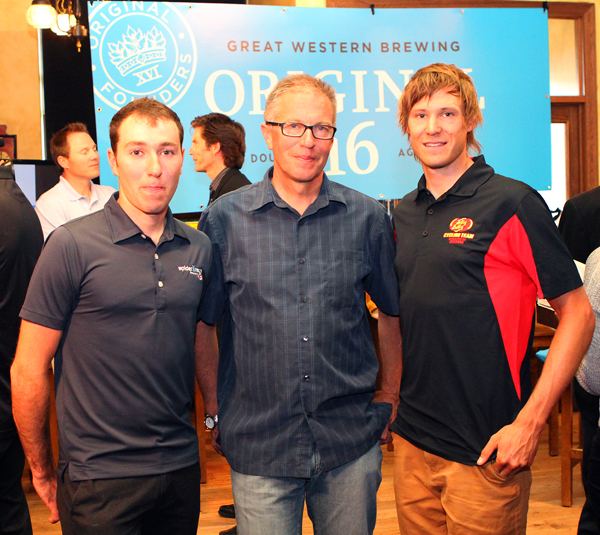 Ryan Anderson and Nic Hamilton meet Canadian cycling legend Ron Hayman.
"Cycling in BC and Western Canada has certainly grown over the last few years. With events such as BC Superweek, we have been able to provide athletes top quality racing courses, preparing them to take their career to the next level and compete all over the world," says Dr. Jack Taunton, Chairman of the organizing committee for Original 16 UBC Grand Prix presented by Mahony and Sons Public House.

It's paid huge dividends, with BC Superweek competitors like Svein Tuft getting his first break against Olympic medalist Brian Walton in White Rock years ago, then moving on and up to become the rider that other locals tested themselves against in recent years. Many of them are now racing professionally all over North America, and return to give other local riders a chance to compete against the best.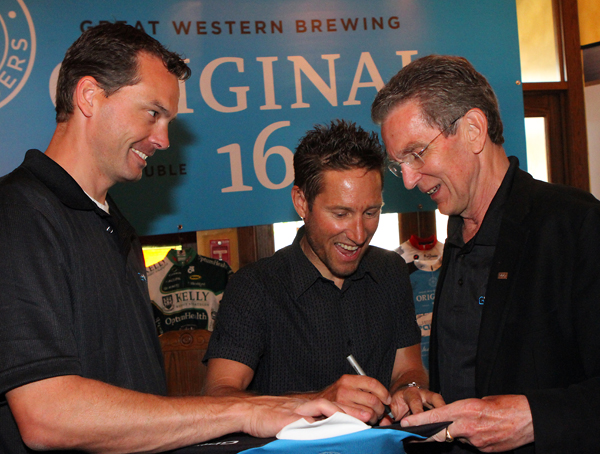 Canadian cycling great Eric Wohlberg (Form Fitness) adds his name to the UBC Grand Prix commemorative jersey.
It's how Whistler's Will Routley got started. Now he returns with teammate Ryan Anderson from their first spring in Europe as part of SpiderTech, a team founded by Canadian cycling legend Steve Bauer with the goal of one day competing at Grand Tour level, including the prestigious Tour de France.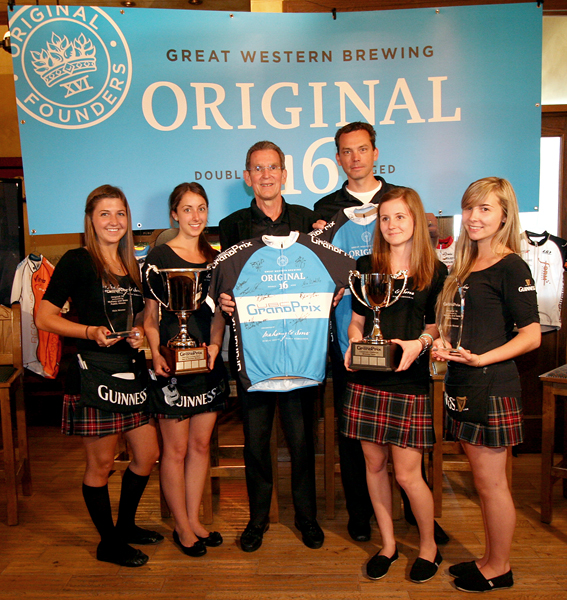 Race founder Dr. Jack Taunton, Race Director Mark Ernsting and servers at race sponsor Mahony and Son's Public House show off the winner's jersey and trophies up for grabs at the inaugural UBC Grand Prix to be held Tuesday July 12.
"Over the last few years we've all tried to do it as much as we can in order to try and pay it back," Routley said. "These events did a lot for me coming up and getting to race pros from the US as a local guy, that meant a lot. In terms of Canadian cycling it is some of the better racing we have, if not the best. Certainly it is run the best, has better prize purses, and gets quality fields consistently."

Team Spidertech swept the recent National Road Race Championships, with Tuft first, Routley, second, and Zach Bell in third. Tuft and Bell are both expected to race their second Olympics in 2012, and Routley, who won the Canadian Road Race title in 2010, is also considered a strong contender to ride in the London Games next summer. All three have very strong roots in BC Superweek.

"It's really important to the development of cycling in Canada," Routley said.

UBC Grand Prix Schedule
The start line will be in front of Mahony and Sons Public House on University Boulevard. The first race takes place at 4:30 p.m. where 15 corporate teams will go for 40 laps. Each team consists of 4 riders racing all four laps of the course to reach a combined total of 16 laps. "Cycling is definitely the new golf and we wanted local cyclists to be able to experience the course and go pro for one day. It's a great way to connect with co-workers and indulge in some friendly competition," said Taunton.

The first Kid's race, with close to 100 kids from five to twelve years old riding just like the athletes, starts at 5:30 p.m. The Pro Women race is set to begin at 6:30 p.m. and the evening will conclude with the Pro Men's race at 7:45 p.m, with close to 90 riders pushing it hard on the course.

Proceeds of the inaugural Original 16 UBC Grand Prix presented by Mahony and Sons Public House will go to the Sports Medicine Foundation to support research in Sport and Exercise Medicine.

Courtesy ubcgrandprix.com