July 13/11 10:24 am - Mardis Cyclistes de Lachine: report, results and photos

Posted by Editoress on 07/13/11

Mardis Cyclistes de Lachine in Montréal on Tuesday, July 11th

Veilleux Scores Again


David Veilleux (Europcar) scored his second stage victory this season at Tuesday's Mardis Cyclistes. Veilleux, who is Canada's reigning criterium champion, stopped the clock at 1:02:34 in the 50km senior men's race in this evening's sixth stage. He also won the fourth stage on June 26. Meanwhile, his team mate, Thomas Voeckler, is leading the Tour de France on the other side of the Atlantic.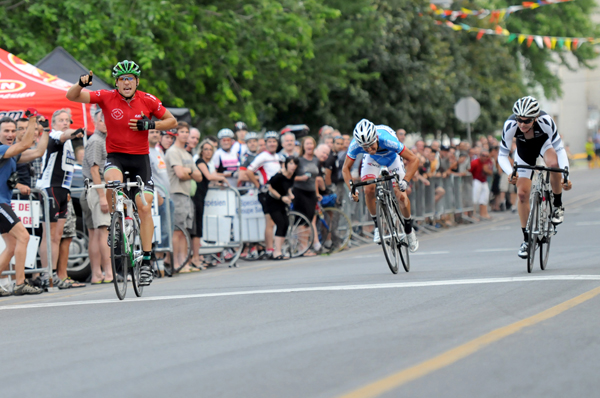 David Veilleux (Europcar) wins photo by Robert Wilson

Early in the race, visiting New Zealand junior cyclist, Dion Smith (Pure Black Racing) and Benjamin Martel (Team Spirit) broke away from the pack, building up a 20 second lead. On the 12th of 31 laps, Veilleux launched a lightning attack on the pair, quickly bridging the gap. Dominic Chalifoux (Trek-Bontrager) followed Veilleux on this attack.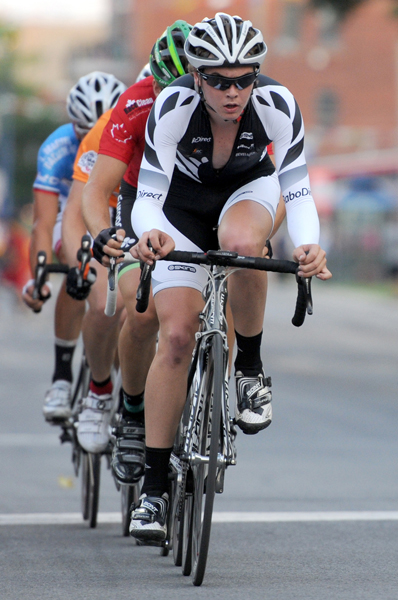 The group of four never looked back and finished the race with an average speed of 47.9 km/h. Veilleux easily took the final sprint, with Dion Smith (right) in second and Chalifoux third. Benjamin Martel finished fourth and missed the podium.
"It was too good of an opportunity to let slip by," explained Veilleux. "When I launched my attack, only Chalifoux was able to follow. We rode fast to catch the two guys in front and then continued at a good pace to stay ahead of the pack. I was impressed by [Smith]; we're going to have to watch out for him in the future."

"My legs are a little tired," admitted Smith, 18, who also finished fourth Sunday at the Iron Hill crit in West Chester, Pennsylvania before taking a 10 hour bus ride to Montreal. The junior cyclist raced both events against senior men. "My team mates didn't have much time to get familiar with the race circuit here. We only just got into town this morning."

Almost a full minute elapsed before the pack crossed the finish line, this time being led by James Oram (Pure Black), also of the New Zealand team. There were 83 cyclists in the senior men's race.

In overall points, there was little change. Jean-François Laroche (Fantino Mondello – Régis) and Martin Gilbert (Spidertech) remain in first and second position respectively. In third place now is Veilleux but he is unlikely to take the series. "I am leaving for Europe at the end of July and will race in the Tour of Denmark."

Gilbert also indicated that he will unlikely make the last three stage races in August. Gilbert was unsupported by any of his team mates following recent crashes involving Guillaume Boivin and Keven Lacombe.

Patrick Carpentier had fun but did not finish

NASCAR driver Patrick Carpentier (right below) joined the crowd on the start line, riding as an independent. "I rode competitively for three or four seasons with the Espoirs Laval club when I was about 12 years old. Cycling has always been my passion; it is a sport that really helps you stay in shape but at the same time it is easy on your joints. It's a perfect training sport to combine with automobile racing," he explained just before the race. Carpentier, 39, said that he rode about 500km last week and set his objective as simply being to finish the 50km race. The pack let Carpentier lead the first lap to the amusement of the crowd. A mechanical problem forced Carpentier to DNF without completing the race.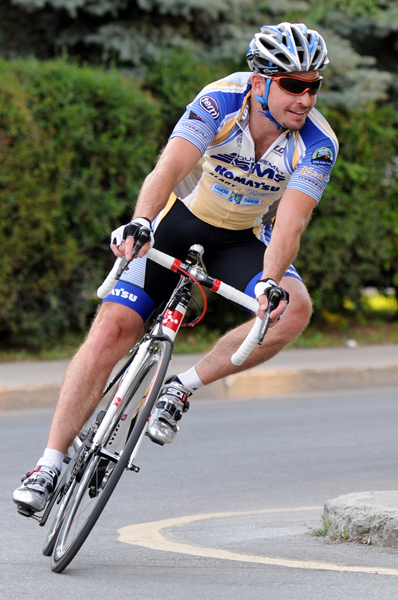 "I had fun, but it was tough! The guys took off so fast after each curve that I felt like my legs would explode," said Carpentier with a big smile. "I'll be back, but as a spectator!"

Carpentier rode an Argon 18 Gallium Pro borrowed from Gervais Rioux, president of the local Argon 18 bike manufacturer. "Patrick has been riding our bikes for about seven years," said Rioux, who is also a former Olympic cyclist.

Junior races
Among the women, it was Valérie Crête (Juverderm Specialized) who took the Mozzarellissima stage race followed by team mate Véronique Drapeau-Zgoralski. Drapeau-Zgoralski also now leads the series.

Shawn Turcotte (Prud'Homme IGA) won among the junior men and built up his cumulative lead.
The minime races saw Édouard Laparé-Morin (Espoirs Laval) and Melyssa Fortin (VC Longueuil) winning and both leading in cumulative points.

About
The Mardis Cyclistes have been around Montreal for 34 years. Every summer for 10 weeks, stage races (called "criteriums") are presented on Tuesday evenings. Younger cyclists and the women start at 5:30 and 6:00 pm, while the senior men's race with cyclists blast off at 7 pm for 31 laps around LaSalle Park in the Montreal suburb of Lachine. There will be no Mardis Cyclistes race on July 19 and the series resumes July 26, finishing on August 16.

Men
1 David Veilleux (Europcar)
2 Dion Smith (Pure Black Racing)
3 Dominic Chalifoux (Trek-Bontrager)

Full results

Courtesy Mardis Cyclistes