As a mentor and leader on a young Team H&R BLOCK, New Zealand native Justin Kerr was ecstatic to set up younger teammate Cameron MacKinnon for the photo-finish win a the Giro di Burnaby on Thursday night.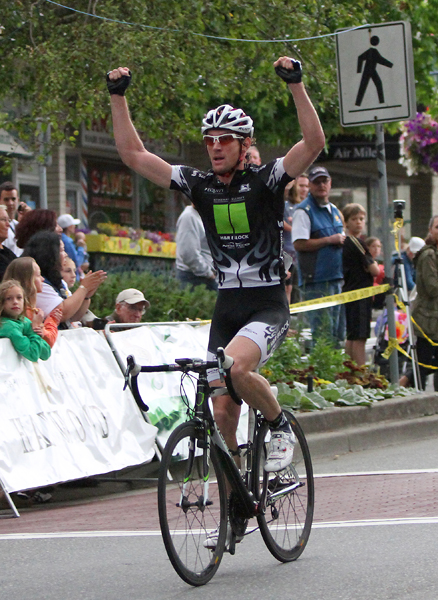 As a former professional who raced for three years in Europe, the 31-year-old was almost as happy to show the young kids he still knows how to finish himself by winning the Tour de White Rock Choice's Market Criterium on Saturday.

Kerr got into a four-rider breakaway 35 laps into the 60-lap race around a hilly one-kilometer circuit through the streets of White Rock, then jumped past Marsh Cooper of the Kelly Benefit Strategies-OptumHealth Pro Cycling team 50 meters before the final corner and winning a final sprint to the finish line.

"I'll take it. I've got some form and the three other guys are really good, really honest riders," said Kerr after finishing in one hour, 11 minutes and 16.6 seconds – minutes before the skies opened with rain. "Two laps to go I almost went off the back. I was that close to being dropped, but I knew I had to be first in the corner and my kick's not great but it's good enough to win from a break like that."

The break also included David Stephens and Curtis Deardon, both from the Vancouver-based Garneau Evolution elite team. Stephens finished third, while Deardon settled for three primes on bonus laps, including a $875 crowd prime with five to go, to push his winnings well over $1,000 for the evening.

It was an impressive finish for the amateur riders against a field loaded with top professionals from all over North America, and some who race in Europe.

"It was our goal coming into the week to get somebody on a podium and we got that, so we've got to be pretty pleased," said Deardon. "And the money helps."

There were 72 riders on the start line, but with lap times just over a minute early on as racers like Dan Holloway, the current USA Criterium champion from Kelly Benefit Strategies-OptumHealth, pushed hard for cash primes, the field broke apart pretty fast. After some 65-second laps mid-race, only 32 finished.

"The first 15 laps were just constant attacks and accelerations," said Deardon. "That hill doesn't make things easy so I'm not surprised it split up pretty quick."

Cooper, an Aldergrove native who now rides for Maryland-based Kelly Benefit Strategies, wasn't nearly as happy to be runner up for the second time this week after losing to Columbian Olympian Carlos Alzate at the UBC Grand Prix

"Justin jumped me about 50 metes before the corner and right as he was going through I thought 'oh man I'm going to lose,'" said Cooper. "I really wanted this one so I'm pretty gutted, but second place is great and I lost to a great rider."

Kerr spent three years racing in Belgium, and another two in Los Angeles before coming to Vancouver to work full time. He jumped at the chance to work with the locally based Team H&R BLOCK, which competes as a Canadian Cycling Association Trade Team. And as happy as he was to win, he was just as delighted with a third place finish in Burnaby Thursday – because it was his work that kept a small breakaway ahead of an impressive field of top pros, and set MacKinnon, a long-time track racer, up for his first road race victory.

"That was rewarding because Cam came on board as a sprinter and hadn't had a lot of success," Kerr said. "So knowing if I hadn't done what I did we wouldn't have won, is pretty rewarding, and that's just broken the seal for Cam. I try and tell the guys every week, you are so close to being there. It's just about having the confidence to go. The step these guys and a continental contract is very small. It's one good result, that's all it takes. One good result at BC Superweek and you're in, as a lot of people have shown from here in the past."

Kerr is also planning to help a blind cyclist ride in the 2012 Paralympics in London by working as his guide – all part of staying in the sport.

"I'm 31 and getting to the end of my career but I still love bike racing," he said.

Women's race

The women's race featured familiar faces on – and atop – the podium.
Karlee Gendron, a 19-year-old Manitoba native now racing for the local Trek Red Truck amateur team, won a sprint to the finish for her third criterium victory in five chances BC Superweek. Gendron, who won both "crits" and the overall at Tour de Delta, completed 30 laps of the 1-kilometer circuit in just over 42 minutes.

In the final sprint, Gendron beat Canadian track team World Cup medalist Laura Brown and 19-year-old Jasmine Glaesser, teammates on Local Ride Racing/Dr. Vie Superfoods, who were coming off a 1-2 finish in Friday's Hillclimb.

"Trek Red truck just wanted to ride a really aggressive race, and that's what we did," said Gendron, who was also third at the UBC Grand Prix and Giro di Burnaby criteriums and second at the Delta road race, "We wanted to make it as hard as we could to make it as hard as possible for other teams to attack."

In addition to the finish line sprint, the women's race featured several charges on prime laps, and it was usually a green jersey of the Keller Rohrback team from Seattle at the front. Patricia Bailey, a 40-year-old from Seattle who was also third at the Tour de Delta Brenco Criterium, won three of the bonus laps, including a $375 crowd prime, and two of her teammates also claimed prime money, while a fourth member, Elizabeth Nettles, finished in the money at fourth overall.

"White Rock is a well known crit and the primes are well known and we know the other teams are going to be focused on the end so I had four good girls and I told them we're going for primes," said Bailey. "We're going for money. There's no reason to wait and scrap it out at the end, so go for your money and get it."

Brown and Glaesser reduced numbers Saturday, with just four Local Ride Racing teammates starting and no one else finishing (all six Trek Red Truck riders finished), which made their dual podium finish more impressive.
Women

1 Karlee Gendron (Can) Trek Red Truck Racing p/b Mosaic Homes
42:03.0
2 Laura Brown (Can) Local Ride Racing/Dr. Vie Superfoods+
3 Jasmin Glaesser (Ger) Local Ride Racing/Dr. Vie Superfoods+
both s.t.
4 Elizabeth Nettles (USA) Keller Rohrback
42:04.4
5 Shani Laxson (Can) Trek Red Truck Racing p/b Mosaic Homes
6 Annie Ewart (Can) Trek Red Truck Racing p/b Mosaic Homes
7 Stephanie Peters (USA) Keller Rohrback
8 Noe Cooper (Can) Trek Red Truck Racing p/b Mosaic Homes
9 Patricia Bailey (USA) Keller Rohrback
10 Kristine Brynjolfson (Can) Trek Red Truck Racing p/b Mosaic Homes
11 Julia Garnet (Can) Trek Red Truck Racing p/b Mosaic Homes
12 Megan Rathwell (Can) Glotman Simpson Cycling
13 Jessica Cutler (USA) Keller Rohrback
all s.t.
14 Diane Campbell (Can) CVC Racing
42:10.3
15 Alison Testroete (Can) Skil
42:49.6
DNF Stephanie Roorda (Can) Local Ride Racing/Dr. Vie Superfoods+
DNF Jenny Lehmann (Can) Local Ride Racing/Dr. Vie Superfoods+
DNF Meghan Grant (Can) Glotman Simpson Cycling
DNF Tamasin Reno (Can) Glotman Simpson Cycling
DNS Jessica Hannah (Can) Local Ride Racing/Dr. Vie Superfoods+
DNS Erin Redl (Can) Glotman Simpson Cycling
DNS Catherine Varland (USA) Independent

Pro/1/2 Men

1 Justin Kerr (NZl) Team H&R BLOCK
1:11:16.6
2 Marsh Cooper (Can) Kelly Benefit Strategies-OptumHealth
3 David Stephens (Can) Garneau Evolution
both s.t.
4 Curtis Deardon (Can) Garneau Evolution
1:11:21.3
5 Tommy Nankervis (Aus) RealCyclist.com Pro Cycling Team
1:11:34.4
6 Daniel Holloway (USA) Kelly Benefit Strategies-OptumHealth
s.t.
7 Nic Hamilton (Can) Jelly Belly p/b Kenda
1:11:35.8
8 Tim Abercrombie (Can) Garneau Evolution
9 Adam Carr (USA) Form Fitness
10 Tyler Trace (Can) Trek Red Truck Racing p/b Mosaic Homes
11 Eric Wohlberg (Can) Form Fitness
12 Sebastian Salas (Can) Team H&R BLOCK
13 Kristofer Dahl (Can) Team H&R BLOCK
14 Cid Martinez-Arroyo (Can) Team Coastal
15 Dan McDonald (Can) Rideokanagan.com pb Norco
16 Bailey McKnight (Can) Trek Red Truck Racing p/b Mosaic Homes
17 Dustin Macburnie (Can) Team H&R BLOCK
18 Julian Kyer (USA) Kelly Benefit Strategies-OptumHealth
19 Sean Mazic (USA) Jelly Belly p/b Kenda
20 Aaron Schooler (Can) Team H&R BLOCK
21 Owen Harrison (Can) Team H&R BLOCK
22 Dustin Andrews (Can) Team H&R BLOCK
23 Jeff Werner (Can) Garneau Evolution
all s.t.
24 Will Routley (Can) Spider Tech p/b C10
1:11:42.8
25 Garrett McLeod (Can) Team H&R BLOCK
s.t.
26 Brad Huff (USA) Jelly Belly p/b Kenda
1:11:53.6
27 Reid Mumford (USA) Kelly Benefit Strategies-OptumHealth
1:12:00.1
28 Craig Logan (Can) Trek Red Truck Racing p/b Mosaic Homes
1:12:41.9
29 Adam Thuss (Can) Trek Red Truck Racing p/b Mosaic Homes
1:12:47.3
DNF Alistair Howard (Can) Garneau Evolution
DNF Mike Rothengatter (Can) Garneau Evolution
DNF Kyle Buckosky (Can) Garneau Evolution
DNF Zack Garland (Can) Team H&R BLOCK
DNF Bradley Clilfford (Can) Team H&R BLOCK
DNF Matthew OHagan (Can) Team H&R BLOCK
DNF Nick Friesen (Can) Team H&R BLOCK
DNF David Vukets (Can) Trek Red Truck Racing p/b Mosaic Homes
DNF Bryson Bowers (Can) Trek Red Truck Racing p/b Mosaic Homes
DNF Cody Canning (Can) Trek Red Truck Racing p/b Mosaic Homes
DNF Rory McAdams (USA) Trek Red Truck Racing p/b Mosaic Homes
DNF Dan Skinner (Can) Trek Red Truck Racing p/b Mosaic Homes
DNF Chris Worsford (Can) Rideokanagan.com pb Norco
DNF Maurice Worsford (Can) Rideokanagan.com pb Norco
DNF Colter Young (Can) Rideokanagan.com pb Norco
DNF Carlos Capella (Can) Rideokanagan.com pb Norco
DNF James Larmer (Can) Westwood Cycle/Cannondale p/b Vision Sports
DNF Mike Laxdal (Can) Westwood Cycle/Cannondale p/b Vision Sports
DNF John Perkins (Can) Glotman Simpson Cycling
DNF Bart Ludbrook (Can) Glotman Simpson Cycling
DNF Dominik Roels (Ger) PG 13
DNF Lachlan Holmes (Aus) Team H&R BLOCK
DNF Kevin Noiles (Can) Independent
DNF Mark Mcconnell (Can) Synergy Racing
DNF Mackenzie Garvin (Can) Cyclemiesters Bow Cycle
DNF Scott Inman (Can) Independent
DNF Jesse Reams (Can) Garneau Evolution
DNF Cameron MacKinnon (Can) Independent
DNF Nathaniel Beams (USA) Dallas Racing p/b Park Place Dearlerships
DNS Jason Thompson (Can) Garneau Evolution
DNS Andrew Kyle (Can) Garneau Evolution
DNS David Gerth (Can) Garneau Evolution
DNS Kennett Peterson (USA) Hagens Berman Domestic Elite
DNS Jason Kilmartin (Can) Rideokanagan.com pb Norco
DNS David Gillam (Can) Glotman Simpson Cycling
DNS Chris Gruber (Can) Kallisto/Wheels of Bloor
DNS Mike Elliston (Can) Glotman Simpson Cycling
DNS Christopher Wingfield (USA) Hagens Berman LLP
DNS Bob Welbourn (Can) Glotman Simpson Cycling
DNS Allan Prazsky (Can) Glotman Simpson Cycling

3/4 Men

1 Robert Alink (Ger) Wolfis Bike Shop Buggingen
38:07.8
2 Richard Machhein (Can) Local Ride Racing/Dr. Vie Superfoods+
38:37.1
3 Fergus Lavelle (Can) dEVo - Escape Velocity
s.t.
4 Dave Johnson (Can) Atomic Racing
38:38.4
5 Jonathan Braunstein (Can) Independent
6 Zachary Renwick (Can) dEVo - Escape Velocity
7 Dave Groves (Can) Mighty Riders
8 Eric Kameka (Can) Escape Velocity
9 Chad Kowalenko (Can) Escape Velocity
10 Normand Richard (Can) Escape Velocity
11 Tristan Hughes (Can) dEVo - Escape Velocity
12 Brian Geerts (Can) Phoenix Velo
all s.t.
13 Mark Sherman (Can) Independent
38:41.6
14 Simon Sterling (Can) Russ Hays Bike Shop
15 Niels Thogersen Iii (USA) Team Stanley
16 Tony Bachler (Can) Independent
all s.t.
17 Tony Zackery (USA) CVC Racing
38:44.0
18 Jason Rhodes (Can) Glotman Simpson Cycling
s.t.
19 John Rogers (GBr) Pro City Racing
38:45.8
20 Daniel Owsiany (Can) Independent
38:48.8
DNF Warren Taylor (Can) Independent
DNF John Sonnenschein (Can) Ballistic Velo Racing
DNF Ted Matson (Can) Glotman Simpson Cycling
DNF Ian Frith (Can) Independent
DNF Alex Hui (Can) Pro City Racing
DNF Dustin Brons (Can) dEVo - Escape Velocity
DNF James Thompson (Can) dEVo - Escape Velocity
DNF Joel Lemaire (Can) Independent
DNF Joel Lemaire (Can) Independent
DNF Arnold Sikhakhane (Can) Team Coastal
DNF Devon Moonie (Can) dEVo - Escape Velocity
DNF Aron Cleugh (Can) Atomic Racing
DNF Alleyne Edwards (Can) Independent
DNS Robert Bescott (Can) CVC Racing
DNS Alleyne Edwards (Can) Independent
DNS Trevor Pearson (Can) dEVo - Escape Velocity
GC After 2 races

Women

1 Laura Brown (Can) Local Ride Racing/Dr. Vie Superfoods+
21 pts
2 Jasmin Glaesser (Ger) Local Ride Racing/Dr. Vie Superfoods+
18
3 Karlee Gendron (Can) Trek Red Truck Racing p/b Mosaic Homes
14
4 Shani Laxson (Can) Trek Red Truck Racing p/b Mosaic Homes
12
5 Elizabeth Nettles (USA) Keller Rohrback
10
6 Kristine Brynjolfson (Can) Trek Red Truck Racing p/b Mosaic Homes
8
7 Annie Ewart (Can) Trek Red Truck Racing p/b Mosaic Homes
8
8 Megan Rathwell (Can) Glotman Simpson Cycling
7
9 Patricia Bailey (USA) Keller Rohrback
7
10 Stephanie Peters (USA) Keller Rohrback
7
11 Noe Cooper (Can) Trek Red Truck Racing p/b Mosaic Homes
6
12 Julia Garnet (Can) Trek Red Truck Racing p/b Mosaic Homes
3
13 Diane Campbell (Can) CVC Racing
2
14 Jessica Cutler (USA) Keller Rohrback
2
15 Alison Testroete (Can) Skil
2
Stephanie Roorda (Can) Local Ride Racing/Dr. Vie Superfoods+
Out
Jessica Hannah (Can) Local Ride Racing/Dr. Vie Superfoods+
Out
Jenny Lehmann (Can) Local Ride Racing/Dr. Vie Superfoods+
Out
Erin Redl (Can) Glotman Simpson Cycling
Out
Meghan Grant (Can) Glotman Simpson Cycling
Out
Tamasin Reno (Can) Glotman Simpson Cycling
Out
Catherine Varland (USA) Independent
Out

Pro/1/2 Men

1 Nic Hamilton (Can) Jelly Belly p/b Kenda
14 pts
2 Justin Kerr (NZl) Team H&R BLOCK
14
3 Will Routley (Can) Spider Tech p/b C10
11
4 David Stephens (Can) Garneau Evolution
11
5 Tommy Nankervis (Aus) RealCyclist.com Pro Cycling Team
9
6 Sebastian Salas (Can) Team H&R BLOCK
8
7 Daniel Holloway (USA) Kelly Benefit Strategies-OptumHealth
8
8 Bailey McKnight (Can) Trek Red Truck Racing p/b Mosaic Homes
7
9 Adam Carr (USA) Form Fitness
5
10 Tyler Trace (Can) Trek Red Truck Racing p/b Mosaic Homes
4
11 Owen Harrison (Can) Team H&R BLOCK
3
12 Eric Wohlberg (Can) Form Fitness
3
13 Dustin Andrews (Can) Team H&R BLOCK
2
14 Kristofer Dahl (Can) Team H&R BLOCK
2
15 Dustin Macburnie (Can) Team H&R BLOCK
2
16 Adam Thuss (Can) Trek Red Truck Racing p/b Mosaic Homes
2
17 Craig Logan (Can) Trek Red Truck Racing p/b Mosaic Homes
2
18 Dan McDonald (Can) Rideokanagan.com pb Norco
2
19 Cid Martinez-Arroyo (Can) Team Coastal
2
20 Julian Kyer (USA) Kelly Benefit Strategies-OptumHealth
2
21 Reid Mumford (USA) Kelly Benefit Strategies-OptumHealth
2
22 Brad Huff (USA) Jelly Belly p/b Kenda
2
23 Sean Mazic (USA) Jelly Belly p/b Kenda
2
24 Jeff Werner (Can) Garneau Evolution
2
25 Aaron Schooler (Can) Team H&R BLOCK
2
26 Garrett McLeod (Can) Team H&R BLOCK
2
Marsh Cooper (Can) Kelly Benefit Strategies-OptumHealth
OUT
Jason Thompson (Can) Garneau Evolution
OUT
Curtis Deardon (Can) Garneau Evolution
OUT
Alistair Howard (Can) Garneau Evolution
OUT
Tim Abercrombie (Can) Garneau Evolution
OUT
Andrew Kyle (Can) Garneau Evolution
OUT
David Gerth (Can) Garneau Evolution
OUT
Mike Rothengatter (Can) Garneau Evolution
OUT
Kyle Buckosky (Can) Garneau Evolution
OUT
Zack Garland (Can) Team H&R BLOCK
OUT
Bradley Clilfford (Can) Team H&R BLOCK
OUT
Matthew OHagan (Can) Team H&R BLOCK
OUT
Nick Friesen (Can) Team H&R BLOCK
OUT
David Vukets (Can) Trek Red Truck Racing p/b Mosaic Homes
OUT
Bryson Bowers (Can) Trek Red Truck Racing p/b Mosaic Homes
OUT
Cody Canning (Can) Trek Red Truck Racing p/b Mosaic Homes
OUT
Rory McAdams (USA) Trek Red Truck Racing p/b Mosaic Homes
OUT
Dan Skinner (Can) Trek Red Truck Racing p/b Mosaic Homes
OUT
Kennett Peterson (USA) Hagens Berman Domestic Elite
OUT
Chris Worsford (Can) Rideokanagan.com pb Norco
OUT
Maurice Worsford (Can) Rideokanagan.com pb Norco
OUT
Jason Kilmartin (Can) Rideokanagan.com pb Norco
OUT
Colter Young (Can) Rideokanagan.com pb Norco
OUT
Carlos Capella (Can) Rideokanagan.com pb Norco
OUT
James Larmer (Can) Westwood Cycle/Cannondale p/b Vision Sports
OUT
Mike Laxdal (Can) Westwood Cycle/Cannondale p/b Vision Sports
OUT
John Perkins (Can) Glotman Simpson Cycling
OUT
Bart Ludbrook (Can) Glotman Simpson Cycling
OUT
David Gillam (Can) Glotman Simpson Cycling
OUT
Dominik Roels (Ger) PG 13
OUT
Lachlan Holmes (Aus) Team H&R BLOCK
OUT
Kevin Noiles (Can) Independent
OUT
Mark Mcconnell (Can) Synergy Racing
OUT
Mackenzie Garvin (Can) Cyclemiesters Bow Cycle
OUT
Scott Inman (Can) Independent
OUT
Jesse Reams (Can) Garneau Evolution
OUT
Cameron MacKinnon (Can) Independent
OUT
Chris Gruber (Can) Kallisto/Wheels of Bloor
OUT
Christopher Wingfield (USA) Hagens Berman LLP
OUT
Nathaniel Beams (USA) Dallas Racing p/b Park Place Dearlerships
OUT
Bob Welbourn (Can) Glotman Simpson Cycling
OUT
Allan Prazsky (Can) Glotman Simpson Cycling
OUT