July 27/11 22:51 pm - Cervelo Introduces S5 at Tour de France & Cafe Domestique

Posted by Editoress on 07/27/11

At the same time that world champion Thor Hushovd (Garmin-Cervelo) was winning stages and wearing the yellow jersey at the Tour de France on the new Cervelo S5, the Toronto-based company previewed the new model at Cafe Domestique in Dundas, Ontario. Our reviewer Chad Grochowina was in Dundas for the launch and provided a brief report and photos of the new bike:

Debuted for the first time at this year's Tour de France under the power of Thor Hushovd, the Cervelo S5 is physical proof of the company's dedication to making the most aerodynamic bike frames in the industry. And, judging by the results the World Champ has been getting thus far in France, this machine is not letting him down.
With a proprietary seatpost, the S5 can achieve a seat angle any where between 71.5-75º

The Canadian launch for the bike was held a Café Domestique in Dundas, Ontario. Canadian Cyclist was fortunate to be there and speak with Cervelo co-founder and CEO Phil White about what makes the S5 so special.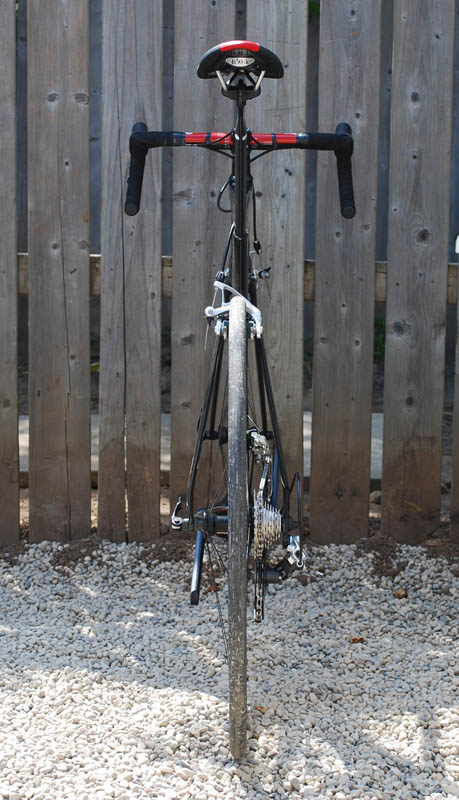 Upon initial glance of the S5, it is obvious to see that Cervelo has drawn from what it has learned over the years. Cervelo says that it has data to back up its claim that the S5 boasts significant aerodynamic gains in the wind tunnel. For example, when compared to the world championship winning S3, the S5 is 36.8s faster over a 40 kilometre time trial, with a savings of 9.2 watts. Not only is the S5 faster, but it's also plenty stiff, with a 12% stiffness increase over the S3. One other thing to note: the bike will be offered in six sizes ranging from 48 cm through to 61 cm. The geometry is unchanged from the S3.

The S5 is set to ship out in early August and is available in many iterations as a complete bike, from Di2 to SRAM Rival. Suggested prices will range from $3800 to $9000. Stay tuned for another write up once we've had a chance to do an actual test ride.