July 30/11 17:21 pm - Interview with Ryder Hesjedal

Posted by Editoress on 07/30/11

Last Sunday, Ryder Hesjedal, Canada's lone entrant in the Tour de France this year, finished 18th overall. After a crash early in the race derailed his hopes of equaling or bettering last year's seventh place, he recovered to finish third on one of the major mountain stages (and help his team mate win the stage), was part of the Garmin-Cervelo squad that won the team time trial, and his team took the overall team prize. We spoke with Ryder as he took a few days of recovering in the French town of Biarritz before contesting the San Sebastian World Tour race.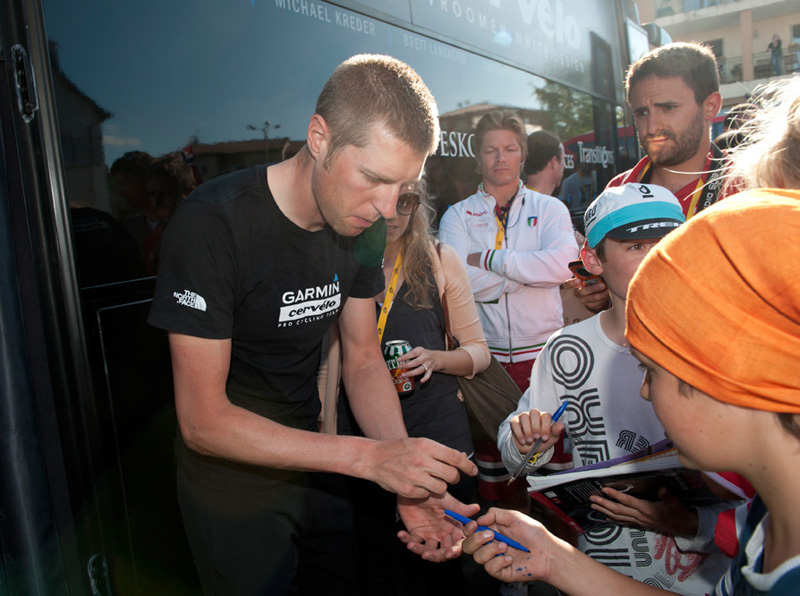 Hesjedal signs autographs for young fans
Canadian Cyclist: After last year's breakthrough race, it can't have been easy to have been out of contention so early in the race this year, after your crash in stage seven?

Ryder Hesjedal: My intentions all along were just to have a good Tour de France, and I'm content, because I had a good Tour. Everyone has been fixating on the GC (General Classification), but there is a lot more to the race. I was caught behind the crash on stage one, and lost time like a lot of people, and then in stage seven I was caught in the crash and lost more time. I suffered a lot more than we originally thought, and it was clear at that point that it would be hard to make up time and go for the GC.

CC: What did happen in the that crash, because it clearly caused some damage.

RH: There was a crash on the right side of the road, and it caused a ripple effect right through the bunch. It was trying to avoid it and I got hit from behind. I flew over the handlebars onto my shoulder, back and neck into a deep ditch. When your spine and ribs get an impact like that it is hard to recover, and the next days were pretty aggressive, so I was very tired by the first rest day, a lot more than usual. Even after the rest day I was still tired; I'm actually surprised that I managed to get over the Pyrenees.

CC: So the focus changed.

RH: Yeah, I was focussed on supporting Tom [Danielson], but I managed to get through the Pyrenees in a decent way. I was using a lot of energy in breakaways, so it took the next week to recover, and I was much better after the second rest day.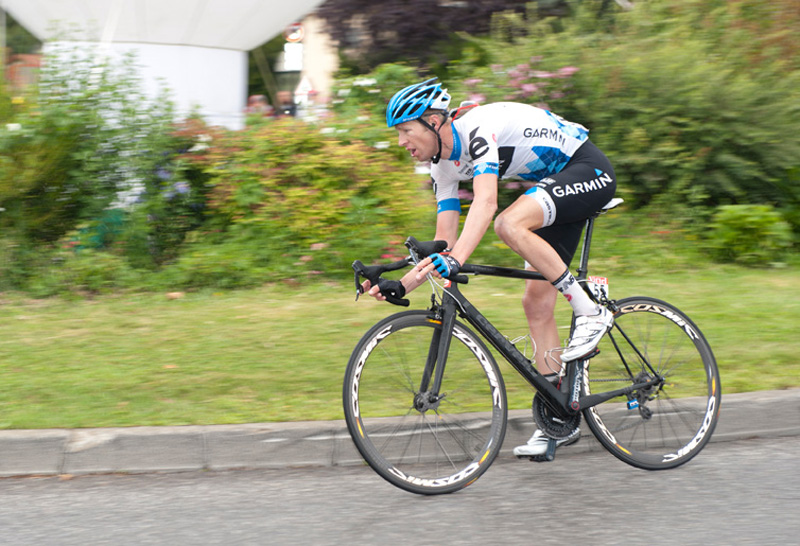 Ryder Hesjedal, Stage 16 break
CC: Now that stage into Gap [Stage 16]; you were away on your own over the last climb and then your team mate Thor Hushovd and Team Sky's Edvald Boasson Hagen join you. What went on during the final descent into the finish?

RH: Everyone was trying to get into a break that day, which makes for very hard racing. To be able to attack out of the break on that last climb was a huge ride for me. When Thor arrived, I knew that if we played it right we could get the victory.

CC: So did you and Thor discuss how you were going to out-maneuver Edvald?

RH: Well, you just know what you have to do if you are a pro racer ... Once we were inside the last kilometres, it was up to me to keep the pace high and make sure that Thor got a good run to the line. I knew if he did that he could take the win.

CC: Now the Team GC - was that something the team really worked for, or did it just happen as you were racing, supporting Tom Danielson?

RH: After the second rest day, that was the turning point [for the Team GC]. It became important to defend it, and make sure that Tom and Christian [Vande Velde] were supported. we had to make sure that no big breaks got away that we weren't in.

CC: Can you compare this year to last, when you had such a strong individual result?

RH: It's a completely different race; this year we won the Team Time Trial, put Thor in Yellow, won a first stage with Thor, then another with myself getting third, going over the Galibier in tenth and be able to hang on with the favourites of the race shows that I was riding comparably to last year. This is the best Tour team I have been part of.

Both have been very rewarding, but I'm maybe even more satisfied this year for the whole big picture. That's what you want from a Tour - to be satisfied when it's over.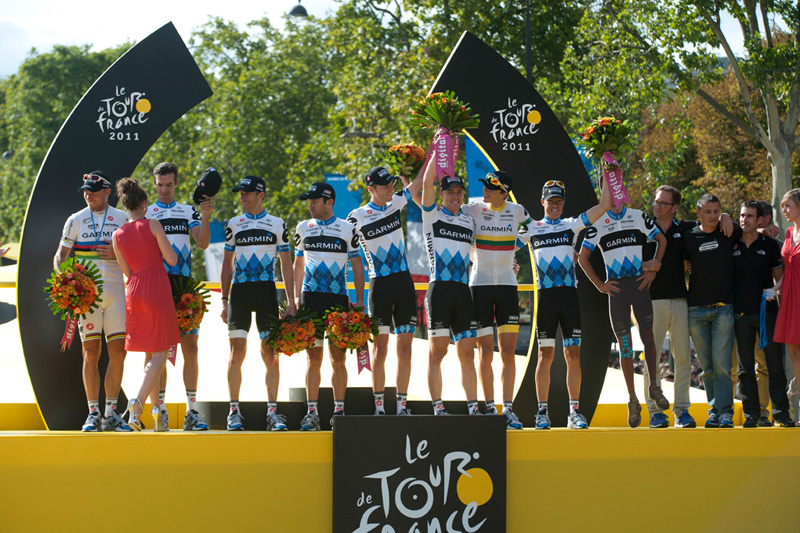 Team GC podium
CC: So what's left for you this season?

RH: San Sebastian, [Tour of] Colorado, maybe Utah, I don't know yet. And then the Canadian races [Quebec and Montreal World Tour races].

CC: Last year your took a fourth and third in Canada, you must be looking to better tha?

RH: I hope I can carry my form through. I'm always looking to win, and last year I was close. To pull off a big victory at home would be a perfect way to end the season.

CC: So that means no Worlds in Copenhagen?

RH: I'm not looking at it yet, I'm looking to Quebec and Montreal. But Copenhagen seems more suited to sprinters and Classics riders. It's not a big goal right now.