August 1/11 7:21 am - Pendrel Wins Olympic Test, But It Is Just the Start

Posted by Editoress on 08/1/11

One year out from the Olympic Games Catharine Pendrel served notice on Sunday that she will be one of the riders to watch after beating a select field of the top mountain bike riders in the world at an invitational competition on the Olympic course. Pendrel dominated the 28.6 kilometre women's race to finish 56 seconds ahead of American Georgia Gould, with France's Julie Bresset in third, at one minute and 32 seconds.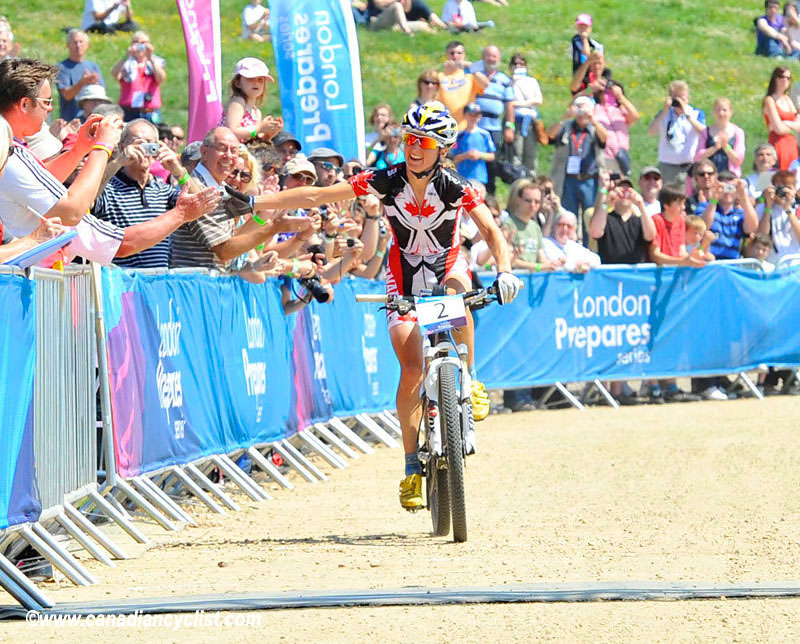 Catharine Pendrel greeting fans at the finishline
Pendrel did not expect to ride so strongly, after a hard week of training on the circuit. "Our team came here to train really hard and try out all aspects of the course, not to focus just on the race," explained Pendrel. "The goal was to gather as much information as possible for the Canadian team so that we can prepare for next year. So, I did quite a few hard laps [in training]."

The Canadian national champion, and world number-one ranked rider, also pointed out "I think most of the other girls are in the same situation. For the Europeans, it is their continental championships next week, so I think they trained through this as well. I know the French were doing a lot of testing on the track, like us, so Julie [Bresset] maybe didn't push as hard as she could have."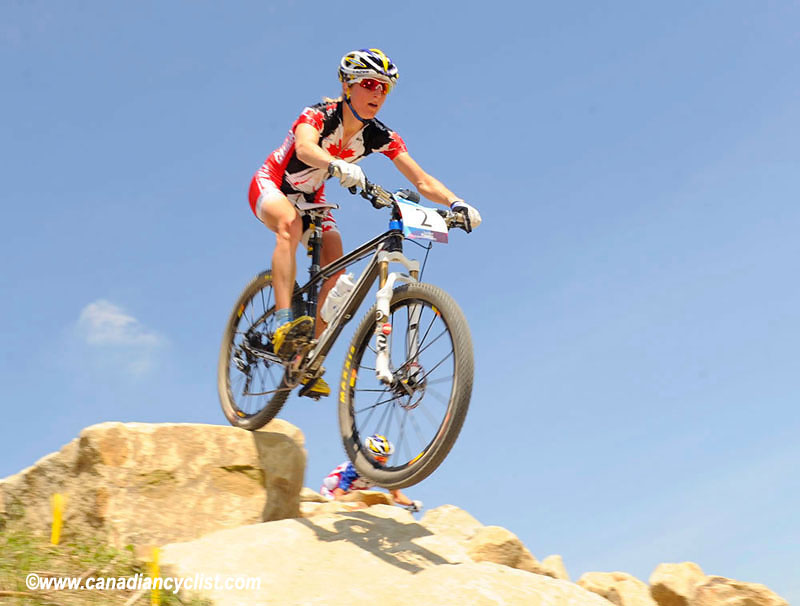 Bresset is likely to be one of Pendrel's most significant contenders for both next month's world championship title, and for an Olympic medal in just over twelve months. The two have swapped World Cup victories all season, with Bresset leading Pendrel in the overall standings by 190 points with two races remaining.

"You appreciate the hardness of the climbs in race conditions," commented Pendrel. "I think it races well; it's a hard course, a fast course, I think it's anyone's course, and it will just come down to who can ride the strongest on the day."

Canadian National Mountain Bike coach Dan Proulx has worked with Pendrel since before the last Olympics, when she finished fourth. He knows that this win does not mean Pendrel is guaranteed a medal. "Today was good, but it's not good enough yet. It is definitely going to be the best mountain biker that wins [at the Olympics]. Even though Catharine won today, there is a lot of work she still needs to do to win a medal."

"This is the type of course that you have to explore the upper limit of how fast you can ride. Compared to how fast the guys can go down some sections, there's some speed to be gained. Catharine did a lot of training with the guys here this week, and another year of work in that team environment, training at a pro man's speed will make a difference."

"I think as a team we did the work needed to capture those missing pieces, so we are pretty excited to plan out our strategy for next year. The key to Catharine doing so well is the amount of time we spent on the course."

"Today was good, but its not good enough yet," Proulx emphasized. "It's never good enough."