August 3/11 14:05 pm - MIVA Club News

Posted by Editoress on 08/3/11

MIVA Sunday Criteriums on the Boxwood Circuit, Nanaimo BC on July 31st

Disappointing turnout for this event despite the fact that the Masters had a big team time trial just down the road in the morning and that there was a strong indication that a number of them would come up for our criteriums.

Thanks to volunteers John Hannon, Mike Woodworth and Ross Palfrey for doing a great job of set-up/take down, sweeping and marshaling, and suffering much abuse from a few of the less understanding locals. The novice event ran as scheduled. However, due to the small turn-out, the intermediate and expert events were combined.

As a result, the club has decided to cancel the Sunday, Aug 21st. events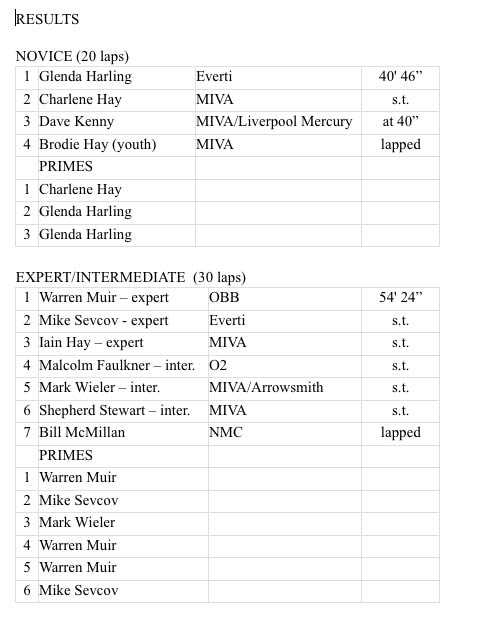 MIVA Hill Climb, Thusday August 4th
The first of the season's MIVA hill climbs is this Thursday on Departure Bay Road and Uplands Road, Nanaimo. Sign on is at Departure Bay Elementary School. You can also park in the school grounds. Registration opens at 6.15pm and first rider is off at 7.01pm.
The course starts beside the school and travels up Departure Bay Road. Then you turn right on Uplands Road and continue up, to turn right at Hillside Rd. Finish is 150 metres up Hillside.
We need a couple of volunteers to marshal at the two right turns. Please contact pakamac@gmail.com if you are available.