August 12/11 11:40 am - Svein Tuft to Leave Team SpiderTech at the End of 2011

Posted by Editoress on 08/12/11

Svein Tuft of Langley, BC has informed management at Team SpiderTech powered by C10 that he will be leaving the team next season.

"It's tough for the morale to see Tuft leave Team SpiderTech. Tuft joined Team SpiderTech with the vision to help the team grow to the next level, but he has now made a personal choice to race on the World Tour, a decision we must understand," said Steve Bauer, the team's co-founder and Directeur Sportif. "Racing at the World Tour level is what every rider aspires to, and we certainly wish him lots of success in his new endeavor."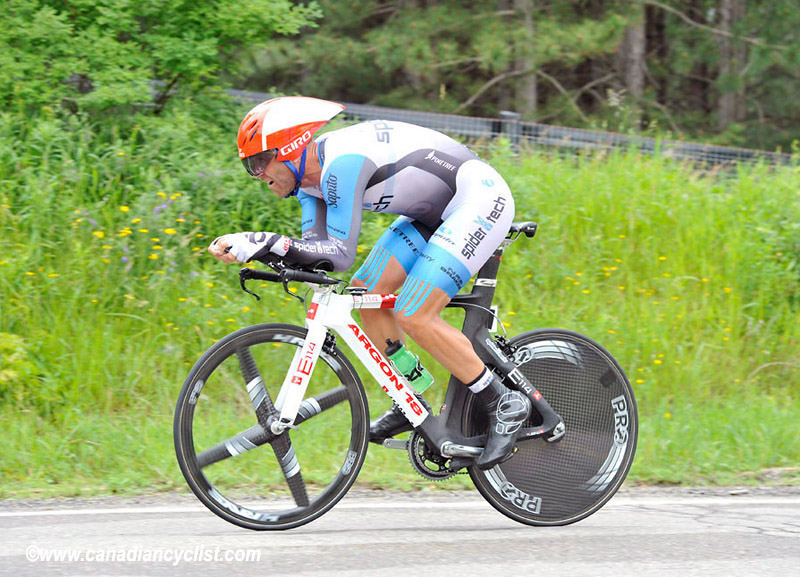 Svein Tuft at Road Nationals ITT
When Pegasus Sports failed to achieve their UCI license, Team SpiderTech jumped at the opportunity to bring Tuft to the team this past winter. Tuft solidified the team's roster for the 2011 racing season, which already had some strong riders.

Team SpiderTech powered by C10, Canada's only UCI Pro-continental team is racing this week with two squads, one in the Tour of Utah and the other in the Tour de L'Ain in France.

Team SpiderTech powered by C10 will be racing in the two UCI World Tour races of the Grand Prix Cycliste de Québec et de Montreal on September 9 and 11 respectively. The rosters for those races will be announced after the USA Pro Cycling Challenge in Colorado, to be held August 22 to 28, 2011.

The objective for Team SpiderTech remains to be on the World Tour in 2013.