August 14/11 7:28 am - Nove Mesto Na Morave World Cup : Women's XC report and photos

Posted by Editoress on 08/14/11

Catharine Pendrel (Luna) took her second World Cup victory of the year at Nove Mesto, in the Czech Republic, and kept the battle going for the women's World Cup title, as she closed to within 140 points of series leader Julie Bresset (BH-Suntour-Peisey Vallandry) with one race remaining. Bresset took second, followed by Irina Kalentieva (Topeak-Ergon).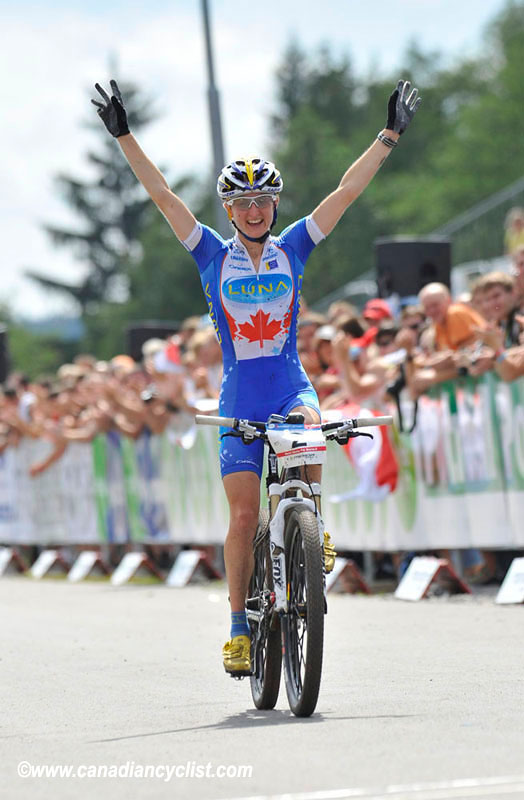 The technical course clearly suited some riders more than others, as a number of top contenders finished well back. Bresset got off to her usual fast start, taking a 15 second lead by the end of the long start loop, with Pendrel chasing alone, followed by Eva Lechner (Colnago Farbe Sudtirol) a further 12 seconds back. For the first couple of laps the status did not change, but then Bresset started to lose ground as she crashed multiple times, and Pendrel passed and dropped the French rider on the third lap.

"It was a very difficult, technical course, and I had much problems," admitted Bresset. "I crashed three times and then Catharine passed me and I could not stay with her, she was too strong."

Pendrel took a 32 second lead by the halfway point in the race, and extended it to nearly a minute by the finish. Behind the two leaders, Kalentieva had caught Lechner on the second lap after a slow start, and so did the new European champion, Gunn-Rita Dahle Flesjaa (Multivan Merida), as the Italian barely manage to fend off British champion Annie Last for the fifth and final podium spot.

Just behind the top-5 there was a battle for sixth through ninth, with Marie-Helene Premont (Maxxis-Rocky Mountain) moving up as high as fifth before fading to ninth, and Emily Batty (Subaru-Trek) battling with Lea Davison (Specialized) for seventh. The pair rode together for the last two laps, with Davison dropping Batty on the final straightaway to take seventh.

"It was a hard race," commented Pendrel, "and I had more than my share of mistakes out there. At the beginning Julie got a very strong start, and I made some mistakes. But I could see her in front of me, and I think maybe she went out a little too hard at the start. This is a great course, and I'm really happy to win here, and still keep the fight going for the [World Cup] title."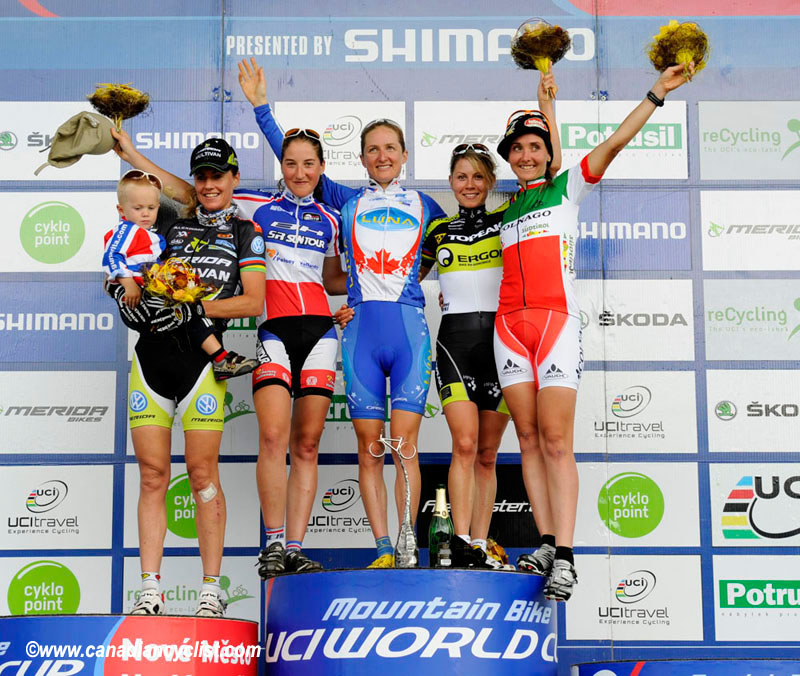 Gunn-Rita Dahle Flesjaa, Julie Bresset, Catharine Pendrel, Irina Kalentieva, Eva Lechner
Race Notes

- Premont rode for the first time on a 29" wheeled bike, and started well. But she said afterwards that she started feeling sick during the race and came close to pulling out. Kalentieva's third place allowed the Russian to leapfrog Premont in the overall standings, and take third, ten points ahead of Premont.

- Emily Batty moved up one place in the overall standings, to 11th. There is a tight race between 9th and 12th, with the four riders only separated by 17 points as they go into the final race next weekend. Batty says her goal is to finish the series in "the single digits".

- The Under-23 race saw an upset, with series leader Pauline Ferrand-Prevot (Lapierre) having her consecutive winning streak halted at four, as she could only manage third place today. After taking an early lead, the French rider was caught and dropped on the second lap by Ukrainian champion Yana Belomoyna (Infotre-Bi & Esse-Lee Cougan), and then on the fifth lap by Barbara Benko (Focus-MIG). However, she still holds a commanding 75 point lead in the standings.