August 14/11 14:31 pm - Nove Mesto Na Morave World Cup : Men's XC report and photos

Posted by Editoress on 08/14/11

Jaroslav Kulhavy (Specialized) scored the most important victory of his career when he won round six of the cross-country World Cup in his home country of the Czech Republic before nearly 20,000 cheering fans. The win, Kulhavy's fourth this season, also locked up the overall World Cup title, with one race still remaining.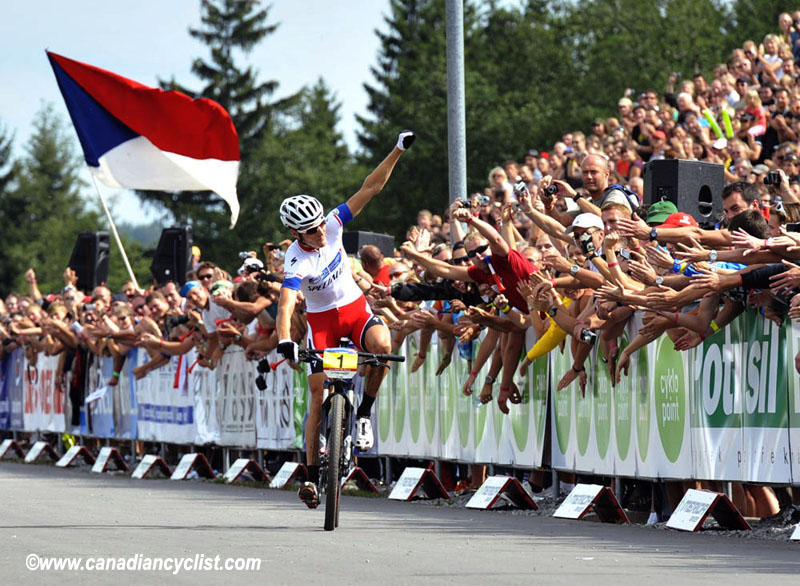 The pressure was on Kulhavy to win the first cross-country World Cup to be held in the Czech Republic in 14 years, with his face plastered on posters and billboards in the surrounding towns and countryside. On paper, it was almost a sure thing, since Kulhavy has been so dominant this year, and he admitted, the night before the race, that this was more important than the world championships for him.

One thing he was certainly not lacking was confidence: "When I heard and saw all the people cheering for me, I knew I would win for sure," he stated.

He took no chances, attacking on the start loop and opening a gap of eight seconds on Nino Schurter (Scott-Swisspower) by the start of the first lap, and then extending it steadily through the rest of the seven laps. Schurter, fighting an infection and having just finished a training camp at altitude, dropped back after he realized he could not match Kulhavy's pace.

"I wanted to get away early," explained Kulhavy, "so that I could avoid any traffic and ride at my own pace. It was almost a perfect race for me, with only some little mistakes. It was incredible."

Another favourite, Julien Absalon (Orbea), had a slow start to the race, commenting afterwards "That was the worst start I have ever had for a World Cup! I did not have the power to be able to follow, so I started losing places. It was not until maybe halfway through the race that I began to feel better and could move up again."

While Schurter and Absalon were fading, world champion Jose Hermida (Multivan Merida) took up the chase, closing to within 31 seconds by the end of lap two. However, that was as close as he would get to Kulhavy, and he was eventually picked up and dropped by Schurter and Absalon as they recovered and began moving back through the chasers.

By the end of lap five, the pair were back with Hermida, and then dropped him in lap six. Schurter had opened a small gap on Absalon as they began the sixth lap, but the Frenchman quickly closed it up again, and the pair started the seventh and final lap together, one minute and 15 seconds down on Kulhavy. Kulhavy was beginning to cruise on the last lap, confident of his victory, and enjoying the cheers of his compatriots.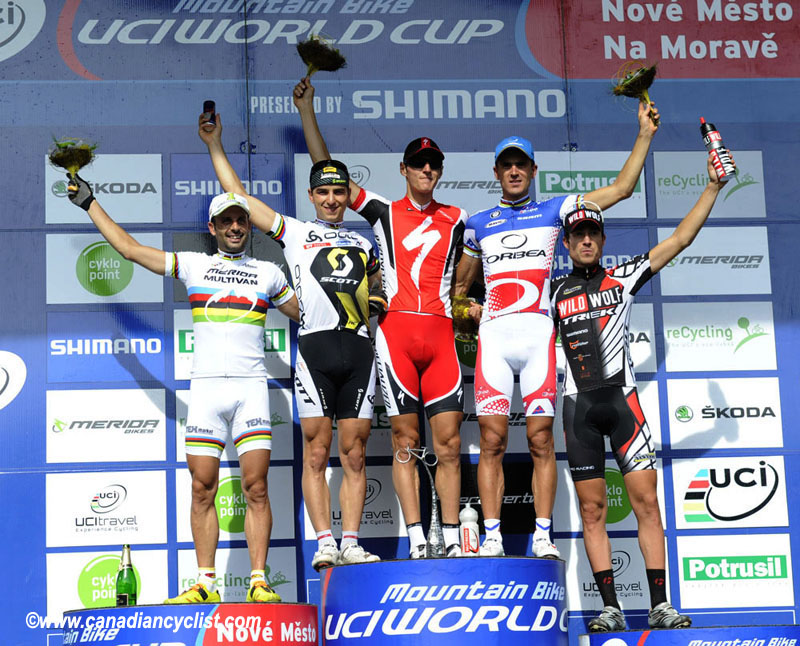 Podium: José Hermida, Nino Schurter, Jaroslav Kulhavy, Julien Absalon, Sergio Mantecon
He rolled into the finishing stadium to the roar of over 5000 people in the stands, and lifted his bike over his head to stride across the finish line, with a wide grin cracking his normally serious demeanor. Behind, Schurter had finally managed to drop Absalon in the last kilometres to claim second by nine seconds over Absalon. Hermida hung on for fourth, and a last lap surge by Sergio Mantecon Gutierrez (Wild Wolf-Trek) gave the Spaniard the final podium spot.

Race Notes

- Kulhavy's fourth win (plus a second and a third) give him 1360 points to Schurter's 1070 and Absalon's 810 (Absalon skipped the two North American rounds). With a win worth 250 points, the Czech rider now has an unassailable lead in the standings. Schurter is also assured of second by the same margin, but Absalon is not as secure in third, going into next weekend's final in Val di Sole, Italy. Maxime Marotte (BH-Suntour-Peisey Vallandry) is 70 points back of Absalon, Hermida is 82 points behind and Burry Stander (Specialized) is at 102 points back.

- Sam Schultz (Subaru-Trek) was the top North American finisher, in 15th, his best ever World Cup result. He was followed by team mate Jeremy Horgan-Kobelski in 22nd, and Canada's Geoff Kabush (Maxxis-Rocky Mountain) in 30th. Todd Wells (Specialized) remains the top North American in the overall standings, despite missing the race (to compete in and win Leadville), in 21st, followed by Kabush in 24th place.