August 21/11 13:56 pm - World Cup Val di Sole: DH final report

Posted by Editoress on 08/21/11

The 2011 Mountain Bike World Cup concluded on Sunday in Val di Sole, Italy, with the crowd favourite Downhill. Myriam Nicole (Riding Addiction Commencal) took her first ever World Cup victory in the women's race, while Aaron Gwin (Trek World Racing) took a record fifth victory in a single season in the men's competition. Gwin had already locked up the men's title in the previous round, and his team mate Tracy Moseley held off a tight challenge from Floriane Pugin (Scott 11) to win the women's.

The hot, dry conditions had turned the track into dust bowl, full of huge ruts and bumpy rooted sections that made it difficult for anyone to find a clean line. German champion Harriet Rucknagel set the first fast time for the women, which last through three riders before U.S. champion Jill Kintner knocked six and half seconds off, to take the time down to 4:17.872 .

Petra Bernhard (Alpine Commencal Austria) immediately took another six seconds off the leading time, with Junior World Cup leader Manon Carpenter (Madison Saracen) and Sabrina Jonnier (Maxxis-Rocky Mountain) shaving fractions off of her time. Emilie Siegenthaler (Scott 11) dropped the time below 4:10, with a time of 4:07.484, but Emmeline Ragot (Team GR) went down another five seconds.

Tracy Moseley was playing it safe, knowing that she only needed a top-seven to win the title, and not wanting to crash, slotted in behind Ragot. Rachel Atherton (Commencal), went third from last and took the lead below four minutes with a time of 3:54.405, however, Nicole came through right after, 2.2 seconds faster, which proved to be the winning run. Pugin, the fastest qualifier, and second in the world Cup standings, rode last, but finished eight-tenths of a second behind Nicole for second.

"I don't believe it," Nicole said after her run, "maybe I will realize tonight. I didn't have a clean run, but I was all out on this track. I did not want to crash on the top, it was real hard and my hands hurt already. Near the finish I was [saying] "come on", and I did it."

Moseley agreed that she was nervous before her run, "I wanted to race hard for the win, but when I hit the first [technical] section, I realized that I needed to play it safe and not take any chances. This has been an incredible season, a dream season, coming towards the end of my career."

Moseley won the overall title with 1465 points and four individual victories in seven races. Pugin finished with 1390 points, one win and four seconds, followed by Atherton with 115 points, Nicole with 929 points and Jonnier with 889 points.

In the men's final, Patrick Thome (Mondraker) set the first fast time, 20 riders in, at 3:26.797 . The time was steadily chipped away over the next 30 riders until Remi Thirion (Labyrinth Shimano) had it down to 3:22.017 with 30 riders remaining. South African champion Andrew Neethling (Giant), four riders later took the leading time below 3:20 for the first time, but the times were still well off Gwin's 3:13 qualifier. Five riders later, Neethling's countryman Greg Minnaar (Santa Cruz Syndicate) cut another two and a half seconds, which remained the leading time until Cameron Cole (Lapierre), 11th from the end, knocked off eight-tenths of a second.

Cole remained in the lead as the top-ten counted down, but Gee Atherton (Commencal), the world champion on this course in 2008, came in two seconds faster, with three riders remaining. Junior World Cup leader troy Brosnan (Monster Energy/Specialized/Mad Catz) slotted in just behind Atherton, before Danny Hart (Giant) finished three seconds ahead to take the lead, the first to go faster than Gwin's qualifying time.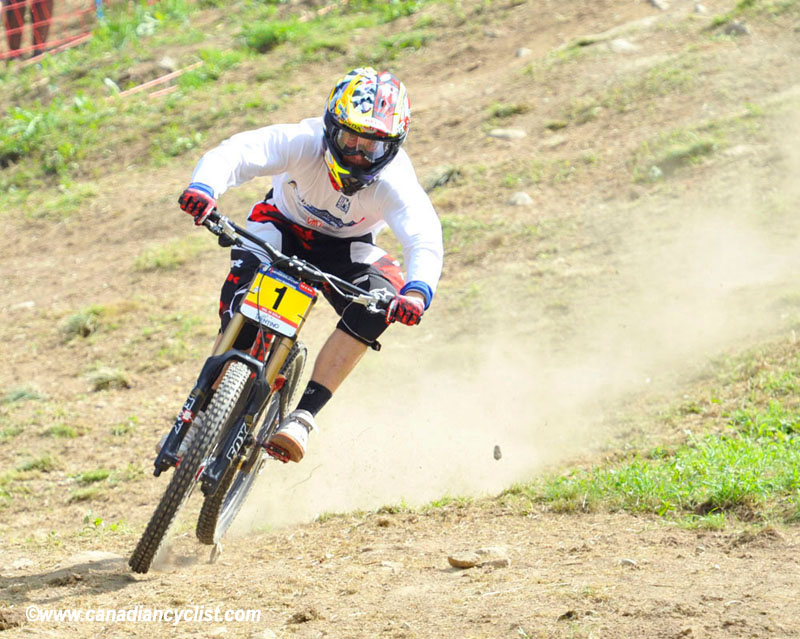 Aaron Gwin
Steve Smith (Devinci) was supposed to race next, as the second fastest qualifier, but he had crashed in training earlier in the day, injuring his ankle and knee, and had to watch from the sidelines. It was up to Gwin and, as he has shown all season, he is in a class of his own this year. Fastest through both splits, Gwin came in 1.232 seconds up on Hart to confirm that he is the number one downhiller in the world.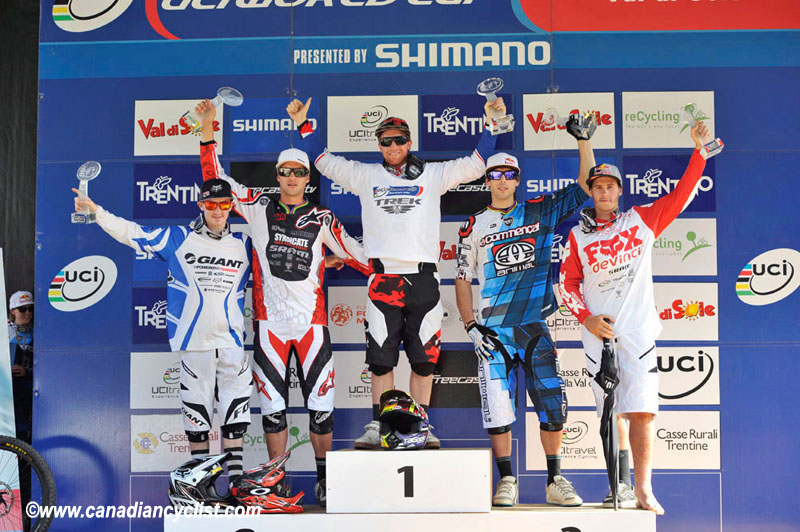 World Cup overall: Hart, Minnaar, Gwin, Atherton, Smith
"I am just really happy," stated Gwin. "It was an important race for me. I struggled here last year with a crash and felt good this week, but it was rough, it was definitely a challenge. I don't know, the top part went pretty good, I felt like I was on a good run. So I just tried to be smooth at the bottom. I went a bit slower than I would have liked to at the bottom. I am just so happy. I want to thank all the fans and sponsors and everybody. It has been an awesome year. Could not have done it without you all."

Gwin finishes the season with 1558 points, five wins, a third and a fourth. Minnaar, with two wins this season, hung on for second with 1093 points, ahead of Atherton at 1009. Danny Hart jumped over Steve Smith to take fourth, while Smith hung onto the final podium spot.
Fatal error
: Uncaught Error: Object of class PDO could not be converted to string in /home/canadiancyclistcom/canadiancyclist.com/public/modules/news.php:528 Stack trace: #0 /home/canadiancyclistcom/canadiancyclist.com/public/modules/news.php(517): getrelatedgallery() #1 /home/canadiancyclistcom/canadiancyclist.com/public/dailynews.php(58): getDailyNewsArticle() #2 {main} thrown in
/home/canadiancyclistcom/canadiancyclist.com/public/modules/news.php
on line
528