August 26/11 12:29 pm - The Bird Report - Ontario Masters B ITT

Posted by Editor on 08/26/11

The Bruce Bird (Wheels of Bloor) report fom the Ontario Provincial ITT championships on Sunday August 21st
On Sunday, August 21st, the Ride With Rendall Bike team hosted the Ontario Provincial Individual Time Trial Championships in Clarence Creek, Ontario. Storm clouds blew through the region overnight but settled into a fairly consistent cloud layer on race day that included several periods of light rain.

The course was a 20 kilometre loop starting and ending in Clarence Creek. There were four corners, but one was really a bend in the road with no intersection, while the other three were clearly marked, clean and well marshalled. The wind was light and I want to say not a factor, but get on your bike and try to pedal as fast as you can against the best riders in the Province and the lightest breeze coming at you is a real annoyance. Still, there was not much wind.

The course was mostly flat with a couple of rollers that could not have been much more than a 2% elevation gradient, except for the finish chute that featured a bumpy and fast descent through Clarence Creek up to the finish line.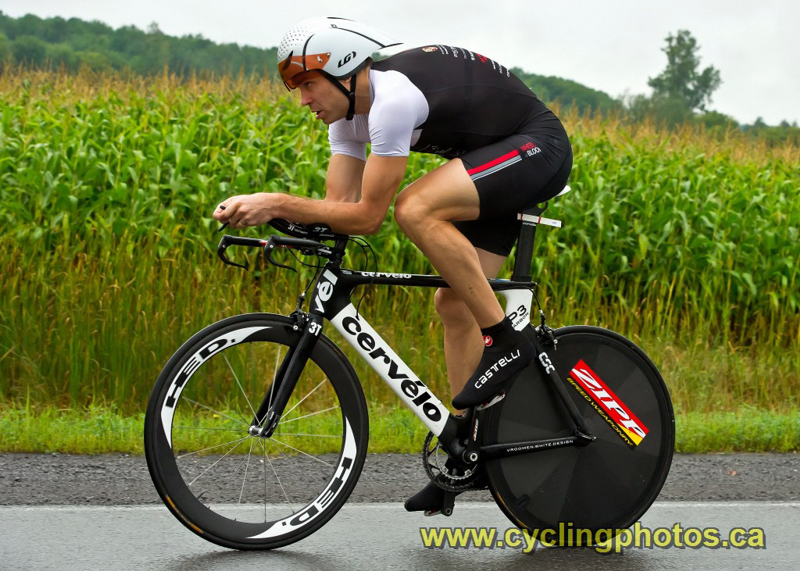 The registration and awards ceremony was staged out of the local Arena, which included plenty of parking for the 180 athletes who per-registered for the event. The on-again off-again rain started up again 30 minutes prior to my start time, which was scheduled for 11:52 am. I was the last starter in the Masters B category (40-49), which had 18 registrants. I give a lot of credit to Ride with Rendall team that hosted the event for including a sportif category which allowed riders that failed bike inspection with a chance to race.

I moved over to the bike inspection area about 15 minutes before my start time. The Ontario Cycling Officials were moving riders through the bike check efficiently and there was no queue. The two guys starting right before me were Michael Nash and Ron Amos from the Ride with Rendall team. Mike and Ron finished second and fourth at the National ITT event back in June.

As I got up to the start ramp I watched to see how far a one-minute time gap looked on the road, which was a pretty big gap, thanks to the gradual descent leading up to the right hand bend or first corner. The rain was just letting up again as I climbed up onto the ramp where I watched Nash quickly settle into a strong aero-position on his bike as he headed out onto the course.

I mounted my bike and clipped in. I dared not back pedal, as that action caused my chain to fall off a year earlier in the start gate. I focused ahead on the road and listened as the time was counted down, moving my body forwards and preparing to drive my weight down into my right pedal. 3-2-1 and off I went down the ramp and out onto the wet road.

I felt strong during the first minute of the race, but that was just a tease. The feeling of invincibility quickly passed and was replaced by much less comfortable sensations associated with putting out a maximum effort in a position meant for speed, not comfort. I focussed on the mental struggle of reining in my early efforts so that I maintained an even pace. It was impossible to make out anything a minute up the road, as the moisture from the road was all around me. What I could not see was that I was not closing the gap up to Nash.

I did not pre-ride the course, which I have come to realize should be avoided if possible. Knowing where on the course to give a full effort and where to recover as well as how to take each the corner is helpful, which is something that I took full advantage of on the National ITT course in Belfountain, Ontario.

I pushed on through the first lap at a constant pace believing that I must be closing in on Nash because I had beaten him by 44 seconds at the National ITT race, which was just over half the distance of this race (21.5 kilometres). I figured that, all things being equal, I would be able to close the one minute gap up to Nash soon after completing the first lap. I looked ahead a few times marking a point on the horizon that Nash had just passed and tried to count the distance between us as I rode up to that point. I got to somewhere near 50 seconds, but I am sure I had at least a 15 second margin of error due to poor spotting and counting on my part.

As I completed the first lap my Garmin beeped showing a time of 26 minutes. My confidence level was steadily being grounded by the realization that I was not making up any time on Nash. As I looked up ahead and under by foggy visor I now could see two riders way out in front of me. Nash had caught up to Amos just near the first turn on lap two.

With about eight kilometres to go my chain somehow jumped from the big ring and got jammed in between my frame and the small ring. I looked down and saw that no amount of shifting would solve the chain jam. I reached down and grabbed the chain pulling it out out of the jam but it seemed to fight back reluctant to move. I was losing speed and began to think that I would need to dismount to get it back on. Luckily, I was able to work the chain free while still on the bike and forced it back onto the small ring. I then spun my pedals around to fully freeing the chain before shifting back up into gear. I experienced an adrenalin rush as I pedaled back up to speed, which hopefully helped me to regain the time I lost messing with my chain.

I raced down the final hill as fast as I could and through the finish where a group of about six riders from my category had just finished the race. I saw Nash riding back towards me, having already turned around, and figured that he probably won the race just based on where he was at that moment. I rode over to my car, which was right beside Nash's and he gave me some water as we talked about the race.

It wasn't until about ten minutes later, when Carlo Capaldi told me that he had heard from his wife who overheard the officials talking, that I found out I had won by one second. I could not believe it. Nash and I raced all out for 52 minutes and ended up only one second apart; wow. It could have easily have been one second in the other direction and me ending up in second place, there are so many places in a race where you could lose or gain a single second. Ron Amos finished up in third place.

Last year the Provincial Championships ITT was held in Welland on an out-and-back course. I finished last year's race 2:25 behind Aaron Fillion, who posted the best time of the day in the Senior 1/2 group. I was looking forward to seeing how I had progressed against Aaron in one year's time; even if we were in different groups. This year Aaron rode 2:19 faster than me. I was hoping that all of my training over the past year would have led to a greater reduction in the difference between us, but cycling can be a very humbling sport. Congrats to Aaron and to Jordan Cheyne (Team H&R Block) who posted the second fastest time of the day just 42 seconds behind Aaron; those guys are fantastic.
Fatal error
: Uncaught Error: Object of class PDO could not be converted to string in /home/canadiancyclistcom/canadiancyclist.com/public/modules/news.php:528 Stack trace: #0 /home/canadiancyclistcom/canadiancyclist.com/public/modules/news.php(517): getrelatedgallery() #1 /home/canadiancyclistcom/canadiancyclist.com/public/dailynews.php(58): getDailyNewsArticle() #2 {main} thrown in
/home/canadiancyclistcom/canadiancyclist.com/public/modules/news.php
on line
528