August 28/11 11:45 am - Svein Tuft Departs SpiderTech - Interview

Posted by Editor on 08/28/11

SpiderTech team director Steve Bauer announced on August 12th that Svein Tuft, Canada's Elite men's road and time trial champion, would be leaving the squad after one season: "he has now made a personal choice to race on the World Tour, a decision we must understand" (see Daily News:
August 12/11 11:40 am - Svein Tuft to Leave Team SpiderTech at the End of 2011). Subsequently, it was announced that Tuft would be joining the new Australian GreenEDGE team for 2012 (see Daily News: August 23/11 22:14 pm - Tuft Moves to GreenEDGE in 2012).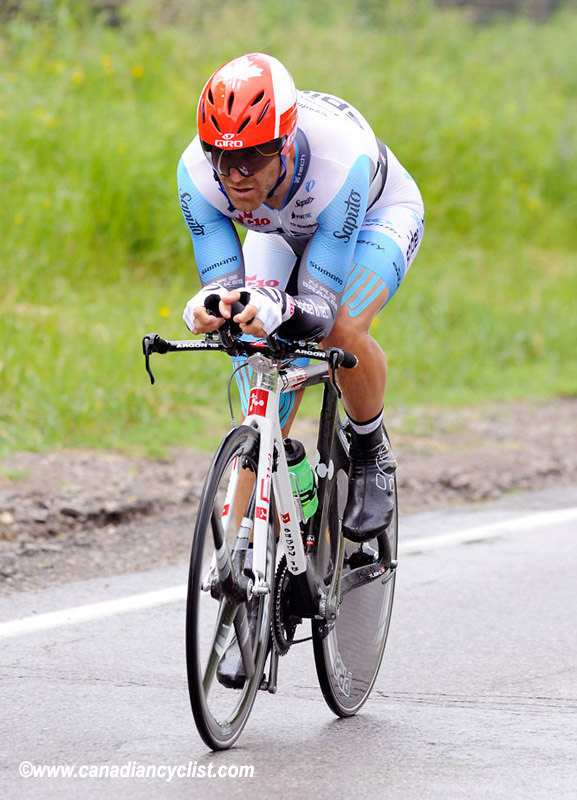 It was clearly a bitter blow for Canada's only Pro Continental squad, who had the opportunity to sign Tuft after the collapse of the planned ProTour squad Pegasus late last fall. Tuft brought SpiderTech their first UCI wins, with two stage victories at the Tour de Beauce, and then, two weeks ago, their first European victory at the GP Stad Zottegem one day race in Belgium.

We immediately contacted Svein after the SpiderTech announcement, but he told us he was unable to comment until that team announcement. After that came out last week, his travel and race schedule made it impossible to connect until the end of this week, when he returned to B.C. after SpiderTech's final European campaign of the season.

Canadian Cyclist: What made you decide to return to the WorldTour level?

Svein Tuft: Well, it initially was not my intention to leave the ProTour level, but then the whole Pegasus program fell through. I always wanted to stay at that level. Steve [Bauer] and Josée [Larocque] - owners of the SpiderTech team - really saved me, because I was in a hard position at he end of December [2010], with no team for the next season.

For sure, this was one of the hardest decisions I have had to make. I believe in their [SpiderTech's] program, what they are trying to do. But I have to consider my career; I'm 34 years old, if I was 25 then I could stay and build with them. I still have some of the biggest races that I want to do, so I need to go back to where I can still be quite effective.

CC: You are not listed on the roster for the GP Cycliste de Quebec or Montreal that were released by the race organizer; does this mean you have finished racing for the season with SpiderTech?

ST: I'm not sure at this point. I'll do what the team wants or needs me to do. I hope to go and race there, but I will do my best to support the team.

CC: Now what about Worlds? Obviously, you are a strong candidate for the time trial squad, but what about the road race, do you hope to race there as well?

ST: I raced on that course last year, and if it's raced aggressively it could be a hard race. The weather at that time of year could add to the difficulty as well, and I race pretty well in adverse conditions. But my primary focus will be the time trial. My form is coming on; shaping up really good.

CC: What about the new team - do you have any idea what the program will be, what the focus is?

ST: They are still working on it. The real focus will be one days and Classics, and stages in the Grand Tours. At this point I don't think there is a big name GC rider, so that is what we will go for. From what I understand, there will be a big emphasis on shorter stage races, which I've been working on, and which suits me. It's really exciting to be on a team that has the fire power to do the job.

CC: Leaving SpiderTech has to be hard though; a lot of the guys are the ones you have raced with for years.

ST: It's been awesome with the team, that's why it is so difficult to leave. These guys have been my friends for years, and I've really enjoyed the experiences we have had this year. But you only have so many years in cycling and you really have to try and make the most of it. That's what it came down to.