August 28/11 14:06 pm - 2012 Shimano Deore XT M780 Review

Posted by Editoress on 08/28/11

Shimano Canada kindly invited us to participate in the launch of their newest edition of the Deore XT mountain bike group, held in Tahoe, on the California-Nevada border. Chad Grochowina, mechanic for SpiderTech and the Canadian national team was the guy who got this tough assignment of riding this newest offering from Shimano. After the launch, he has continued to ride the group, and now offers a more detailed analysis of the 2012 Deore XT group.

2012 marks the 30th Anniversary of Deore XT, and it's no surprise to see that much of its new technology has trickled down from XTR. XT has always been a groupset with a wide range of appeal, from the enthusiast trail rider to the privateer bike racer; it offers top-notch performance, extreme durability, it's lightweight, and offers tremendous value. And after spending the last eight weeks riding it, I would say the most noticeable improvements are in the braking and shifting department. As a side note, and for comparison sake, I have an identical bike setup with XTR. By doing this I hope to provide some insight into how it stacks up in performance with it's higher-end brother.

Much like M980 XTR, the M780 XT was designed with the 'trail' rider in mind. With a choice between a double or triple crankset, and a wheelset that's available in either XC or trail widths, Shimano has captured the true essence of what enthusiast mountain bikers need.

Stopping Power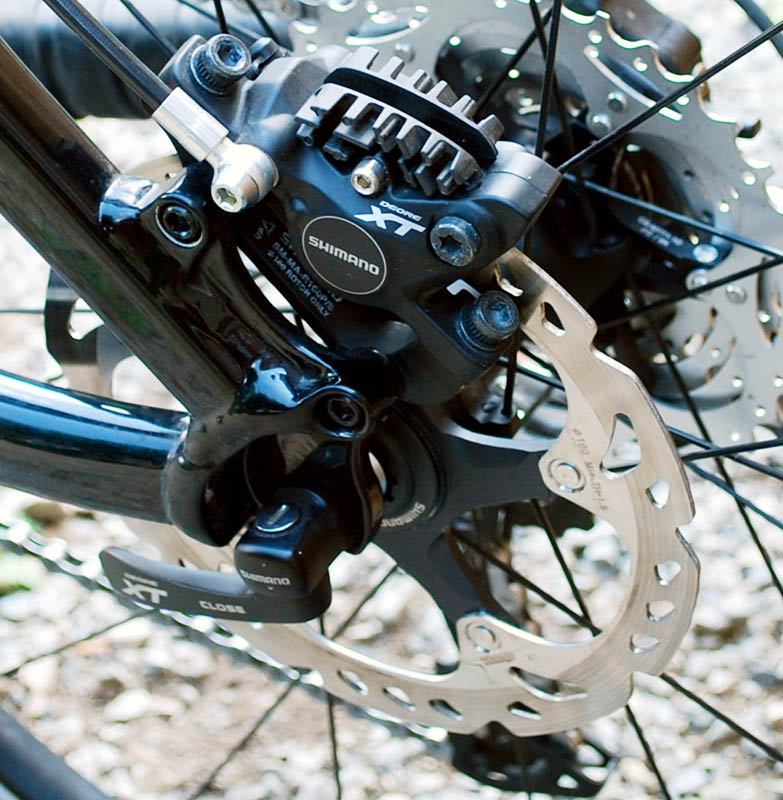 Shimano disc brakes fell by the wayside a few years ago as a slew of other manufacturers came to market with a more powerful and lower maintenance product. That all changed when the latest version of XTR was introduced. Borrowing the technology from XTR, the 2012 XT brakes boast a massive increase in stopping power. The power comes from a combination of larger (22mm) ceramic pistons, Servowave brake levers, and 'ICE Tech' pads and rotors.

Servowave provides better modulation with increasing leverage as you pull the levers. With the addition of cooling fins to the brake pads and stainless steel clad aluminum rotors, (ICE Tech) the system stays cooler (100 degrees cooler then the previous XTR system) and offers a more consistent braking feel. My first introduction to this system was high in the Sierra Nevada mountains, where we were descending for hours-on-end. Despite some forearm cramping, never once did I require more stopping power or experience brake fade. I'm not sure what else you would want or need in a brake system.

right: rear brake
Drivetrain

Shimano has finally included all the features of XTR in their new 'Vivid Index' shifting system. The Rapidfire shifters now offer a two-way release mechanism that allows up to two shifts at a time when shifting down the cassette. In the past, this feature was only available with XTR, and I've always wondered why it wasn't included when Shimano debuted Dyna-Sys XT in 2010.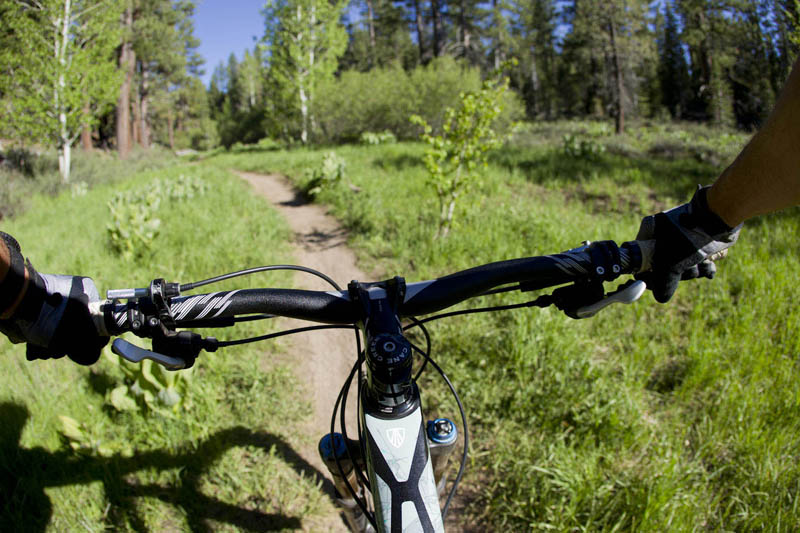 View from the cockpit
When compared to XTR, the M780 shifters offer a more positive feel and audible click. This type of shifter feedback is critical when riding through rough terrain or at ripping downhill. On top of that, the shifting effort is the same no matter what gear you're in. It works so well that I would even go out on a limb and say I prefer the feel of the XT shifters over XTR. The new dual shift feature seems to provide better feedback so you never miss a shift. With XTR, I often find myself accidentally double shifting down the cassette, since it feels less positive and slightly more vague.

The same feedback and smooth shifting can also be found with the front shifter. By incorporating a 'mode converter', you can easily switch between a triple or double shifter depending on the type of crankset you use. Like XTR, 2012 XT offer a wide range of crank and gearing choices depending on what type of riding you do. For trail riders, there's a triple ring setup, and for XC riders or really strong guys/ladies, XT is available as a double chainring setup.

In my opinion, Shimano is the industry leader in shifting performance, and these updates put it even further ahead of what the competition offers. Gear ratios on the front chainrings are tighter, making front shifting feel as if it's almost indexed.

Wheels

Designed to be a group for the true mountain bike enthusiast, XT now has two versions of tubeless wheelsets. There is an XC version with a 19mm wide rim, and a trail version with a 21mm wide rim. Both wheelsets have centerloc hubs, 24 spokes front and rear, and are tubeless compatible. Front hubs have a 15mm thru axle, and the rear hubs avaible in standard 135mm QR or 12x 142mm rear axle as an option with the trail wheels.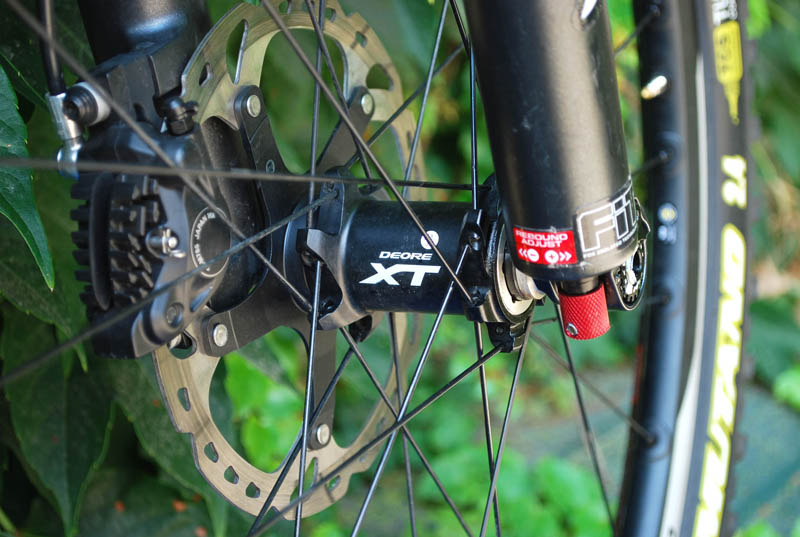 Front hub
To top it off, these wheels are hand-built, with hubs that spin on cup-and-cone angular contact bearings, making them user serviceable and long lasting. For our review, I have been using the trail version. Rolling on 2.3 WTB tires, I was able to run the pressure fairly low (24PSI Front 25PSI rear) and still confidently take corners as speed with a solid feel and great traction. One thing to note (and I was secretly hoping it was a thing of the past), Shimano freehub bodies occasionally make a popping noise when a pawl isn't fully engaged in the freehub. It's mildly disconcerting, but only happens on occasion. I have a few other Shimano hubs that do this, but it seems there are no long-term ill effects.

Final Thoughts

Working in the bike industry for so many years, I've been a bit spoiled. Access to fancy parts has never really been an issue and being a long time XTR convert, it's been over 20 years since I last spent a lot time on XT. It's always worked really great ... but XTR had that slight edge in performance, weight savings, and flare.

Fast forward to 2012 and the Deore XT M785 group, and I can't get over how well everything works, even when compared to the previous rendition of XT. There now seems to be no discernable difference in performance over the top-end XTR. And, as I previously mentioned, there are parts of XT that I actually prefer over XTR.

For the enthusiast mountain biker this is the group I would recommend. You get the best performance available at a fraction of the price. The $$ savings could easily go towards a suspension upgrade or a kayak or beer. Whatever you decide, you can rest assured that you have a bike that is going to perform flawlessly for a long time to come.

By Chad Grochowina
Gallery of photos by Chad Grochowina and Sterling Lorence