August 29/11 11:16 am - Canadian Track Women Take Trexlertown, Pennsylvania By Storm

Posted by Editoress on 08/29/11

After the 2011 Canadian Track National Championships in Bromont, QC, "a mix of riders came together and contributed their respective strengths towards a great training and racing environment for two weeks" in Trexlertown ("T-Town"), PA, explained Jasmin Glaesser.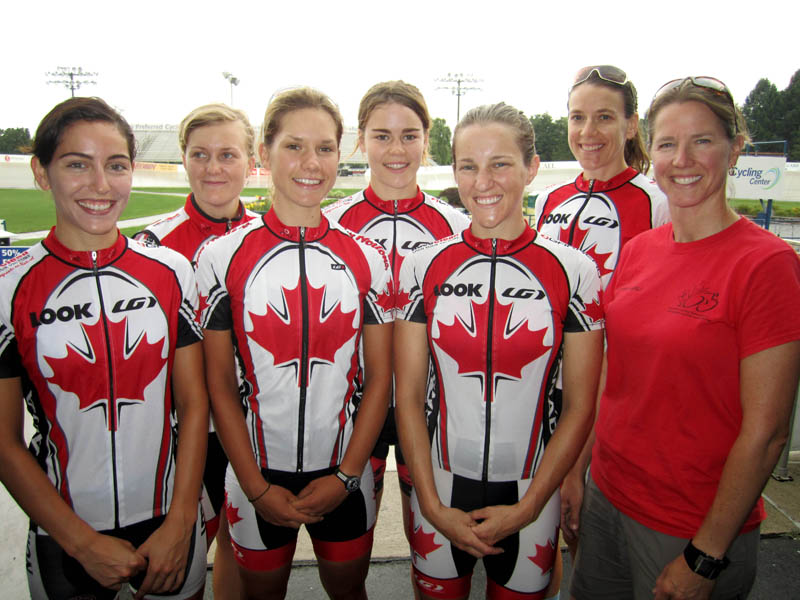 Development Camp Team Members
Most of the mornings and afternoons were spent training at the track, with either a long road ride in the evening or racing in the local Tuesday and Friday night events to complement the volume and intensity we were trying to achieve.

Three-time World Cup medalist and National Track Team rider, Steph Roorda, explained "these last two weeks [as] really great. We got loads of hard work done on the track. It was nice to come and ride the outdoor concrete for a change, it lent itself well to the hard work we needed to do. The racing was also really fun. I have missed weekly track racing in the last year, and I was happy to race hard when i could."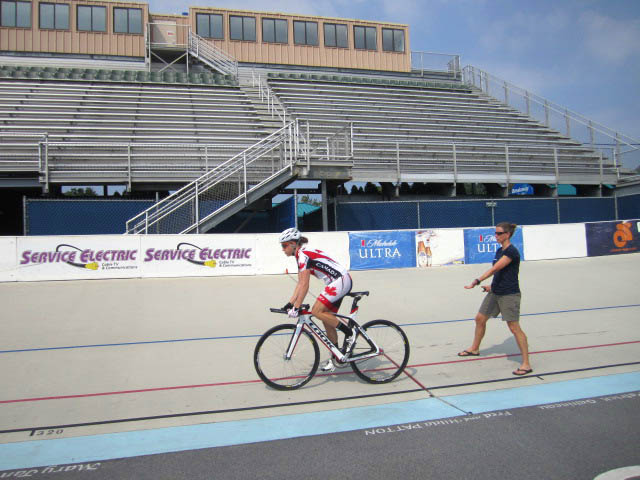 Working on Standing Starts
The Team won the omnium every night, while also winning the other top spots on the podium. B.C. road racer, Shoshauna Laxson, had been on the track only a handful of times before coming down to T-Town. She described her first race as "a lot of fun. I was really nervous since it was my first track race ever. Group positioning was tricky at the beginning, but I got used to it as the race progressed, it just felt like a really short Criterium!"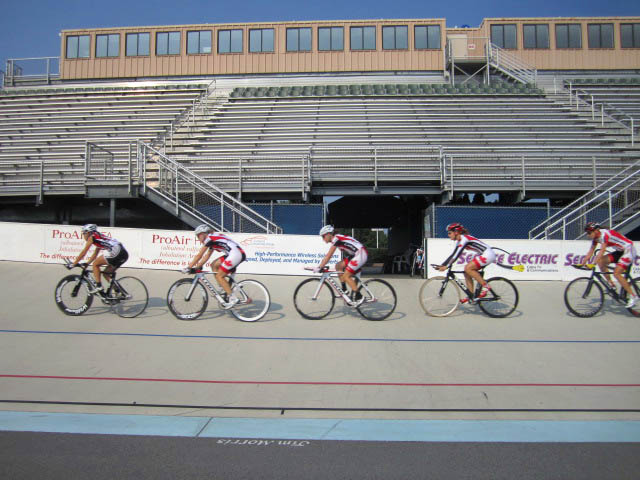 Pacelines
The folks of T-Town were very accommodating to us Canucks and despite Mother Nature, everything ran smoothly thanks to the Valley Preferred Cycling Center.

National Women's Team Pursuit Coach, Olympian, and former T-Town training camper, Tanya Dubnicoff said, "T-Town brings back great memories for me! The ambiance is so friendly it feels like home! I was very pleased with the camp. All athletes pushed themselves beyond what was done in previous training sessions with some exciting racing as well! The weather gave us some challenges: torrential rains, thunderstorms, hurricane warnings, and even an earthquake!"

This development camp is an exciting start to the 2011-2012 Olympic Track Season. For more information on the women's team pursuit program please visit the Canadian Cycling Association's website: www.canadian-cycling.com

Courtesy Laura Brown