August 29/11 12:51 pm - Cape Breton Classic Report and Results

Posted by Editoress on 08/29/11

Framework Racing Team of Sydney made the podium Sunday in several divisions as Bicycle Nova Scotia wrapped up its 2011 season at the third annual Cape Breton Classic Road Race. This year's version featured three different stages over two days, in a combined time format.

Teammates Chris "Bighead" Milburn of Sydney was the "B" division winner while his wife Julie "Princess" Curwin placed first in the female division after dominating their fields in the opening time trial, and holding onto their leads throughout the remaining two stages.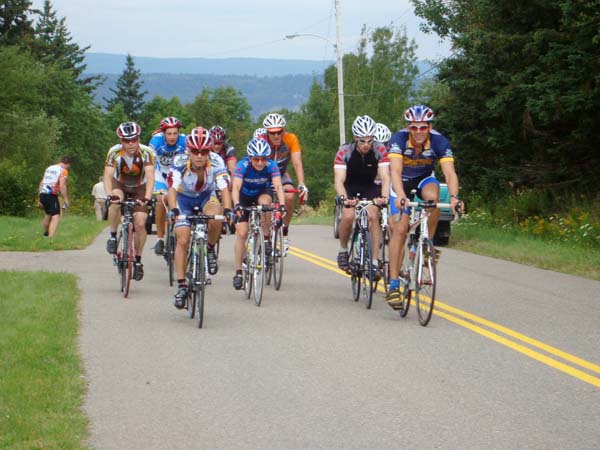 Placing behind Milburn in "B" division were Lucas McColloch of Pictou County Cycle and Wayne Aspinall of Kentville's Valley Stove and Cycle while behind Curwin were Halifax area's Dawn Moxsom of Hub Cycle and Cynthia Fry of Bicycles Plus Cycling Club.

Framework Racing teammate Andre Gallant of Sydney also left his competitors in the dust after his two climbs up and over Barrachois Mountain Sunday in the "D" division – a category set aside for new, unknown or untested competitors. Howard Tingley of New Brunswick who was riding as an independent in the same division managed a second place finish while William Corbett of British Columbia captured third spot.


Jim Currie, formerly of Sydney who now lives in New Brunswick, was the overall "C" division winner racing for Mike's Bikes of Moncton while two members of Framework Racing – Englishtown's Vince "the mule" Nicholson and John "J-Mac" McQuaid finished seconds behind for second and third spot, respectively. An ugly crash just 500 metres shy of the finish line took out eight riders in the "C" division after one competitor jockeying for front hit the back wheel of another rider, sending a bunch out of control and onto the pavement cut and bruised.


The crash didn't impact riders in other divisions including the overall champ in "A" Division, Yarmouth's Jeff Muise.

Racing for Sea Level Racing Team, Muise entered Sunday's race with less than a 22 second advantage over Hub Cycle team mates Scott Clark of Bedford and Lorenzo Caterini of Halifax but managed to hold them and the 11 others off in the lead pack after more than three hours of racing that topped speeds over 70 km/hr. Caterini managed to move up to second place in the division winning a sprint to the finish line at the top of a hill near the George's River firehall while Zach Steinman of Middle Sackville took third overall.

Racing conditions Sunday were hot, windless and humid making it difficult to breathe for some. Several riders were forced to drop out.
Other race results:

Stage One: Time Trial – 9 km individual race against the clock held in Point Edward Saturday @ 1 p.m.

Division Winners
"A" winner – Scott Clark, Bedford

"B" winner – Chris Milburn, Sydney

"C" winner – Jim Currie, Moncton

"D" winner – Andre Gallant, Sydney

"F" winner - Julie Curwin, Sydney


Stage Two: Criterium involving multiple laps of 1.2 km course in Harbourside Park, Saturday @ 4 p.m.

Division Winners

"A" winner – Lorenzo Caterini, Halifax

"B" winner – Lucas McCulloch, Pictou

"C" winner – Matt Webb, New Glasgow

"D" winner – Andre Gallant, Sydney

"F" winner – Dawn Moxsom, Halifax


Stage Three: Road Race, up to 115 km course, held in Georges River area, Sunday @ 9 a.m.


Division Winners
"A" winner – Lorenzo Caterini, Halifax

"B" winner – Chris Milburn, Sydney

"C" winner – Matt Webb, New Glasgow

"D" winner – Andre Gallant, Sydney

"F" winner – Julie Curwin, Sydney
Courtesy FrameWork Racing