August 31/11 14:15 pm - MTB World Championships Junior Women XC report and photos

Posted by Editoress on 08/31/11

Host nation Switzerland opened the Mountain Bike World Championships with a win in the Under-18 Women's Cross-country by Linda Indergand. Indergand completed the 17.4 kilometre race in 57:30, 2:19 ahead of Lena Putz of Germany. Julia Innerhofer of Italy took the bronze medal. Canada's national champion Frederique Trudel finished 12th, 8:03 behind Indergand, at her first world championships. Andreanne Lanthier-Nadeau was 16th, Haley Smith was 22nd and Lauren Rosser finished 27th.

Indergand was a surprise winner, with her team mate Jolanda Neff the overwhelming favourite going into the race, after having won back-to-back World Cup events in the previous weeks. However, it was revealed that Neff was sick and, while the European champion led after the start loop, she steadily fell back to finish fourth.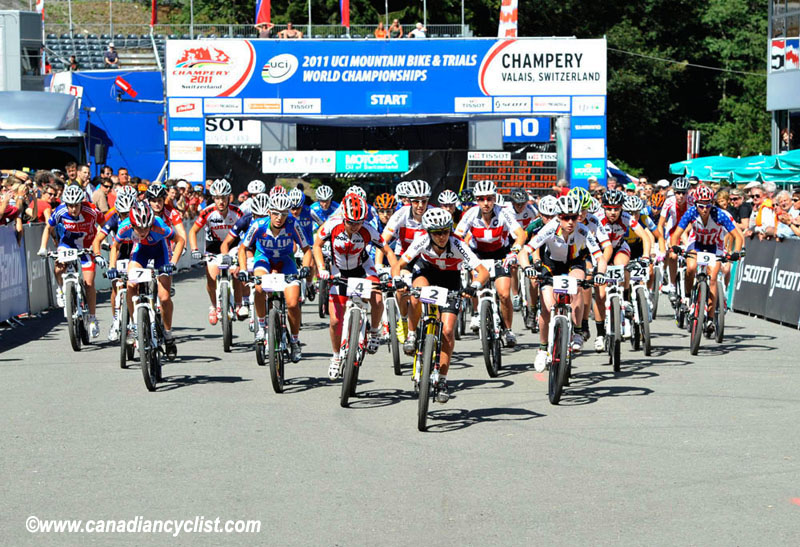 The start
Indergand went to the front on the first lap and rode away from the rest of the field, putting time on her rivals in every lap. Putz made a huge surge in the final lap to move up from fourth and take silver, passing Innerhofer in the final half lap.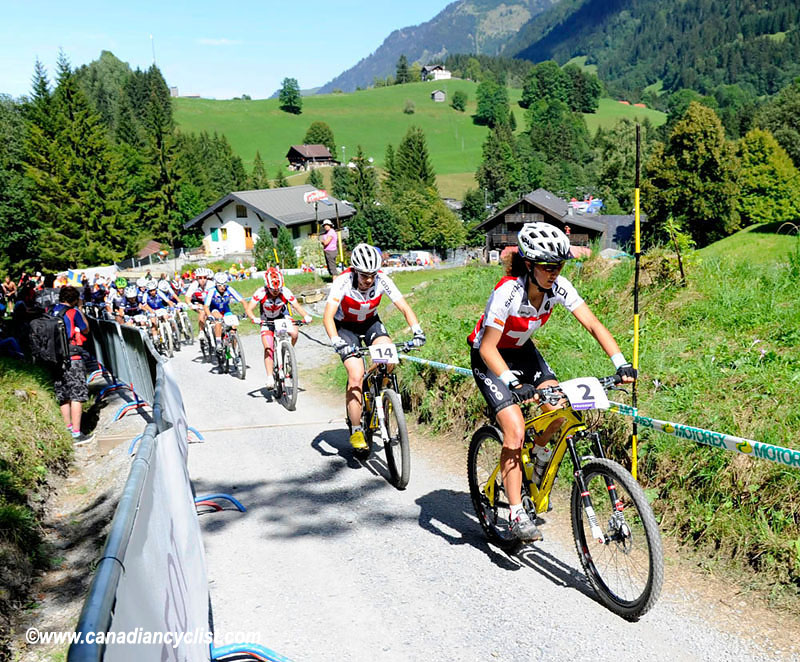 Swiss at the front, Trudel sitting 3rd first time up the climb
Trudel said afterwards, "I think I had the best start of my life. It wasn't my usual race tactic. Usually I start slower and I'm the one that catches people."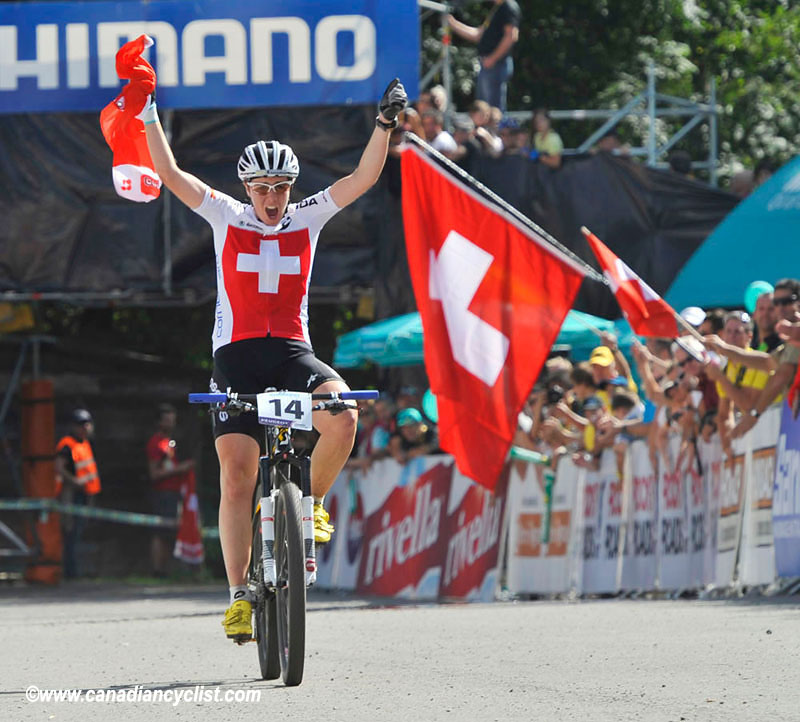 Linda Indergand wins
She was really happy to finish near the top ten, in her first World Championships, and admitted that it was a surprise to her to do so well in her first year in the Junior category.

Lanthier-Nadeau avoided the crash in the start lap but a fellow competitor's disc cut into the spokes in her wheel during the start loop and she had to stop at the tech zone. She was dead last at that point but ended up catching over half the pack, finishing in 16th place. She had no problem flying over the A-line drop in the Hell Zone but said after the race that "It's a challenging course. I think it's ok to have technical parts in a cross-country course but not too many because we're not downhill racers."

Lauren Rosser, who is the only Canadian athlete competing in both the cross-country and the downhill event on Sunday (as the defending world champion), had a stomach bug and was up most of the night before her race.

"My race could have been better today. I got sick yesterday and I was really tired today. I was up all night not feeling good."

She finished the race despite her sleepless night and had no trouble on the technical Champéry course. "I thought it was a lot of fun. I just ploughed through all the downhill parts with a smile on my face."

Being with slower riders on the technical zones was a little difficult but when she could she passed them on the downhills. "I think I scared them." She's hoping to get a better rest tonight since she has yet to train on the downhill course. The seeding run for the downhill event is Friday and the World Championship race in on Sunday.

(CC intern Sarah Moore contributed to this report)

Full results
Fatal error
: Uncaught Error: Object of class PDO could not be converted to string in /home/canadiancyclistcom/canadiancyclist.com/public/modules/news.php:528 Stack trace: #0 /home/canadiancyclistcom/canadiancyclist.com/public/modules/news.php(517): getrelatedgallery() #1 /home/canadiancyclistcom/canadiancyclist.com/public/dailynews.php(58): getDailyNewsArticle() #2 {main} thrown in
/home/canadiancyclistcom/canadiancyclist.com/public/modules/news.php
on line
528