August 31/11 16:03 pm - MTB World Championships: Team Relay report and photos

Posted by Editoress on 08/31/11

France denied Switzerland a clean sweep of the gold medals on the opening day of the Mountain Bike World Championships in Champery, Switzerland, by taking a come from behind victory in the Team Relay. Switzerland had to settle for second, with Italy taking the bronze medal. Canada, one of the favourites to medal, rode as high as second with one lap to go, but finished seventh, 1:57 down on the French.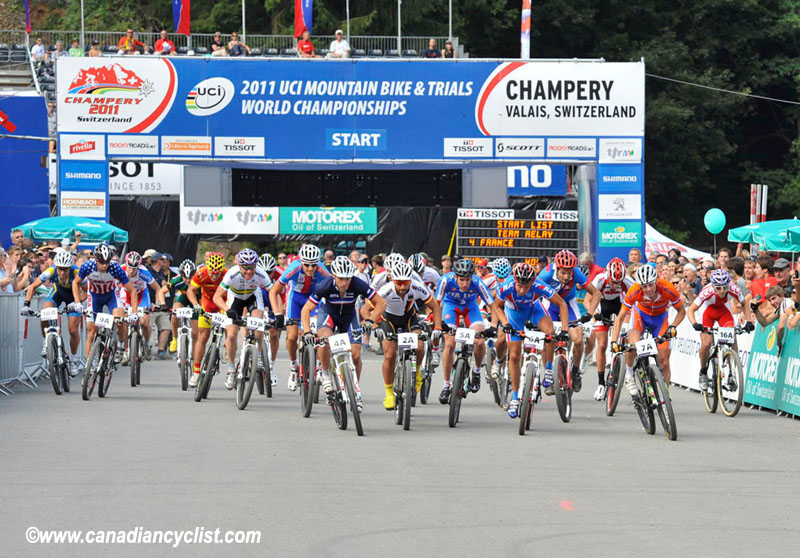 The start
The Team Relay is about tactics as much as speed, consisting of four laps of the 4.8 kilometre cross-country circuit, with each nation entering an Elite man, Elite woman, Under-23 man and Junior man. Some nations choose to start fast with there elite and Under 23 men, hoping to open enough of a gap to hold on to the finish line, while others save their fastest rider (usually Elite man) for last, hoping that they can make up ground on the early leaders.

This latter tactic proved to be the successful one in Champery. While the Germany, Czech Republic and Canada opened with Manuel Fumic, Jaroslav Kulhavy and Max Plaxton respectively, the French, Swiss and Italians began with their Under 23 riders - Fabien Canal, Thomas Litscher and Gerhard Kerschbaumer - and finished with their Elite men - Maxime Marotte, Nino Schurter and Marco Fontana.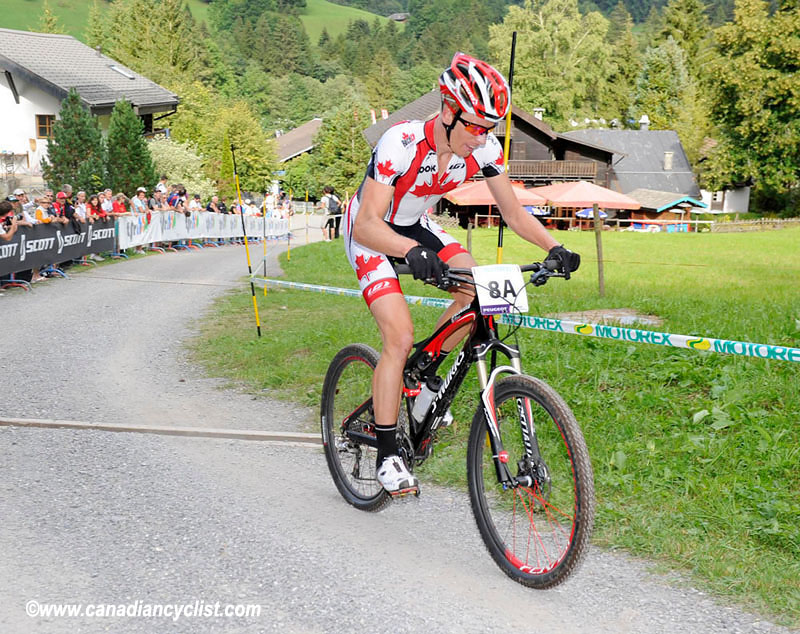 Max Plaxton lead out for Canada
Germany took the lead after lap one, followed by the Czech team and a surprisingly strong Dutch squad. Canada came in just behind Poland for fifth. On the second lap, the Dutch and Canadians went with their Under 23 rider and moved into the top two spots.

For the third lap, the Dutch sent out their Junior man, Thijs Zuurbier, who held onto the lead ahead of Canada's Catharine Pendrel. Julie Bresset, the Under 23 woman who won the elite World Cup title just last week, moved the French into third, one minute down on Pendrel, followed by Germany's Sabine Spitz and Switzerland's Nathalie Schneitter. Pendrel set the fastest lap time for the women, at 13:52.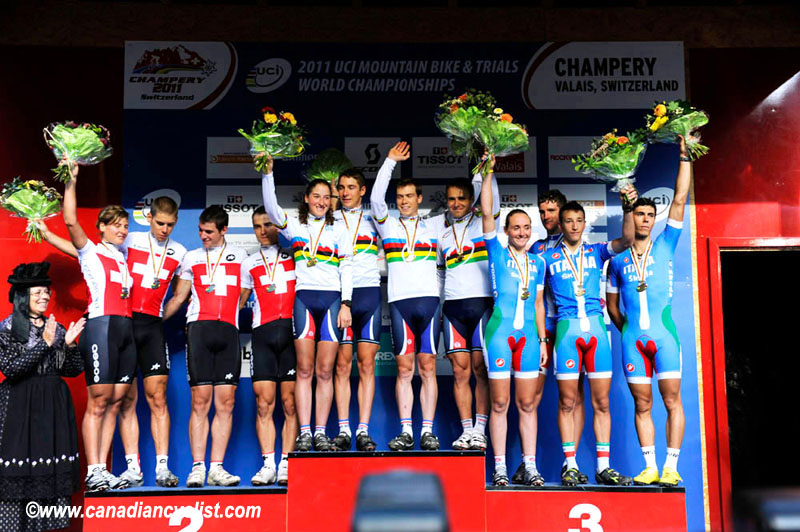 Podium
At this point, it was clear that France and Switzerland would be battling for gold; the only question was: could Schurter catch Marotte? The answer was no, as Marotte quickly caught and dropped Canada's Junior Alexandre Vialle and then the Netherlands Anne Terpstra (Under 23 woman) to solo in 41 seconds ahead of Schurter. Fontana put in a very strong ride to move the Italians from seventh to third.

Evan McNeely: "I went out with a lot of Juniors so I was fortunate to have the easier guys to pick off. There were a lot of Canadians out there on the course and a lot of people yelling my name and cheering on Canada so that was great." He raced in Champéry last year in his first World Cup but today was his first time doing the course at race pace this year. "I think it's good preparation for my race on Friday."

Alexandre Vialle, at his first Worlds, was the anchor for the Canadian team: "I fell four times. I didn't hurt myself but I lost time. I'm a little disappointed to have been passed by so many riders but I started with a lot of Elite riders. It's a good experience though."
Fabien Canal went out first for France and had a difficult start. "I was the first to open the competition for our team and there were some crashes in front of me so the start was very difficult."

Julie Bresset was confident, stating "We knew we had a good team. It's the same team that we won gold with at the European Championships. We wanted to fight hard to defend that title. Also this is my first gold medal in a World Championships so it's really something special. It was really hard since it's only one lap. You just have to go for it, one-hundred percent effort, and hope that you make it to the end."

For Maxime Marmotte the title made his season complete: "I've had a great season. Whatever comes next is a bonus because I'm completely satisfied with my season. We knew we had a World Championships title in our legs but it's always one thing to think about it and to dream about it and a different thing to fulfill those dreams. To do so well today was fantastic."

Switzerland's Nino Schurter said "We can all be proud of our achievement. It's a good way to start the World Championships. We didn't lose gold, we won silver. I really had to attack and take risks to pass Junior riders. It wasn't easy. When I found out I had nearly half a minute delay on Marmotte I wasn't ready to take that many risks on the last part of the course and burn all my reserve of energy before the race on Sunday."
Race Note
The U.S. team had a disaster on the first lap, when their lead rider Stephen Ettinger (Under 23) crashed hard, losing close to ten minutes. Ettinger was taken to hospital, with a possible broken finger, and having hit his right knee in the crash.
Fatal error
: Uncaught Error: Object of class PDO could not be converted to string in /home/canadiancyclistcom/canadiancyclist.com/public/modules/news.php:528 Stack trace: #0 /home/canadiancyclistcom/canadiancyclist.com/public/modules/news.php(517): getrelatedgallery() #1 /home/canadiancyclistcom/canadiancyclist.com/public/dailynews.php(58): getDailyNewsArticle() #2 {main} thrown in
/home/canadiancyclistcom/canadiancyclist.com/public/modules/news.php
on line
528