September 1/11 10:21 am - Absalon Meets the Press

Posted by Editoress on 09/1/11

A relaxed Julien Absalon met with about 30 members of the press at the French team headquarters in 'Hotel France' - renamed for the week from its usual Hotel Suisse. The four time world champion apologized for being late; the antidoping inspectors showed up at his room this morning...

Talking in French and English, he responded to questions for approximately 30 minutes. He agreed that, while Czech rider Jaroslav Kulhavy is the indisputable favourite for the World Championship title after winning five out of the seven World Cups this year, there's still the possibility that the rainbow jersey will go to another rider on Saturday.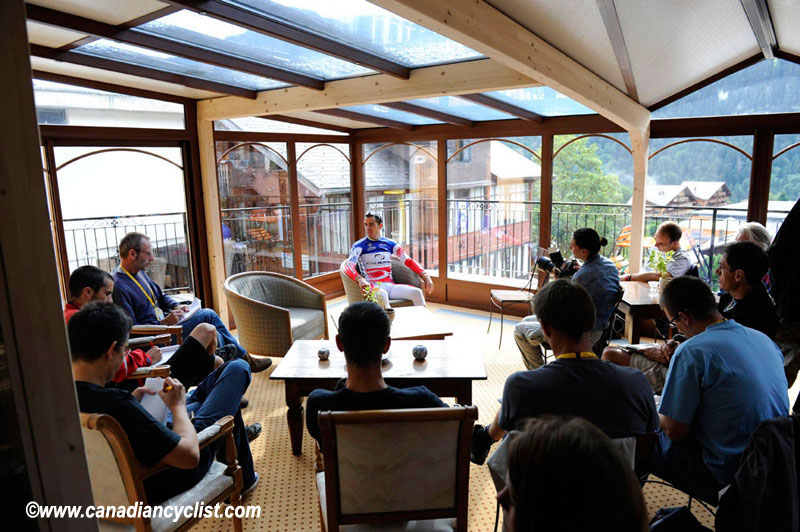 Julien Absalon conducts a press conference
"It might be to Kulhavy's disadvantage to be the big favourite going into the race," he said. "French and Swiss riders could even work together to try and beat him."

Absalon listed himself, Swiss riders Nino Schurter and Florian Vogel, as well as South African rider Burry Stander and last year's World Champion, Spanish rider José Antonio Hermida Ramos, as possible contenders for the jersey. He said it is difficult to narrow it down to a couple riders, however, since you never know until race day who could win but, he pointed out: "I'm more experienced than some of the younger riders."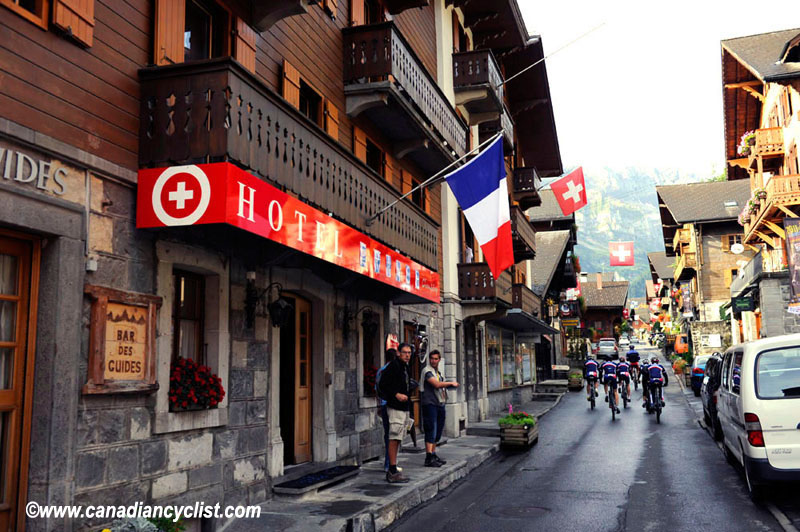 Hotel Suisse has become 'Hotel France' this week...
The French rider said that he hasn't found Kulhavy's weakness yet so working on a tactic to beat him has been difficult.

"I would have said maybe sprints, but we found out last week [at the World Cup final] that he is also good at sprints," said the French rider.

He said that this year's World Championship is unlikely to come down to a sprint because of the way the finish line is set up, but Kulhavy is strong on the climbs as well as also being fast on the technical downhills.

Absalon said that it's likely that riders will try and attack on the steep climb in the last kilometer of the course leading into a technical descent before the finish line.

"The most dangerous section will be the descent next to the river," he said. "Especially since heart rates will be elevated after the climb. The drop in the Hell Zone isn't an obstacle for any of the men in the Elite category."

If the French rider navigates the roots on the course successfully and has a good day, Champéry could be the site of his fifth World Championships title, a landmark title for some but not for the French rider.

"The World Championship title is always the goal of a non-Olympic year. I want to win, but not because it will be my fifth title," said Absalon. "Next year the Championships will be in the shadow of the Olympics but this year it is the most important race."

by CC intern Sarah Moore