September 1/11 16:25 pm - MTB World Championships Junior Men and U23 Women XC report and photos

Posted by Editoress on 09/1/11

Day two of the Mountain Bike World Championships in Champery, Switzerland was France Day, with the rouge, blanc et bleu tri-colour taking both cross-country world titles contested. Julie Bresset, as expected, easily took the Under 23 Women's title, while Victor Koretzky was an unexpected champion in the Junior Men's competition, after the top favourites all struggled. Canadian riders finished mid-pack in both races, with Thomas Neron the top Junior in 36th, and Andreanne Pichette the best U23 in 22nd.

Junior Men
Rain overnight had soaked the extremely technical course, and it made the numerous rooty sections treacherous, particularly in the Junior race, which went first. On the opening lap, riders were crashing and sliding through the course. One rider who wasn't was Koretzky, who took the lead on the first lap after the start loop.

Koretzky was clearly enjoying the muddy conditions, setting the fastest lap times for the first three laps of the four lap race. He had been a member of the gold medal winning Team Relay squad less than 24 hours earlier. He was chased initially by team mate Maxime Urruty and Costa Rica's Andrey Fonseca, until Urruty suffered mechanical problems on the third lap and had to run half a lap to the pits.

Fonseca moved into second behind Koretzky after the start loop and looked to have a lock on the silver medal, however, one of the favourites was chasing furiously behind. Anton Cooper, the young revelation from New Zealand who won the last two World Cup races for Juniors, had shaken off a poor start that saw him fall into the 20s and was sprinting up through the field.

He moved into 13th after lap one, then eighth, sixth and fifth by the start of the last lap. At this point he was 28 seconds behind Fonseca and 2:06 behind Koretzky. Koretzky rolled into the finish arena to loud cheers from the large French contingent.

"When I saw my lap time from yesterday's relay it was encouraging for today's race," commented Koretzky. "It was not an easy ride. I didn't have a great start and I was only seventh or eighth after the start loop. So I was really back and I had to fight my way back up in the standings. I gained time in the technical parts of the course and then I took off on my own."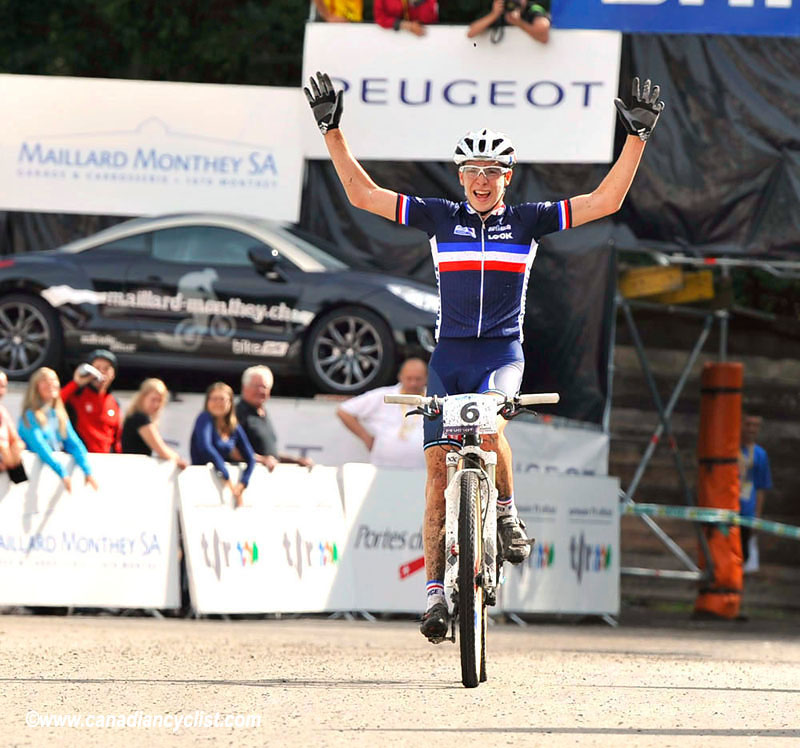 Victor Koretzky wins
While the French team celebrated, everyone else turned their attention to the battle for silver. Less than 90 seconds later, Cooper and Fonseca burst into view together, with Cooper outsprinting the Costa Rican in the final 50 metres to take the silver medal.

"I'm not sure where I was after the first lap, I hear around twenty-first," explained Cooper. "It's not ideal to be there at World Champs. So it was a fight right from the start. I did have a good start out in the front straight but then riders came from everywhere and I was just sitting in the middle up that climb a few rows back and then it strung out in the single track. Not an ideal start but it's probably the best race I've ever ridden in terms of how I fought to come back and I'm pretty proud of that."

For Fonseca, it was disappointing to lose the battle for silver, but also exhilarating to take the first ever mountain bike medal for his country. "I'm not able to express what I'm feeling. It's amazing. I'm so emotional. You cannot imagine what it means for our country and our federation. To be on the podium at all is a great moment for me. It's really wonderful and I'm very proud of my country. It's the first time we're on the podium for mountain biking."

Top North American was Team USA's Howard Grotts in eighth place, at his first world championships. "I had a really good start and then I made some mistakes here and there, and then I caught back up again. So I was just yo-yoing back and forth. But I'm pretty happy with my race."

Neron, the top Canadian in 36th, did better than expected for his second race in Europe. "I did a World Cup race in Italy two weeks ago and it didn't go very well so I was a bit stressed for today's race because of that but it ended up going well."

Alexandre Vialle, a member of Canada's Team Relay squad a day earlier, was caught in a crash at the start of the race, and rode much of it with blood pouring out of his nose; a disturbing sight. "It was difficult. In the start loop I was pretty well positioned but I got caught behind a crash and fell on a metal fence. My nose bled for the first two laps but I was able to ride well. Starting on the third lap my energy levels went down though and I had to work really hard for the last two laps."

"For the first two laps I was able to catch people and pass them but then the last two laps, maybe because of my nose bleed, I didn't have much energy and so I was passed by people. You always have to be concentrated and ready to push. There are no rest moments. You have to be aggressive and not let yourself be intimidated even if you're not used to racing in Europe. Here everyone wants to be in the front and there's no being polite. It's aggressive and it doesn't matter if you make someone fall. There's no being nice - it's war. To do the World Championships my first year as a Junior was a goal but I didn't think it was attainable since it's hard to do. I'm really happy with my season."

U23 Women
Less than an hour after the conclusion of the Junior Men, it was time for the Under 23 Women to do five laps, plus a start loop. To no one's surprise, Bresset, who had just won the Elite World Cup a week earlier and the Team Relay title the day before, pulled away from the field by the end of the start loop, setting the fastest splits for every lap of the race. The only rider to keep her in sight for the opening lap was Great Britain's Annie Last, also a top-ten finisher on the Elite World Cup circuit. Riding alone in third was the Under 23 World Cup champion Pauline Ferrand-Prevot of France.

Bresset pushed her lead out over a minute by the halfway mark, but Last fought back to bring it below a minute with two laps to go, only to see her rival increase it again to 90 seconds by the finish. Behind them, Ferrand-Prevot was a distant 5:47 off the pace of Bresset for the bronze medal. only 14 riders finished on the same lap as the winner, out of 44 starters.

"After yesterday's success in the team relay I managed to refocus and get really into this race," explained Bresset. "A race is never won before the finish so I really had to focus. I was completely concentrated right until I passed the finish line. You can't think about other things during the race. I only allowed myself to relax as I crossed the finish line."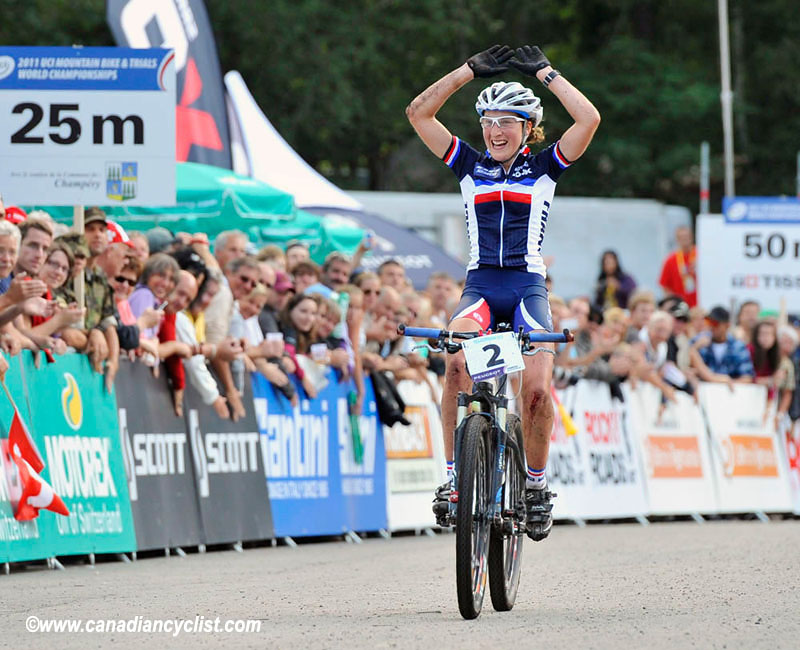 Julie Bresset wins
Canadian Andreanne Pichette was the top North American, in 22nd place, four spots ahead of Canadian national champion Mikaela Kofman, who competed despite a broken nose and fractured rib, suffered in a training crash earlier in the week. Kofman suffered two mechanicals during the race, dropping her out of the top-20 and top Canadian spot.

"It was really wet out there and it was a long race. We had five laps plus the start loop. It was set out to be a hard one. Off the start it wasn't as fast as I though it would be. Everyone stayed together. But then when we got into the singletrack it was really slippery and I knew it would be a pretty long day. Yesterday it was prime. It was perfect. You couldn't have asked for better. I wish that we had raced yesterday but you know what, it's mountain biking and it stormed last night and you've just got to adapt."

"Started out last week I had a pretty big crash and I broke a rib and my nose. And then today on my second lap I ended up breaking a chain and having to go into the tech zone twice. It was a tough day on the bike but you've just got to pull through. Our mechanics were awesome, and Scott and Kyle were super fast so it was good. I can't breathe out my nose and the rib definitely makes the breathing a little bit shallow, but when the adrenaline's pumping you don't really feel it."

"Next year it's the big leagues. It's the Elite field. So I'm pretty excited for that. I think it's time and I'm ready. Every race is a learning experience. I've only been in this sport for four years so every time I go to the start line it's a whole new day and something new happens. So you've just got to take what you learn and apply it to the next race."

Laura Bietola was the third Canadian finisher, in 33rd, finishing three laps down. "It was very fast. I wish I could have finished but I'm only first year so I have lots of time to improve."

This is Bietola's fourth World Championships. Twice as a Junior in mountain biking and she went to Road World Championships also as a Junior. She is focusing on mountain biking now.

"The roots were hard to maneuver around because they were wetter than what I rode the last couple of days. This has been the wettest I've ridden it but everything was still rideable. You just had to adjust your speed accordingly."


Results

Junior Men
U23 Women
Fatal error
: Uncaught Error: Object of class PDO could not be converted to string in /home/canadiancyclistcom/canadiancyclist.com/public/modules/news.php:528 Stack trace: #0 /home/canadiancyclistcom/canadiancyclist.com/public/modules/news.php(517): getrelatedgallery() #1 /home/canadiancyclistcom/canadiancyclist.com/public/dailynews.php(58): getDailyNewsArticle() #2 {main} thrown in
/home/canadiancyclistcom/canadiancyclist.com/public/modules/news.php
on line
528