September 2/11 14:43 pm - MTB World Championships: U23 Men XC report and photos

Posted by Editoress on 09/2/11

Thomas Litscher gave host country Switzerland their second cross-country gold medal of the Mountain Bike World Championships in the Under23 Men's race with a dominating performance. Marek Konwa (Poland) took the silver medal and Henk Jaap Moorlag of the Netherlands held off two chasing Swiss riders to take bronze. Canada had two riders finish on the same lap as Litscher - national champion Leandre Bouchard in 29th, and Jeremy Martin in 42nd.
Thomas Litscher wins
Litscher came into the race as the favourite, after racing to multiple top-15 placings among the Elite field at the World Cup. He broke away on the start loop, and was not seriously challenged for the rest of the six lap race, setting the fastest splits in all but one lap. Under 23 World Cup champion Gerhard Kerschbaumer (Italy) attempted to stay with Litscher through the start loop and first lap, which may have been a mistake - when other riders bridged up to him in the middle of the race, he had nothing left to follow when they attacked on the climbs.

Konwa spent the early part of the race in fifth and sixth place and suffered a mechanical that required a pit stop, before surging mid-race with a strong effort in laps three and four - the second fastest split on lap three and the fastest on lap four. He had moved up with Moorlag, but the Dutch rider couldn't match his speed on lap four, although both caught and dropped Kerschbaumer on that lap.

"I broke my seatpost on the downhill before the feed zone," said Konwa. "I went without a seatpost for a bit and then they changed it very fast. My legs felt very good so I passed the three riders. I am very happy because I always have a mechanical problem but I was able to overcome this one."

The medal positions were set by the start of lap five, and Litscher rolled into a packed arena of Swiss fans to take the Under 23 title, in his final year in the category.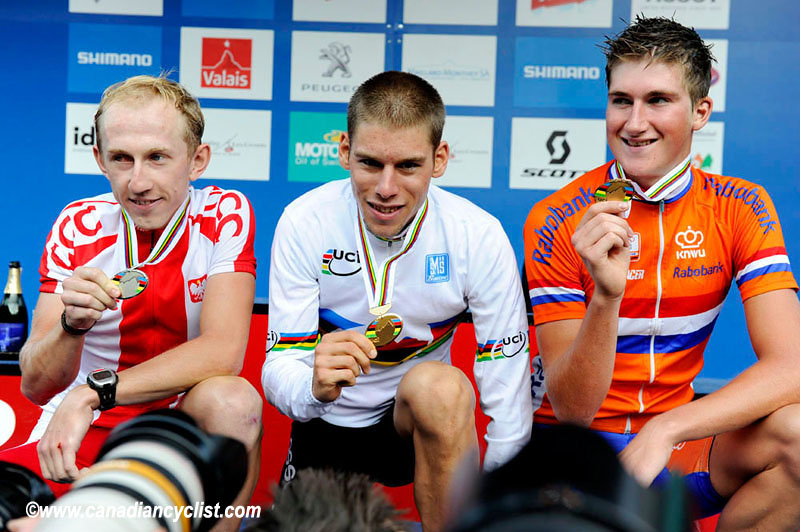 podium: Marek Konwa, Thomas Litscher, Henk Jaap Moorlag
"My goal for the start loop was to not go too fast but to go in the front", explained Litscher, "because when you're behind there's much more risk for crashes. I felt strong and the Swiss crowds were so crazy and loud I barely felt my legs. I was first in the downhill and I got a gap after the first downhill. I waited for Kerschbaumer because alone it's very hard on this course. I thought Kerschbaumer could follow me on the technical sections but after the second downhill I was alone and then I went off alone and concentrated very hard throughout all the technical sections and built a lead up that way."

Bouchard lost some spots in the start, but worked his way back up from the 50s and high 40s in the first half of the race, with three fast final laps - 16th, 17th and 16th fastest, respectively.

"My race went well. The start was very fast. I was a bit far back at the start so I had to run a bit during the start loop but after that I was able to catch riders. I used my energy well throughout the race. Other than a few errors I did well in the technical sections of the course and I didn't fall. It was a very good race. I was able to better my position in the second half of the race."


"It was slippery but you adapt your speed as a consequence. I think I do very well in these conditions, so for me I'd say it's an advantage. Often in Europe there are really fast courses but this course was a lot like the courses we have in North America. There were lots of roots and rocks. Racing on the international circuit is different from usual. It's very fast and there's much more pushing and shoving."

"We are all at a similar level of performance on the Canadian U23 Men's team so I expected to race with my teammates and that's what happened. Jérémy and Mitch Bailey were near to me throughout the race."

"Last year, as a Junior, I finished 28th and U23 is a big step up so I'm really satisfied with my race."

Martin also made up places in the latter part of the race, however, he faded in the final lap to drop from 35th to 42nd.

"I had a relatively good start and avoided being caught behind any accidents. I passed riders throughout the race and even though I made some technical errors, overall it went well until half a lap from the end. I tried to attack for 28th place and I cramped up completely. I had to wait three minutes until I could move again. I'm really happy to have finished the race though, since it was longer than usual. There were lots and lots of roots, so when you're in a state of exhaustion it's very difficult."
Fatal error
: Uncaught Error: Object of class PDO could not be converted to string in /home/canadiancyclistcom/canadiancyclist.com/public/modules/news.php:528 Stack trace: #0 /home/canadiancyclistcom/canadiancyclist.com/public/modules/news.php(517): getrelatedgallery() #1 /home/canadiancyclistcom/canadiancyclist.com/public/dailynews.php(58): getDailyNewsArticle() #2 {main} thrown in
/home/canadiancyclistcom/canadiancyclist.com/public/modules/news.php
on line
528