September 2/11 23:13 pm - MTB World Championships: 4X Final report

Posted by Editoress on 09/2/11

The world titles for the 4-Cross were awarded in crash-filled finals for both the men and women at the Mountain Bike World Championships in Champery, Switzerland. Anneke Beerten of the Netherlands finally won the one title she was missing in her distinguished career in the women's race, while Michal Prokop (Czech Republic) took the men's title in one of the craziest finals ever witnessed.

The course in Champery has been controversial from the start. Organizers wanted to build a course that would remove the standard rider complaint of being 'too BMXy', and they succeeded, with a run that had rocky gardens, abrupt corners, a wood section and a creek crossing.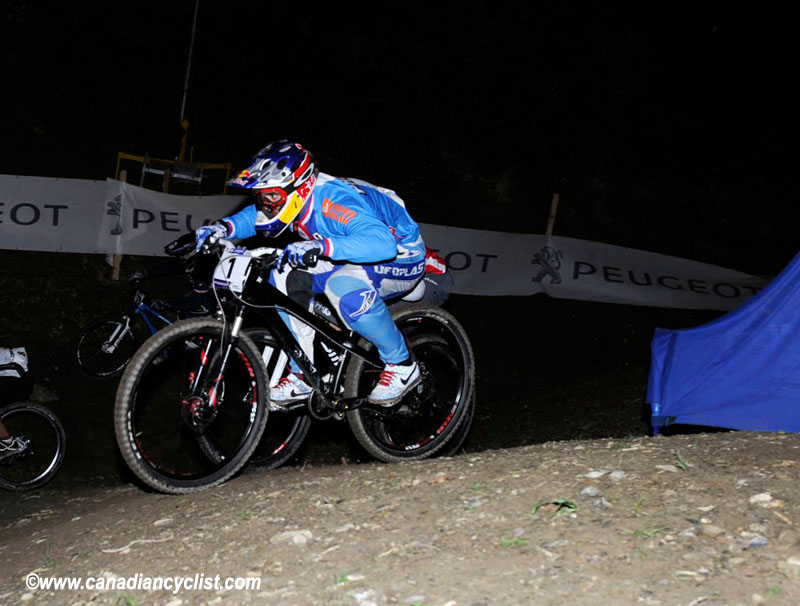 Michal Prokop
Prokop was blunt in his assessment: "I don't like the course at all because the first straight is too short. The rock garden was too long. And then after the rock garden there's just one line to the finish line so it was hard to pass on this course. If somebody crashed it was all right, but it was hard to do a regular move on this course. But it was challenging and it was something different that what we're used to. We'll see what will happen next year. Maybe we'll see more of this kind of track but I'm really not a fan of it."
Women
Twelve women contested for the title, with former champion Melissa Buhl (USA) the fastest qualifer, followed by Fionn Griffiths (Great Britain), Beerten and Celine Gros (France). These four were the class of the field, and made up the final four.

Beerten got the holeshot out of the gate and was gone, on to her first world title. Behind, Buhl and Gros tangled allowing Griffiths, riding a downhill bike, to ride through some of the rougher stuff on the edge of the run to get by and take silver. Gros recovered first and took the bronze.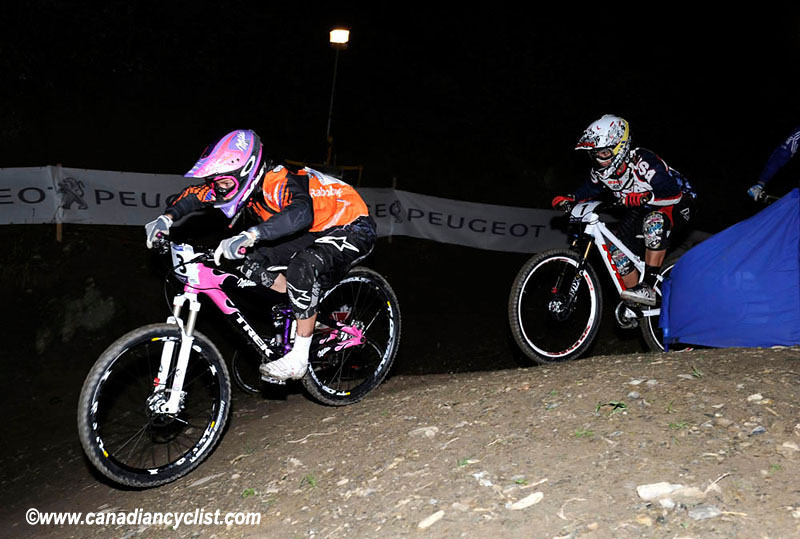 Anneke Beerten
"I've been dreaming of this for a long time," admitted Beerten, who couldn't stop grinning. "I've never won a World Championship and I've been mountain biking since I was 15 years old [she is 29]. I've been dreaming about this for so long. To pull it off is just amazing."

"This trail showed you need mountain bike skills since I'm sitting between two downhill specialists."

The men's competition had unusual activities even before the final night of racing, when two of the top racers in the world were last and second last in seeding. World Cup champion Jared Graves (Australia) flatted at the beginning of his run, and was seeded last (50th), while defending world champion Tomas Slavik (Czech Republic) missed a gate part way down, had to stop and run back up the course to go around it correctly.

Prokop won three of four heats to make it into the final, and Roger Rinderknecht (Switzerland did the same. Joost Wichmann (Netherlands) and Graves each won two heats to make up the rest of the final.

In the final, Wichmann took the lead, only to crash in the first corner, with Prokop and Rinderknecht piling into him. Graves, who took a very wide line, was behind the crash and swerved up high around it, bumping over someone's bike. He looked to have the race won, but crashed 10 metres later with a flat. After scrambling to his feet he discovered the flat, threw his bike down and jumped up and down in rage and disbelief. Prokop's win was almost anticlimactic, with Rinderknecht taking second and Wichmann third.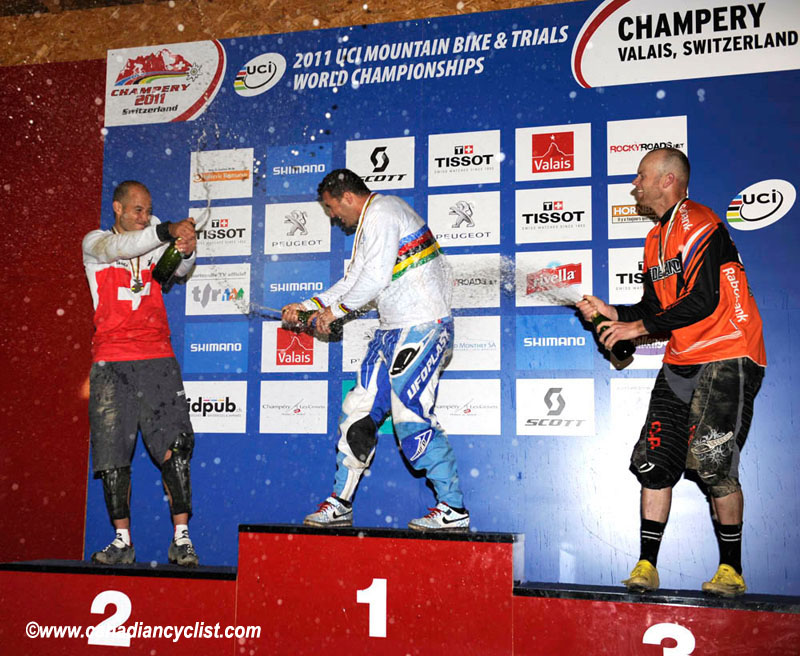 "It was a crazy night and a crazy final, and somehow I managed to win," Prokop summed up, succinctly

Wichmann admitted to causing the crash, explaining "I knew I had to cut him [Michal Prokop] off at that start if I wanted to win and that's what I did but I had too much speed coming into the berm and crashed. Under the circumstances I'm not happy with bronze. If you'd told me before the race that I'd be third I would have thought that was cool, but after leading it sucks."

Top North American was Canada's Harold Woolnough, who seeded tenth and was knocked out in the eighth-final, finishing up 25th.

"Unfortunately I didn't get the best start. I tried my moves and it just didn't work. It happens. That was plan all week - that was my passing lane. I tried and came close but it didn't happen. I got second lane choice in my second heat and it was a bad gate. I got pushed out of the berm and after I tried my pass and got thrown into the rocks. Then I got a front flat so it was game over."

"It was super fun. My first World Champs, in Europe. It's awesome here and I learned a lot and I was really happy to get through the first round and to qualify in tenth was awesome. I was really happy with that. I know what I need to work on and I plan on being at World Champs next year so we'll see if I can do well."
Fatal error
: Uncaught Error: Object of class PDO could not be converted to string in /home/canadiancyclistcom/canadiancyclist.com/public/modules/news.php:528 Stack trace: #0 /home/canadiancyclistcom/canadiancyclist.com/public/modules/news.php(517): getrelatedgallery() #1 /home/canadiancyclistcom/canadiancyclist.com/public/dailynews.php(58): getDailyNewsArticle() #2 {main} thrown in
/home/canadiancyclistcom/canadiancyclist.com/public/modules/news.php
on line
528