September 3/11 10:57 am - Pendrel World Champion - Women's XC Race report and Photos UPDATED

Posted by Editoress on 09/3/11

Catharine Pendrel brought Canada it's first elite cross-country world title since Roland Green a decade ago, and the first women's title since Alison Sydor 15 years ago. Defending world champion Maja Wloszczowska (Poland) fought back from a flat tire early in the race to finish second, while Eva Lechner (Italy) took the bronze. All in all, it was a stellar race for Canada, with three riders in the top -ten - Emily Batty finished eighth and Marie-Helene Premont ninth.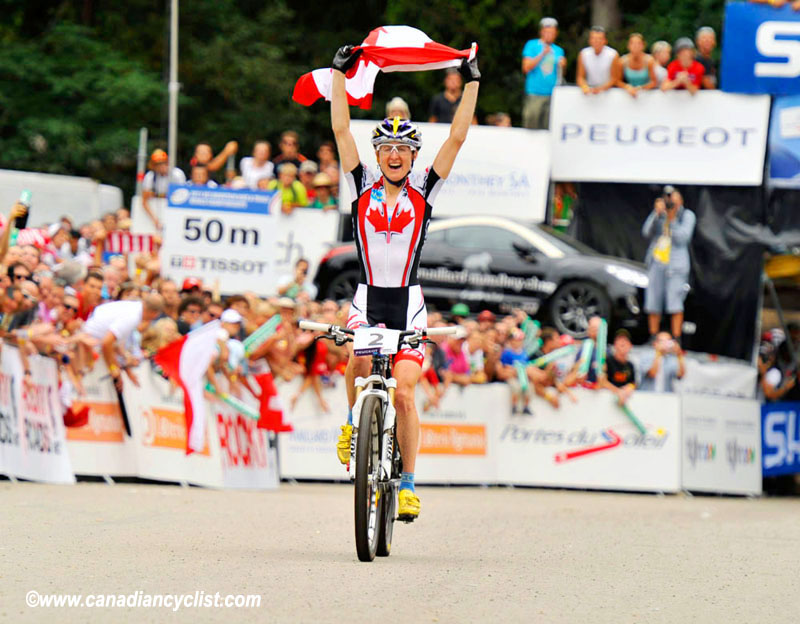 Pendrel came into the race as the favourite, having won the last two World Cups, and with her usual rival Julie Bresset having raced earlier in the week in the Under 23 category (which she won, easily). However, Wloszczowska had shown that she would be a contender when she finished second to Pendrel in the last World Cup two weeks earlier.

The two riders quickly dropped the rest of the field, and were slightly clear by the end of the start loop, as they started six laps of the 4.8 kilometre circuit. Gunn-Rita Dahle Flessjaa (Norway), Lechner and Irina Kalentieva (Russia) came through 15 seconds back. By the end of the lap, the gap was up to nearly 30 seconds on Lechner, with Kalentieva and Dahle Flesjaa a further 10 seconds back, and Batty having moved up to sixth at 1:20.

Pendrel, who was faster in the slippery, rooty sections, attacked her rival at the top of the final climb before the technical descent into the finish, initiall opening a small gap, which suddenly began to grow rapidly after Wloszczowska suffered a rear flat and had to run over a kilometre to the tech zone.
This put Pendrel firmly in control by mid-race, as Lechner moved up to second, but nearly a minute down. Wloszczowska joined Dahle Flessja on the third lap after a quick wheel change, and caught and passed Lechner by lap four, but Pendrel was now over a minute up. The gap stayed steady through the fifth lap, with the Polish and Italian working together on the flats and the climbs, until Wloszczowska finally dropped Lechner near the end of the lap to take possession of the silver medal position.

The Polish rider was giving it everything, and it showed: the gap dropped to 35 seconds with half a lap to go. However, Pendrel managed to get to the top of the final climb with 30 seconds in hand, and her victory was assured.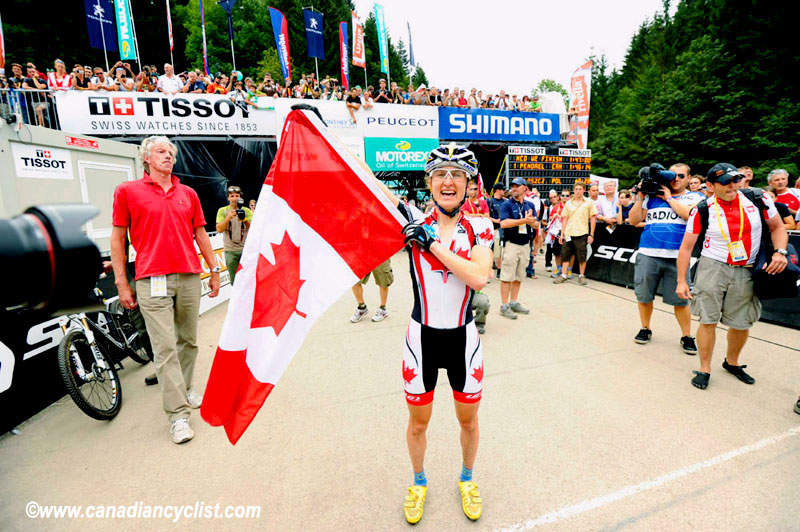 "I was definitely kind of nervous knowing Maja was coming back for me," agreed Pendrel. "At the beginning of the race I realized that Maja and I were riding very equally. She was climbing exceptionally well and so I tried to get a gap on that descent and that's where Maja flatted. She was able to come back from that and that she started to bring in the time so I knew she was motivated."

"I had gotten an email from former Luna teammate and former World Champion, Alison Dunlap, and she told me that at World Championships you've got to race that last lap like it's a time trial. When she won the World Championships she went from third to first in the last lap. So I knew that I had to ride that last lap like a time trial as well, because Maja was going to ride it like a time trial."

"It's been a couple of years when I've been sixth, sixth, sixth, fourth, but never a medal. I've been really consistent these past couple of years on the World Cup but I never was able to put it all together on the big day and today it really happened. I was definitely really motivated. I don't know if that any climb has ever hurt as much as that last climb. I'm so happy that it all stayed together."

Wloszczowska, commented that she will still be tied to the rainbow jersey, because her mother's company makes the clothing for Pendrel's Luna team. "It's something special to wear the rainbow jersey and I'm happy I had the opportunity to wear it, but I'm really happy about the silver. I had the greatest battle of my life coming back after I got a flat tire on the longest downhill at the end of the technical descent on the third lap. I rode on the flat tire for 1-1.5 kilometres, so I lost a minute or a minute and a half. I think someone gave me a flat tire today though, because Catharine has had a great season and she deserved to win."

Emily Batty - "I had absolutely the best race of my year and my bike - the 29er - was absolutely awesome. That was such an awesome race. It was long but I loved every minute of it. I don't know if that's believable but I did."

Marie-Hélène Prémont - "I'm really happy about my race. I didn't have an easy week - last Friday I fell really hard off the drop and I wasn't able to ride Saturday, Sunday or Monday. I wasn't able to ride the course a bit until Wednesday. So it was a difficult week and then on the first lap I fell on my side and pinched a nerve in my back. So I had to stop for ten seconds to remove the cramp and then start again. I didn't do the jump during the race because it scared me, so I lost quite a bit of time each lap because I took the chicken pass and got passed by riders. But to have finished and to have had good legs - I'm really happy."

Jean Ann Berkenpas (30th) - "This is my first top-30 in a while so I'm pretty happy with it. I think the course favoured me because the climbs weren't really long and there was some flat technical stuff and some technical descents so I enjoyed that a lot."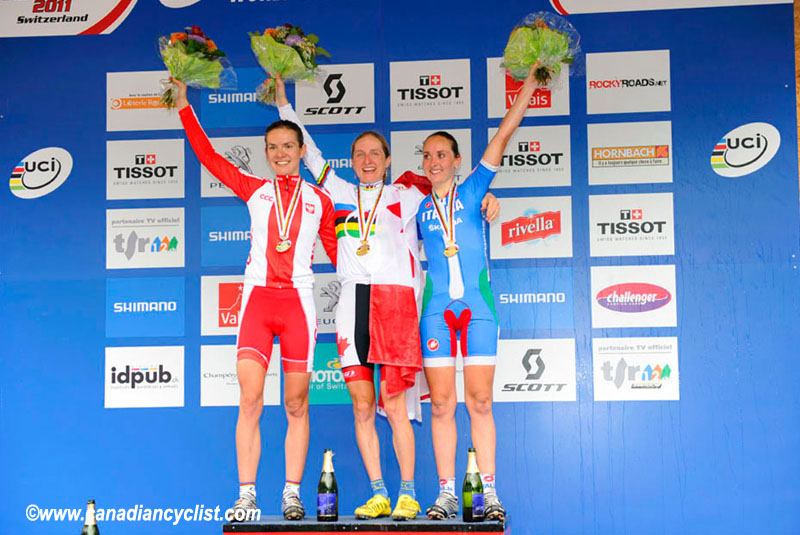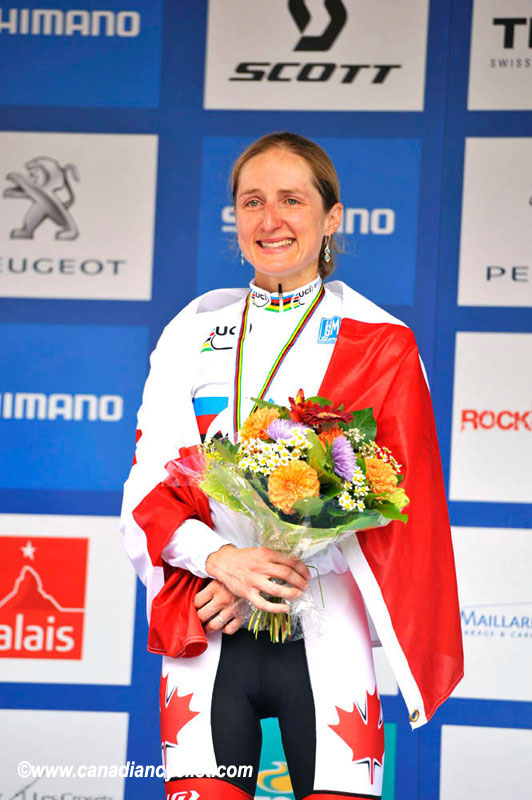 Fatal error
: Uncaught Error: Object of class PDO could not be converted to string in /home/canadiancyclistcom/canadiancyclist.com/public/modules/news.php:528 Stack trace: #0 /home/canadiancyclistcom/canadiancyclist.com/public/modules/news.php(517): getrelatedgallery() #1 /home/canadiancyclistcom/canadiancyclist.com/public/dailynews.php(58): getDailyNewsArticle() #2 {main} thrown in
/home/canadiancyclistcom/canadiancyclist.com/public/modules/news.php
on line
528